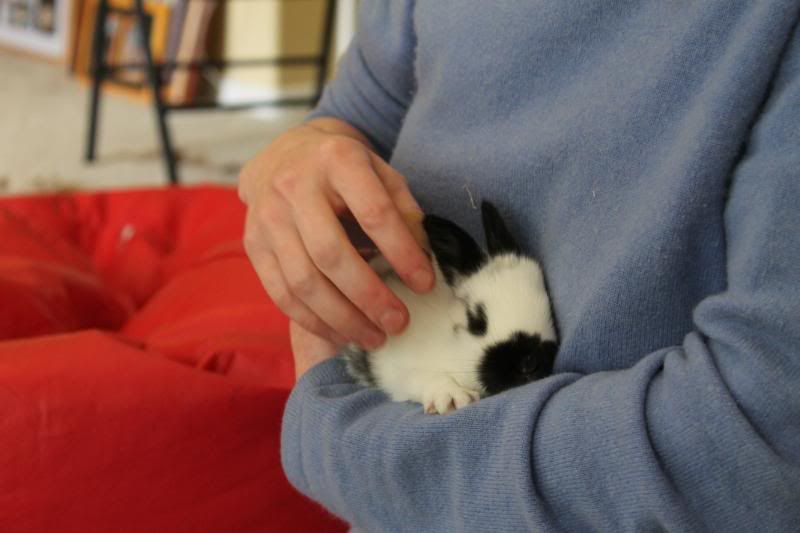 These are the 3 baby babbity rabbities who lived. We know what to do different next time. I have never met an animal that was hard for me to butcher for meat. Ever. Till these punks. Oh. My. Goodness. They are cute, and soft, and they hop about with their disproportionately large feet, they are cuter than baby kittens! This one looks like the mama.
This is the smallest guy and he is fawn, like the daddy. The cow print one (really its called that) is the medium sized one. I say guy, we are sure they are all girls. the kids took a magnifying glass to them, though N says thats total insulting if it turns out you be a male.
Aww... such cute little ears! Their ears, like goats, are very expressive and let you know they are curious, afraid, relaxed.
Nathalie is schnoodling the biggest one, she is a huge rabbit for being born from the same litter. she looks at least a wk older. These grow very fast, they are meat rabbits and by 3 wks of age they are this big. by 6 wks, they are ready for butcher though some people wait to 8. The younger meat is more tender. I will get over this trouble with the butchering, because I have to. We cannot keep all of the rabbits forever.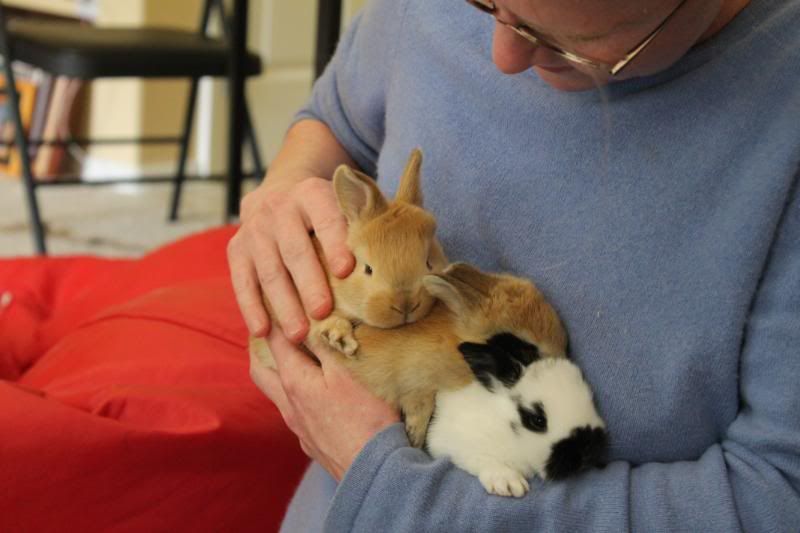 This is called a stack o' rabbits. They go to sleep this way, they sleep on top of each other in their box also.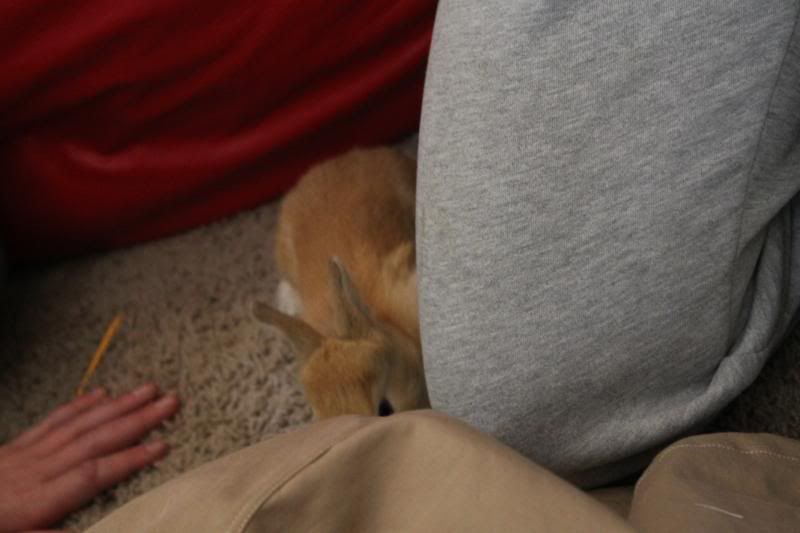 I really dont think I have ever felt anything as soft as these babies, really. I know why they are in house shoes. our house shoes and our hats have rabbit hide. That is the reason also that I must get over it. I want the hides.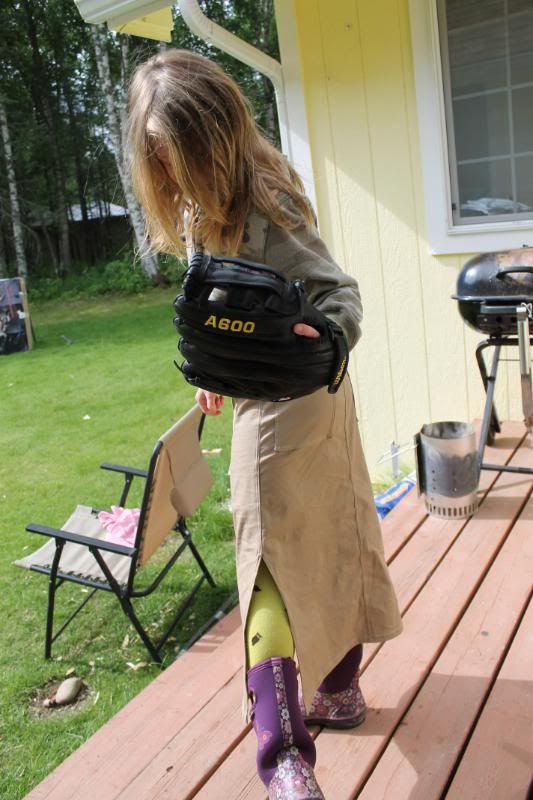 "What do you mean, lime green owl print tights do not go with purple boots? Are you crazy? This is a good look, people dig this look."
Wow. It is cold outside. Today is a little warmer. You see our fence in the background? Yes it is done, it was raining so I had not gotten pics of it.The whole barn yard fence is complete and the animals all live in there except the rabbits. We will move them there next monday, we cant move them until we come back from camping this wkend. The goats are bad about knocking the bunny waterers down. So we need to devise a clever way to keep them from doing that.
Tad loves softball, he is not great at it yet. He and Nathalie play ball one time a day, and he plays a chess game or two with her every day in exchange. She does not care for ball but he likes chess, she is very good at chess and we are trying to keep her sharp.
She is a little afraid of the ball but she is learning. She wants one of those masks that catchers wear, she swears she will be more confident then. So of course we will get one.
We are supposed to go camping this wkend, its hard to leave the animals for very long. The neighbors will feed if I need them too, but we can set them up for 2 days to be alone. After we come back, we should be grounded both to finish the barn and winter set up, and because I am trying to find/buy 2 does in milk. We need milk around here, its expensive to buy and we run out and cant go out to the barn for more. So we have to build a milk room, feed room, chicken room, other bird roosting and feeding area, obviously before this the barn must have a roof and sides! Oh and a door, and we need a gate, and we need the back yard fenced... oh lord.