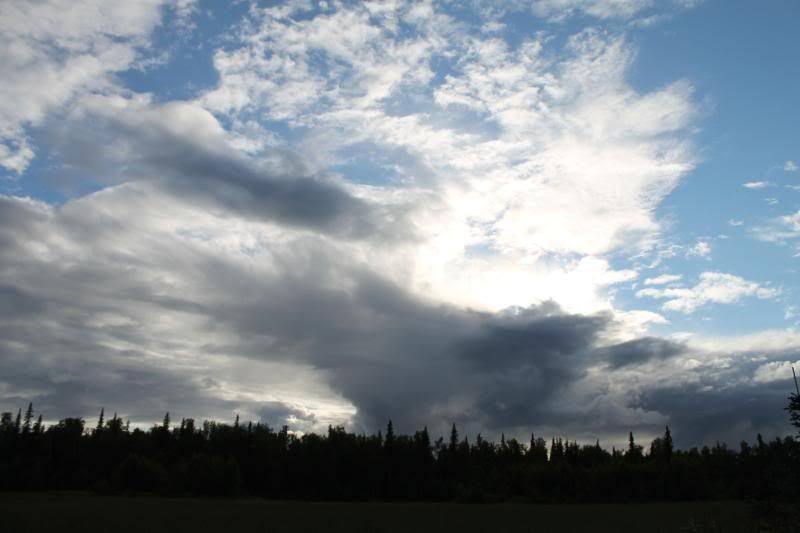 This is the Talkeetna sky. It was almost like being in Ks, because it was sunny for almost one whole day, and it is a hay farm. It was once all wooded, but a friend's family have cleared it and it is now a hay farm. We camped this wkend there with some new friends.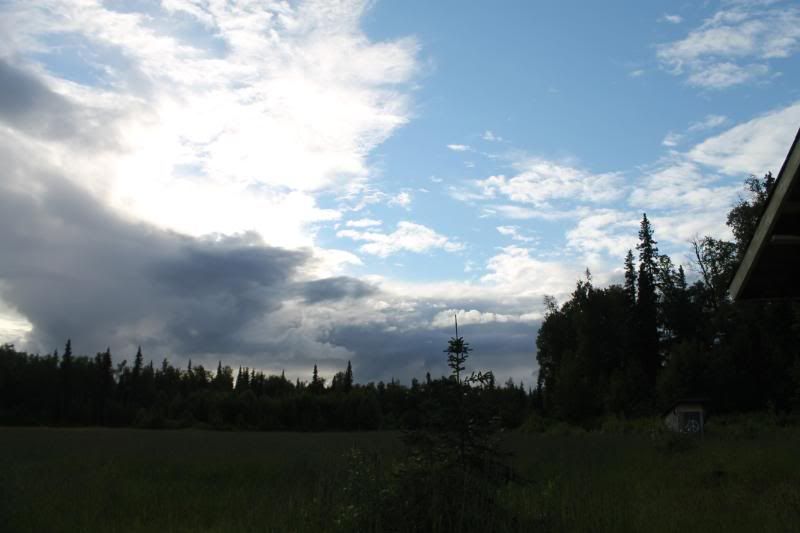 A view of the outhouse. It had a nice cabin, outhouse and a huge open hay barn. The barn was a great place to hang out, with a fire out front when it began to rain. For just about 24 hrs straight. Or more. We camped in our tents, as did some other people who were there. We met Rachel and Brain when we first moved here, they own the RV park that we stayed at. This is their family's farm, and they invited us along on a camping trip.
I think it was beautiful there. I have seen many beautiful things here, but this place may be my favorite. I think I felt more at home there.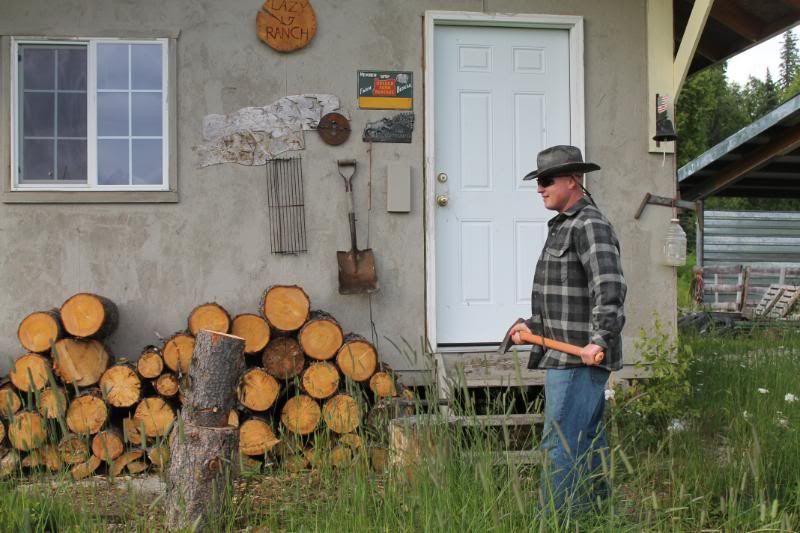 The cabin had a nice wood stove, the children took advantage of this the 2nd night as their tent did not end up being quite as waterproof as we hoped. They were very warm in here in their sleeping bags.
Frank said we should split wood, we got there early and he said it was polite rather than using what someone else split. Far be it from me to object, so I split about a cord first and then he started.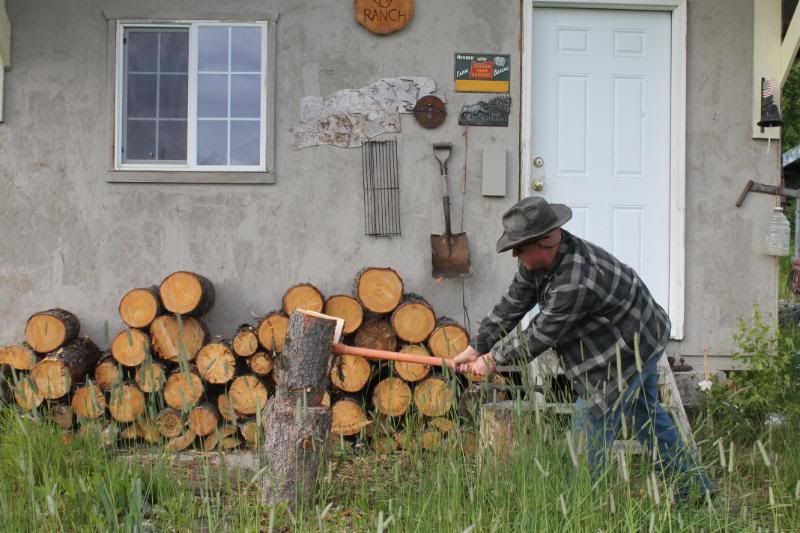 A cord, or possibly just 1 piece. Or maybe none anyway he looked really good splitting it all the same.
The wood was spruce I think, which smells quite nice when burning and does a good job at keeping the bird sized mosquitoes at bay. Or it could have been the yarrow, that was under consideration as the reasoning behind the lower quantity of mosquitoes directly around the fire.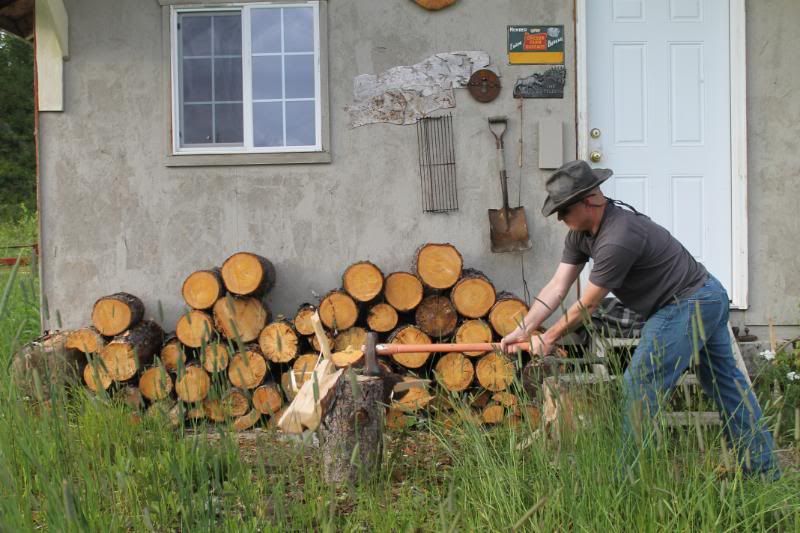 Definitely made quicker work of the wood pile than I would have. That is only because I need a wedge and sledge hammer, not because I am not great at splitting.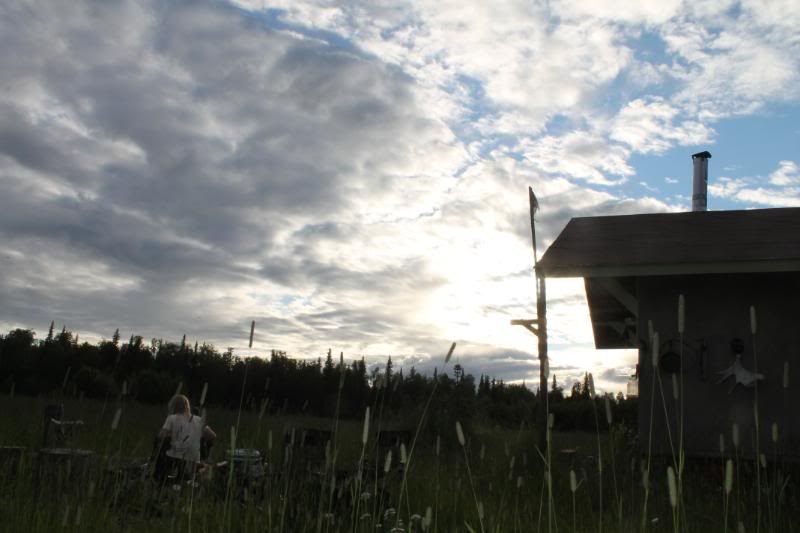 This is my favorite picture from the whole weekend, it is not photo shopped or edited in any manner. I love the lighting and sky.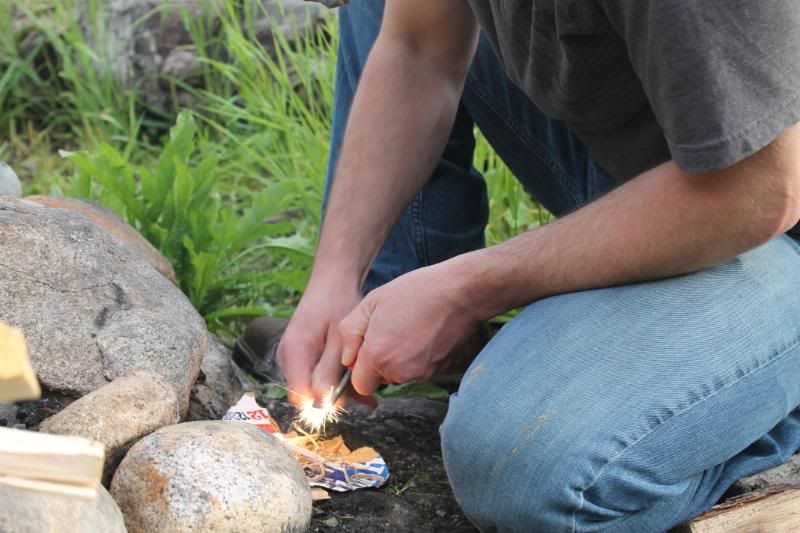 Starting the fire with flint and steel. Its possible that as soon as he had it lit, I accidentally knocked it over and put it out.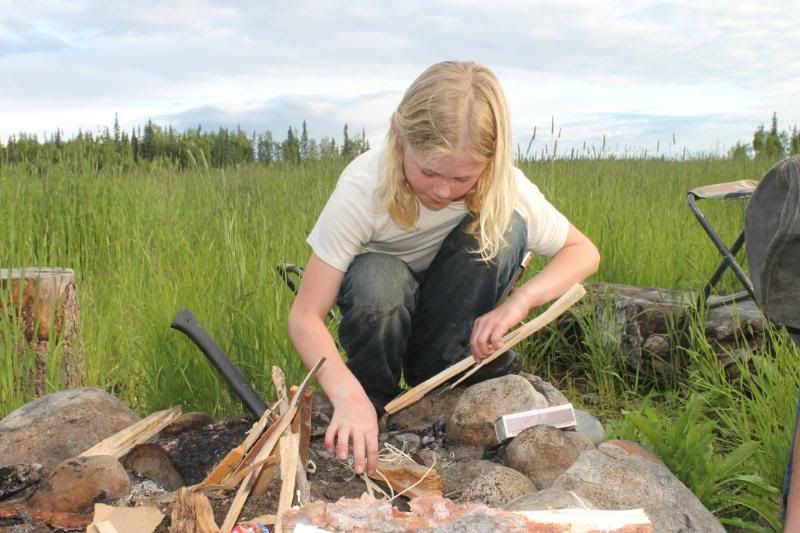 Which is why we used a match this time. Tad was making kindling, it matches his hair so I am glad he did not light his hair instead.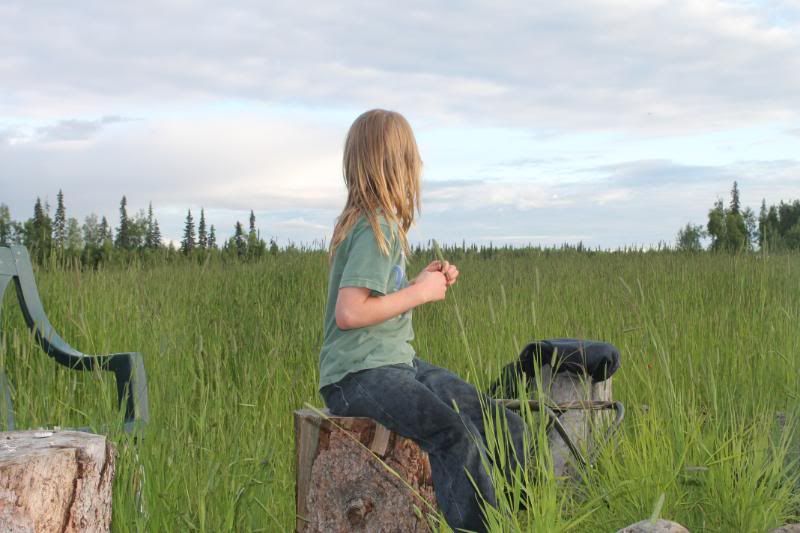 Nathalie spent so much time playing in the tall grass, I do not have many pictures of her. She stayed wet and cold a lot, I somehow did not carry enough clothes. Normally it would have, but the excessive rain and off roading did cause us to wear dried muddy clothes at some point.
Tad trying his hand as it was made clear that I was not going to help out at all.
It took a few times, and some instruction from Frank but he did catch on pretty fast. He split quite a bit our first night there.
And the finish... you see off to the left is half of his log. Frank made one log split so fast, half of it flew several feet away and gave Tad a pretty decent bruise on his leg. I did not laugh.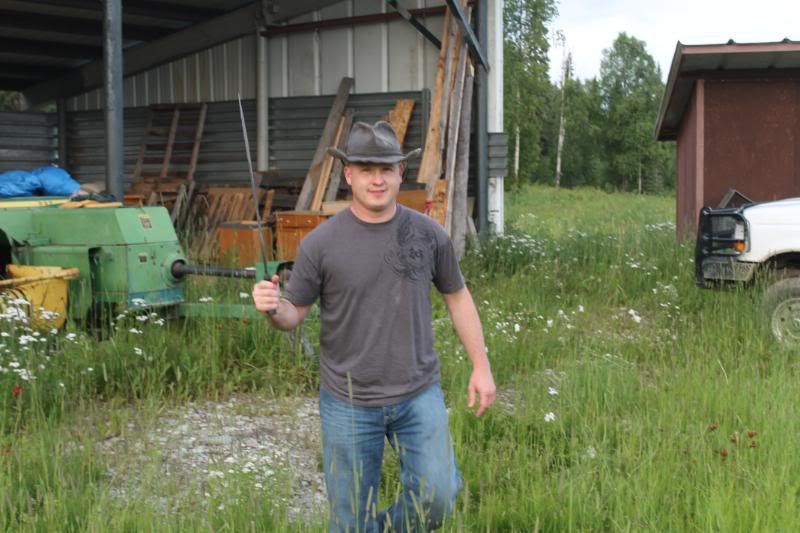 He found a machete. We were there a little early so were trying to get the fire going and set up our stuff and the grass was pretty high around the fire pit. I dont think anyone has camped here a lot this year, the owner camps here to cut and bale his hay and I think the cabin gets quite a bit of use, this year has been a colder/rainier summer than normal though.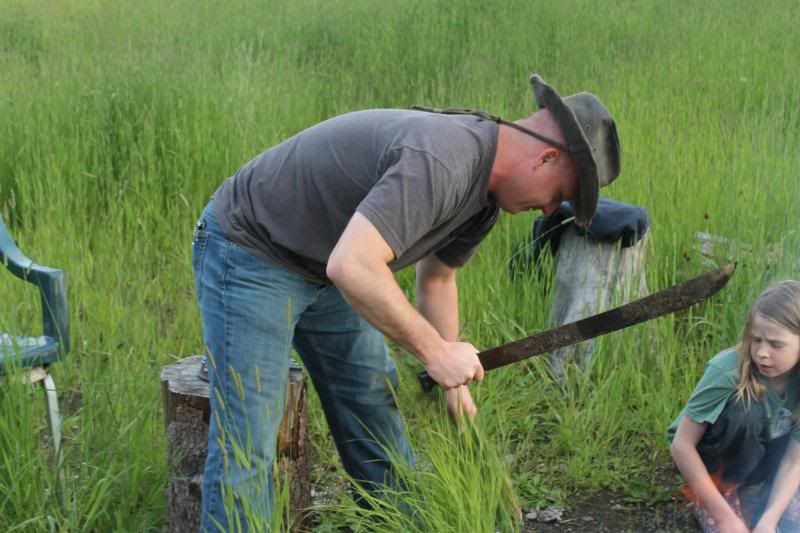 Cutting the grass, I think the machete needs to be sharpened or I would have offered to do this job.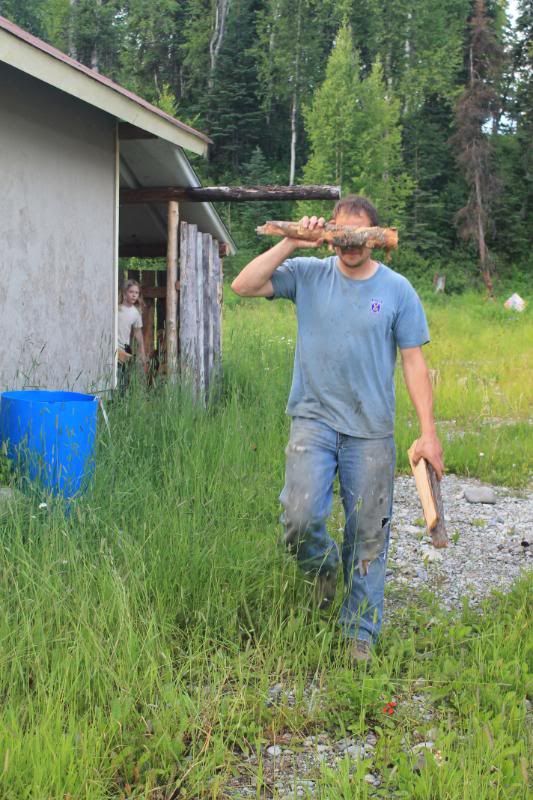 This guy did not want his face to show in pictures, so I wont betray him. I think he is in the witness protection program.
I was just kidding about the last comment. Tad and Frank are setting up tents, I think Nathalie helped Tad set up the first one but they were so fast I got no photos.
The tents were new, and pretty nice. I think the kids tent really could have done better, we will return it for one like ours. Even in the rain day and night our tent was dry and warm inside. We bought good sleeping bags and sleeping pads, the last time we went camping we were REALLY poor and it tanked a lot.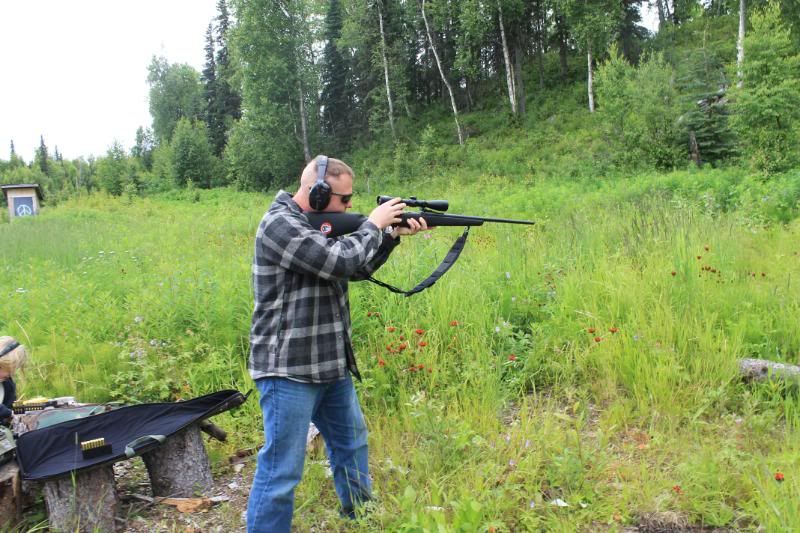 Finally, somewhere to shoot! This is Alaska and we cannot find anywhere to shoot! There are some ranges, but none close by except for shotgun ranges. This is Franks new gun, it is a 30 ought 6. It packs a pretty good punch, when his coat was off, I could see the kick push out his muscle in his shoulder. I do not care to shoot it really.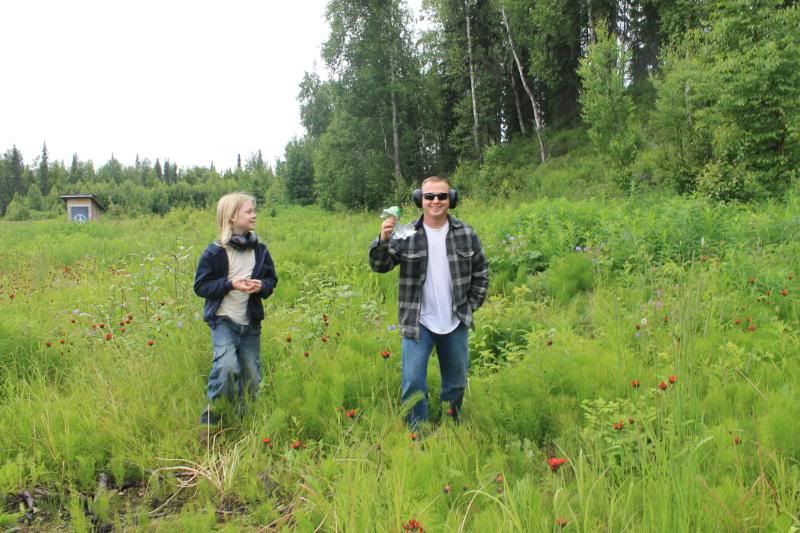 Showing off a blown up can, I am not sure who or what shot this one. I think Frank, and I think the 30 ought 6.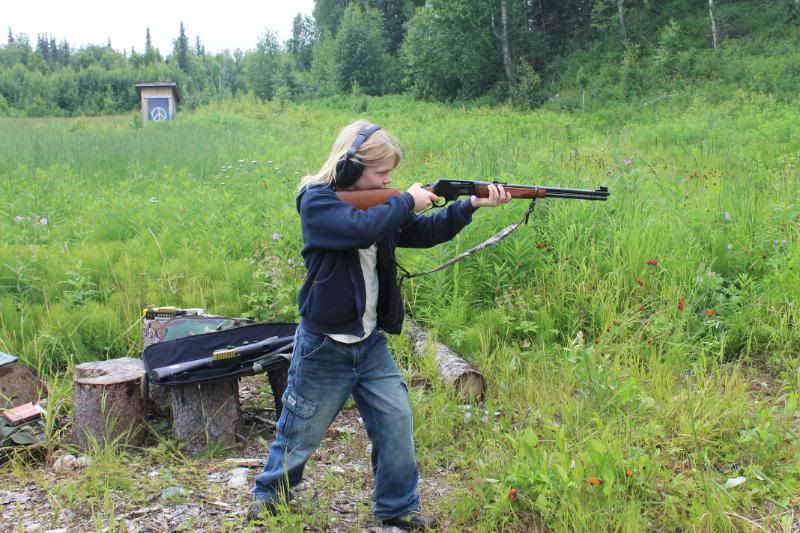 Tad's 30/30, he got this for his last birthday and it is quite possibly my favorite gun. I love lever action, Frank bought a lever action 22 at the same time and its also a lot of fun.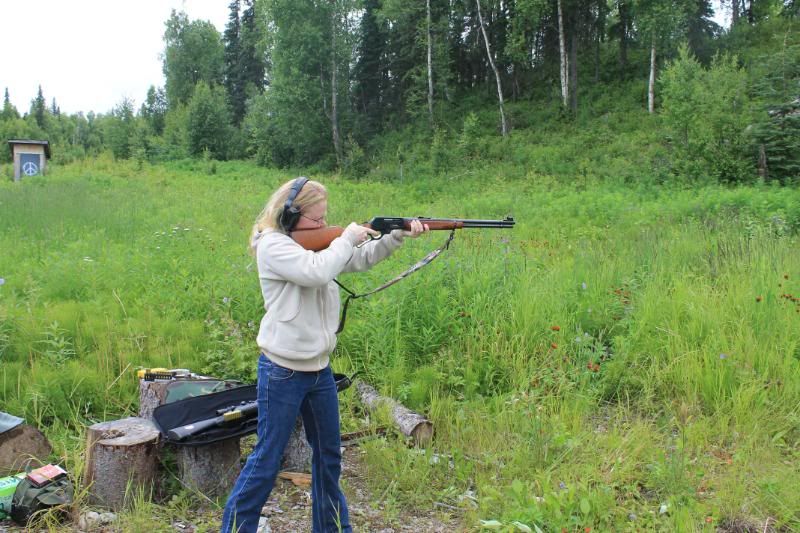 There was also a picture of me shooting the 44 but it was not a good picture. I think the gun weighs half what I do! The other women on this trip shot a 500 (huge handgun round?) but seeing them shoot it, and feeling the wave that came over me from it was enough. Just standing, oh 10 foot away was plenty.
Tad shooting the 30 ought 6.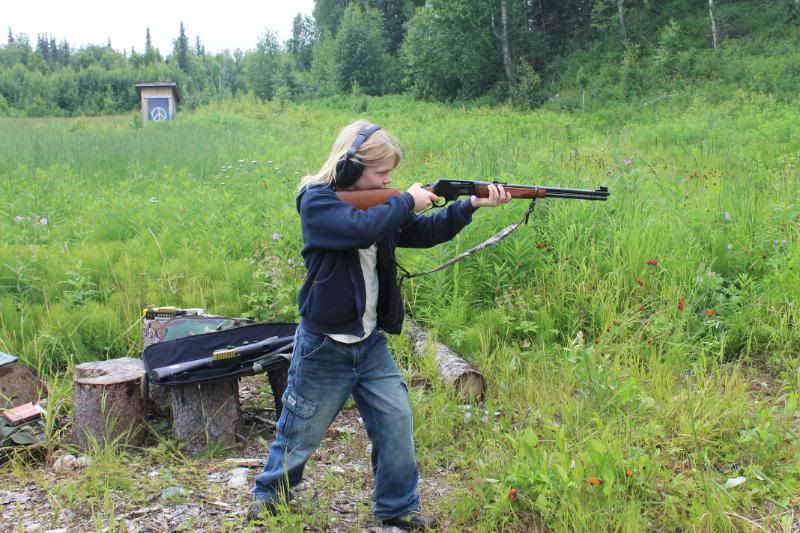 He is so cute firing his big gun, I had to show another picture of it.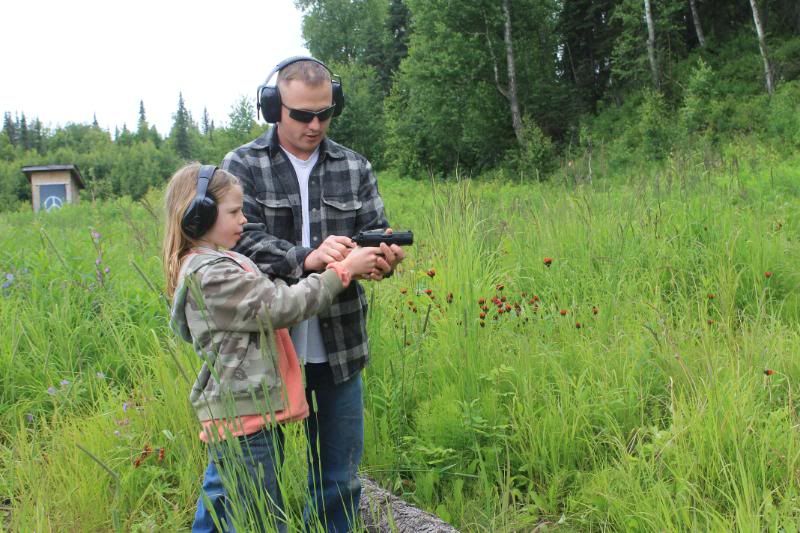 Getting some help from daddy. The 22 hand gun is about the only thing she has interest in shooting. I think she likes Uncle Jacob's Glock as well.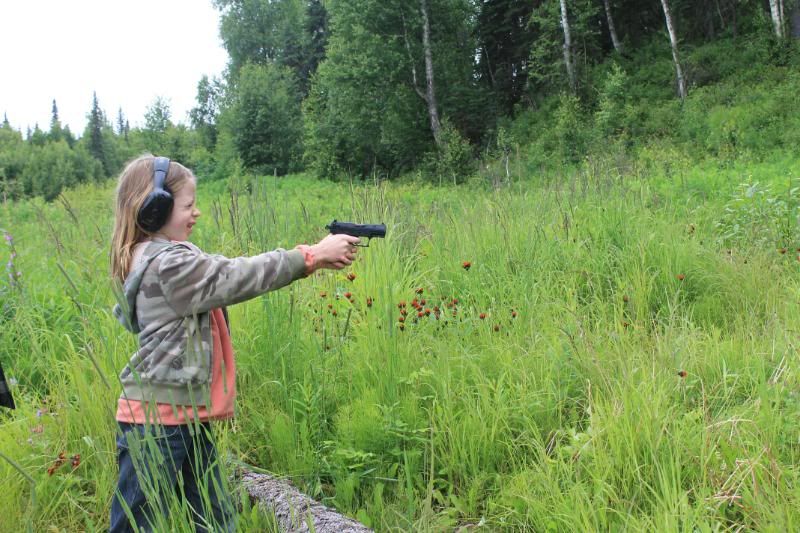 Check out that concentration.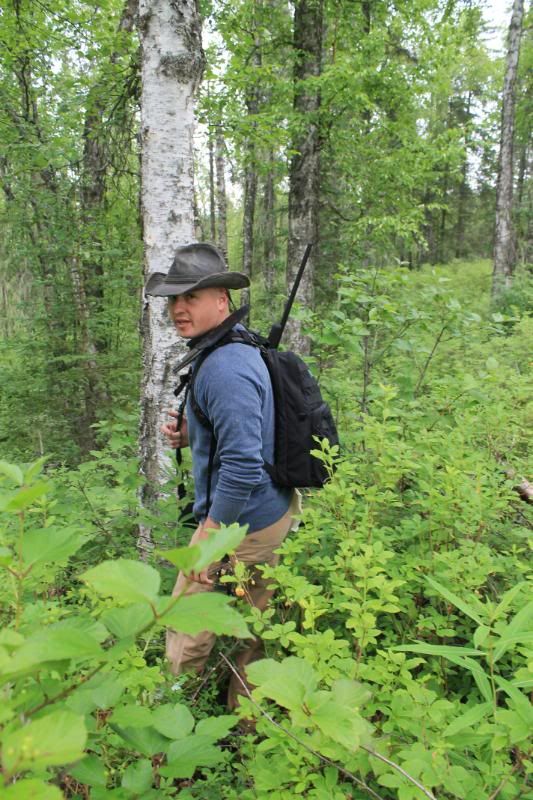 Frank took the kids hiking, I started out but found I had the wrong shoes. The underbrush pulled my boots off! I thought this was a pretty good picture. Only in Alaskan can you go hiking with such a big gun and not look out of place.
This was the view from the top of the hill. See our tiny tent???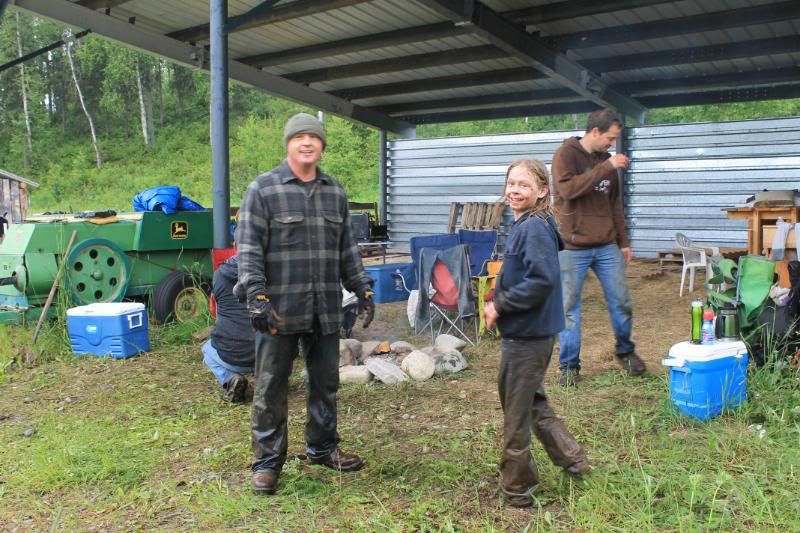 We spent a lot of time on 4 wheelers and trying out the Can Am. This is a 2 seater vehicle, I want to say it is like a polaris but its really different. I had more fun riding in that with the guy who owns it-thus drives it best, than I did 4 wheeling. I did learn to drive, but not like these guys! Look at all this mud!
Crazy boys, did no one tell them it was cold!!!
I am pretty sure Frank's coat still weighs 15 lbs. I am not grateful right now for having a high efficiency washing machine, it does not do well with mud.
Wow... what a mess. It was not much of a difference from what he looked like before this ride, he absolutely attracts filthiness.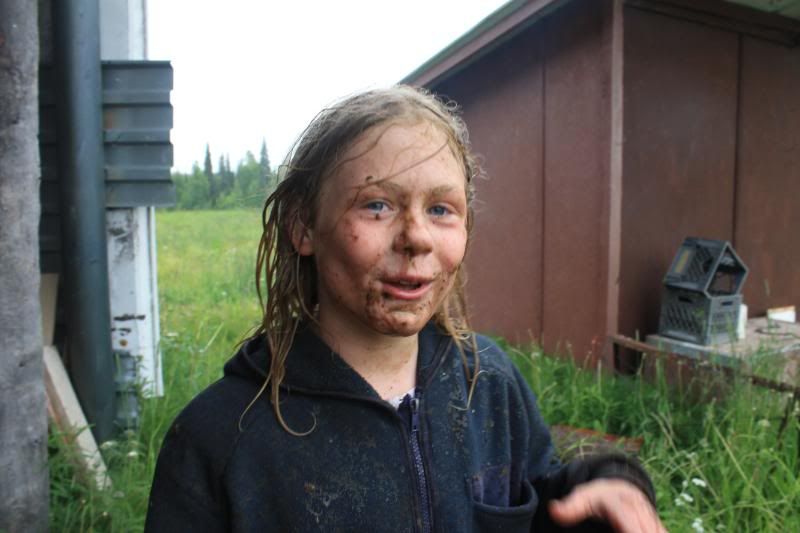 Here he is telling me that they got stuck, he pushed while daddy drove out, and also one time when daddy was driving pretty fast he almost gone thrown off which was also awesome. What, what mama? Scared? I mean,why?
Yeah, um we were not scared. Can we get a couple 4 wheelers this week? Or even next week would be ok. Yes?
I learned some really interesting things also. If your legs itch and you cannot go to sleep, you can scratch them with a bottle cap. Another thing that I was told, was that Sometimes grown ups are boys. 3 yr old wisdom.