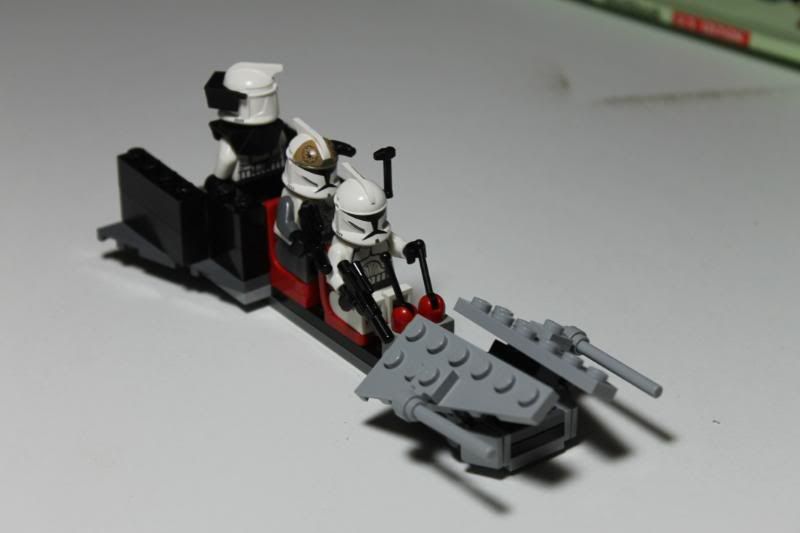 These is a speeder. It does speedy things, I think. It is a speeder that holds three, and I think since this photo was taken (I did not take it, nor was I aware it was taken until I uploaded the card today) it has had a large gun added. One capable of dealing with alien life forms.Of which species I am unsure.
This is...some essential part of the speeder that has something to do with why it does speed-like things.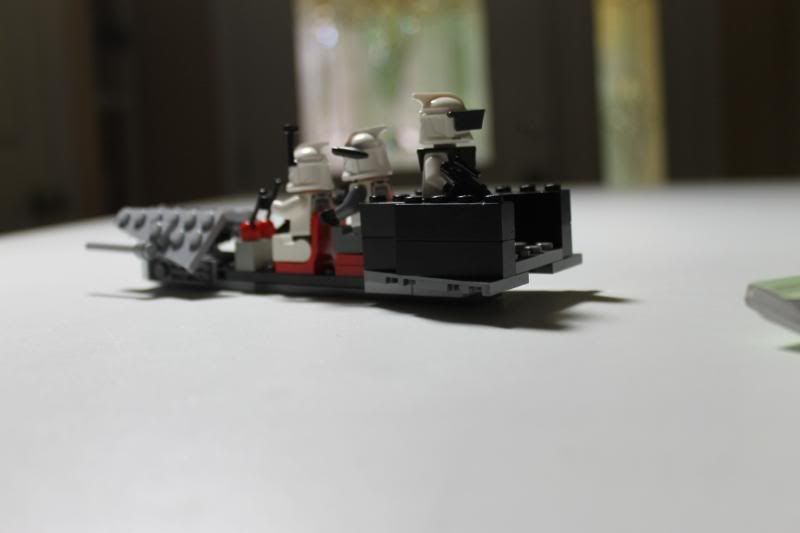 And this is a full shot. See it has these 3 guys in it, and if I were in a dark alley and these were full sized guys in a non-Lego speeder-I would fear. I love that my kids are so comfortable with a camera. Someone took these photos, turned the camera back off and put it back away. Nothing is broken, no one dropped it. How do I know? Because if my kids make a mistake, they tell me about it before I get a chance to discover it. I like them. But they might be Aliens. Nathalie says that anyone could be, and you cannot know unless you ask them.
We have tents. Rather than buying a 4-6 man tent, we bought two tents that both say 3 man. I think the smaller one (below) is definitely 2 man or 2 kids with small bags. The one that Tad is in will be for us to sleep in, or Frank and Tad when they do winter (IE STUPID) camping while Nathalie, Kitten and I stay home and watch little house on the prairie marathons in a warm house.
Kids tent. Nathalie is using this for her and her babies to play in today, Kitten naturally is in there with her. Tad is being a monster or something (Nathalie adds-possibly an Alien) in the other tent. It is a loud Alien or monster. I shut the door so I wouldnt hear it anymore. It is so cold the windows are closed. Oh and the heat is on.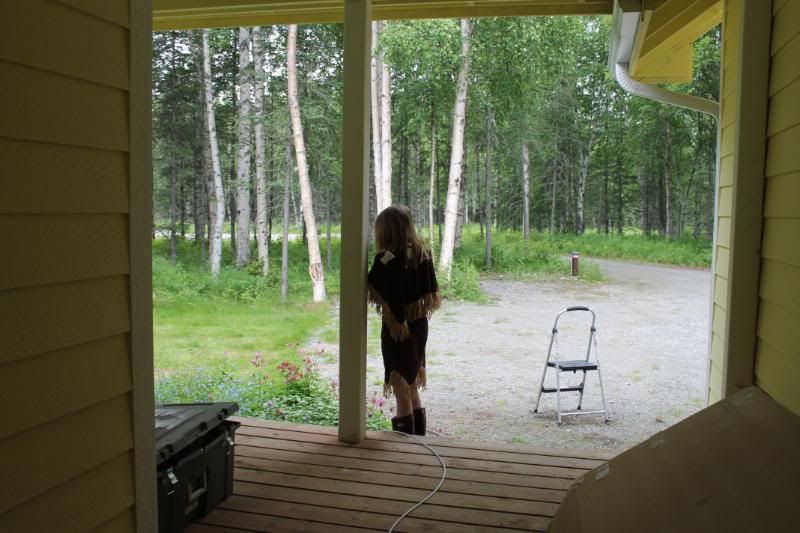 Nathalie talking to her best friend Faith, in Tn. Yep they live in Tn! Some of my readers know who my best friend in Ga is-they bought 80 acres in E Tn and moved! The kids are so excited, we will go visit them next spring. They have a river, a pond and a lot of land. I love Nathalie's outfit. It is 50 degrees and just plain windy and cold and she is out there in a cheap Pocahontas outfit.
Note the purple muck boots. They are why she is warm. I think she is an Alien.
We are going camping this weekend with local friends Rachel and Brian. They own the RV park that we lived in at first here in Ak. They are cold savvy people and love to camp. They are really great people, Nathalie says Rachel is so cool she might actually be an Alien and she is going to give her a questionnaire. On it will be, Are you, in fact, an Alien? She hopes to find out the truth.
We are going to go 4 wheeling possibly, which I am not good at. We will have some beer and a campfire, Rachel and Brian's other friends to visit with as well. I am sure at some point will be music which means I will definitely find a reason to dance. When have I ever needed a reason? Well, I dont dance while I sleep. I dance to the music in my own head, but on top of that we have an iPod. Dancing is like food, I think I need it to survive.