Baby girl loves her daddy. There are many things that Tad does which she cannot yet do, this bothers her! Whenever Frank can give her the opportunity to do some things that appear hard, she is so excited. "Mama, daddy say I can go up on the roof with him! I am gonna hand him tools ok?"
"Hey mama!!! I be on the roof!" She has been up here before, she likes it. She wanted to be up there alone with him though, she thinks he is an island and she wants to share the space. He can do ANYTHING and she wants to be his ONLY helper sometimes.
She even strikes a cute pose! This was monday evening. We did the whole roof in 1 afternoon and 2 evenings. The trusses and facia were done of course,but the actual roof deck, tar paper and metal were done in a very short period of time. 2 full working days would have been enough, and we were all so incredibly worn.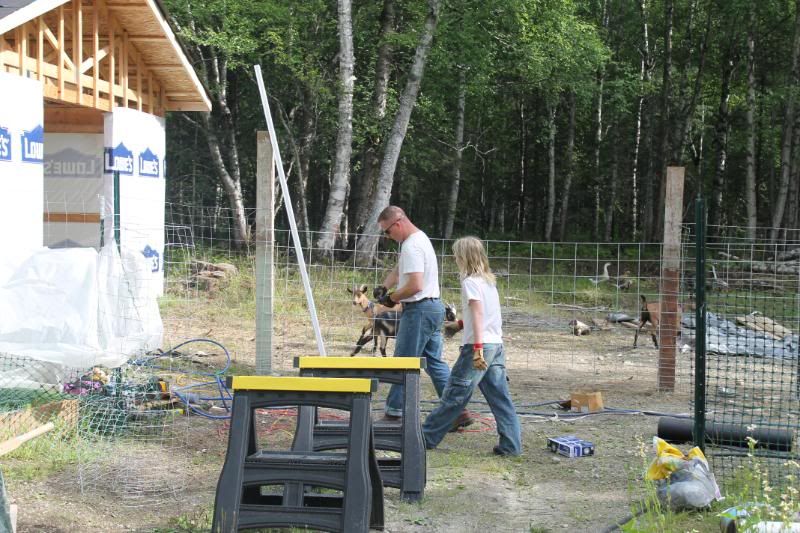 My boys getting ready to go up. It is time to start the metal!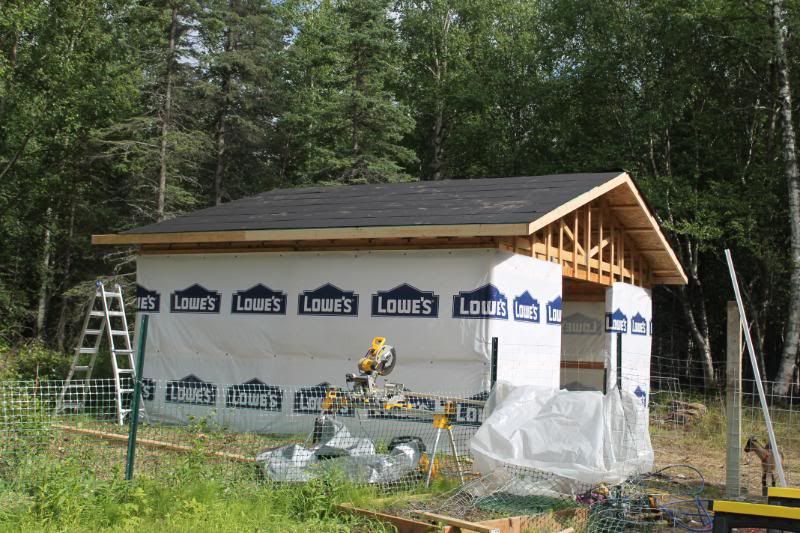 Finished product with tar paper. We got the first half done Sunday night and all of the birds went running in as soon as it started to rain. There has been a tarp in there since we got the fence, trusses and house wrap done. We wanted the goats and birds in there to have more space, and have a cleaner yard. Granted we have the chickens in the yard but it is controlled. It is crazy that the birds discounted the tarp but were happy with half of a roof!
Another view of "finished" to this point. Each task that is completed makes us say/feel like, oh look its becoming a barn! The kids always wait for one of us to say it. Tad says, "So...the last time you said that, did it not count?" No son, not now. Because NOW we are farther along! Because of our roof trusses being gambel vs gambrel (traditional barn roof style) it looks almost like a small,square house vs a barn. I think, that it is wonderful.
Kitten is just making sure all of our tools are safe. Thankfully he does not pee on them, like he pees in the house! We got him neutered and it has helped, he is still peeing in one corner but it does not smell as bad. We cannot have this behavior, we have to find a solution. The vet said it can take 2 wks for the behavior to stop and it may not ever. We are hoping. One of our winter projects is to rip the carpet out of the living room and hall, and lay matching faux wood laminate to the bathroom. So I mean it will match the bathroom. It is darker than we like, but we do not want to redo the bathrooms. I am tired of remodeling, but I cannot handle the LR carpet. I hate the way it looks and feels, and I know that it isnt clean. Everything from it sticks to fabric and clean laundry, so it has to go.
\