Frank and I did the facia boards while the kids cleared this area. Mostly they used a hedger and their hands, Frank is cutting here with the sawsall. Just some pieces that were too big. This is going to be the hay area. We cannot put all of the hay in the barn, or build a barn for hay so instead we will use T posts and fence around the bales of hay, and put tarps extended over. I think if we do 2 tall posts in the center of the bales, so center of the hay fence, the tarps will drain effectively.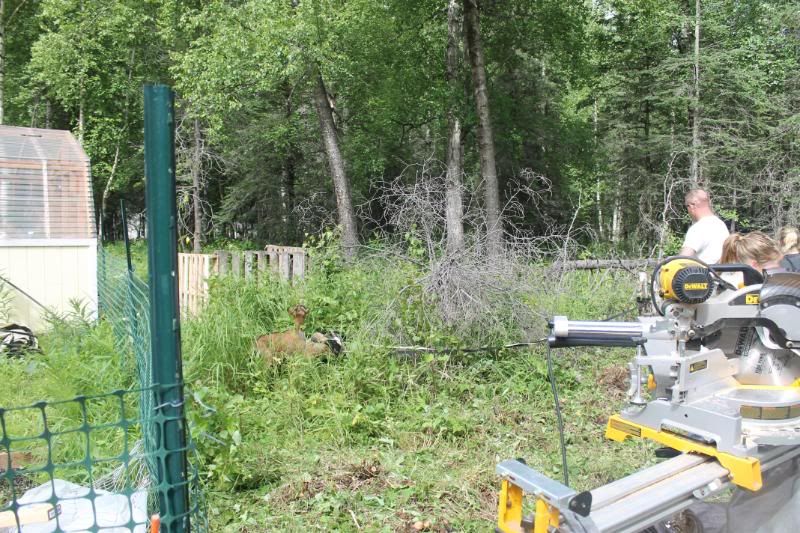 The goats helped with the clearing process by eating. My door for the feed room will be on this side of the barn. I wont have to enter the barn yard fence at all to feed, I will go into my side door and bring in hay, and the feed room will be a small half wall room just inside of the door. Hay feeders will hang on the opposite side of the wall so the goaties can stand up to the wall and fuss but they cannot trample me. I will keep grain and chicken food in there as well.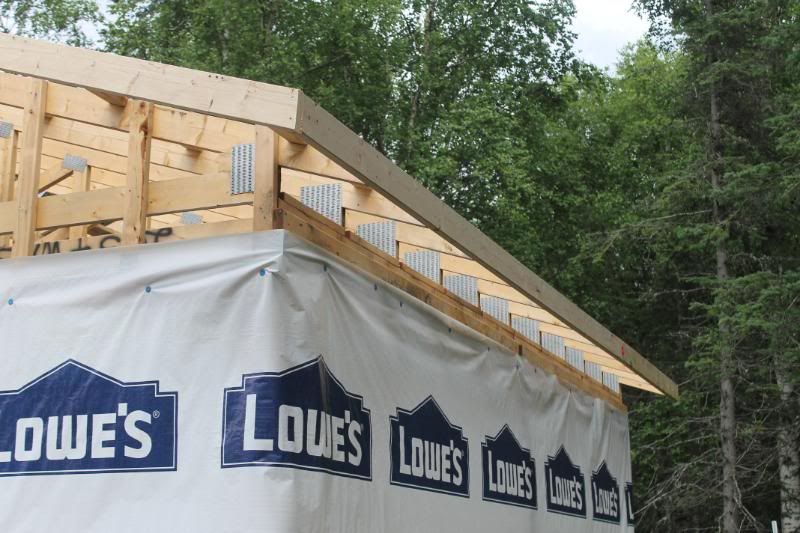 Facia boards, we did the right and left sides which took a very long time. the ground is soft, spongy, has old rotted stumps and trees. This land was logged in 2005 and the compost is deep and hilly, hard to place a ladder in for scaffolding. That part takes longer than the boards.
Naturally Frank said his cuts were not perfect on the front, but I think it looks great. This is our first large project and it is encouraging that we are so capable. I didnt doubt that, but there has to be a first time. our neighbor is a contractor and he comes over from time to time and gives advice which is wonderful, he found only 1 flaw in our bracing and nothing else needs to be changed.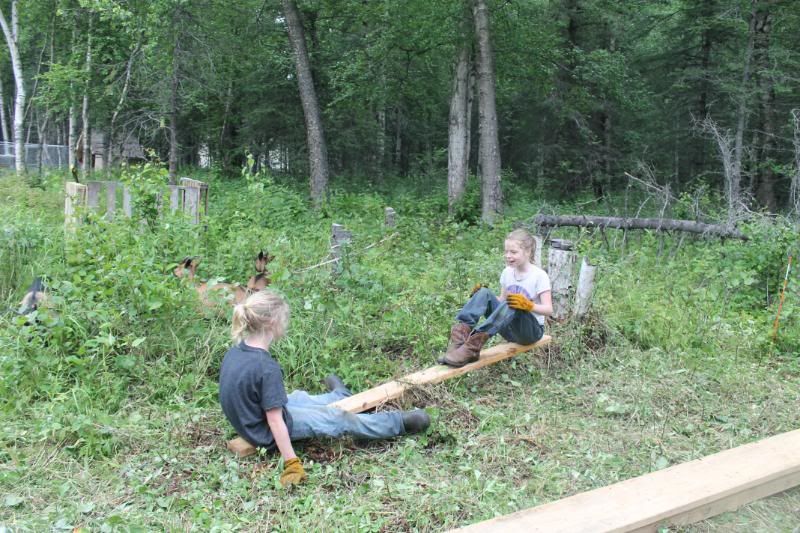 "Mama, daddy's scaffolding makes a see saw. Can we have it?"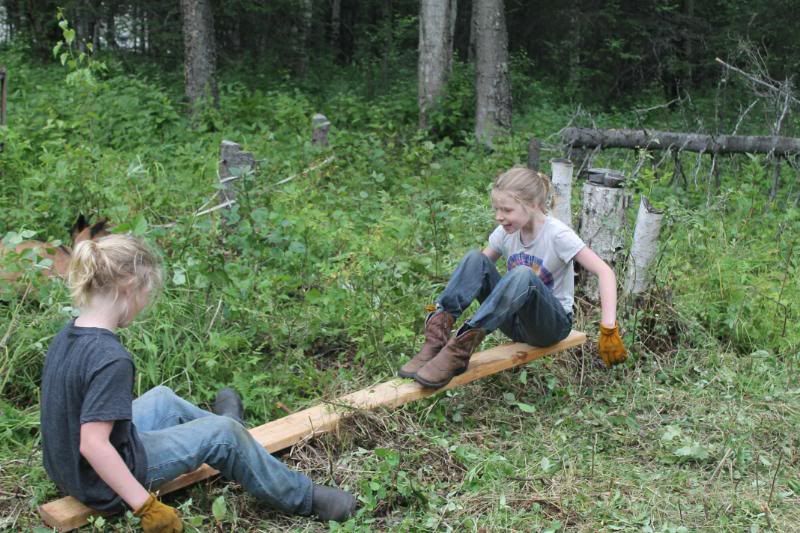 "He is heavier than I be. I cannot move him. Tad raise up a bit so I can see, or is it saw?"
"Nope. I am going to sit here with you up in the air."
"Baby girl bring me some 2x4s." She starts her first trip up. She has been on the ladder, but not in the trusses.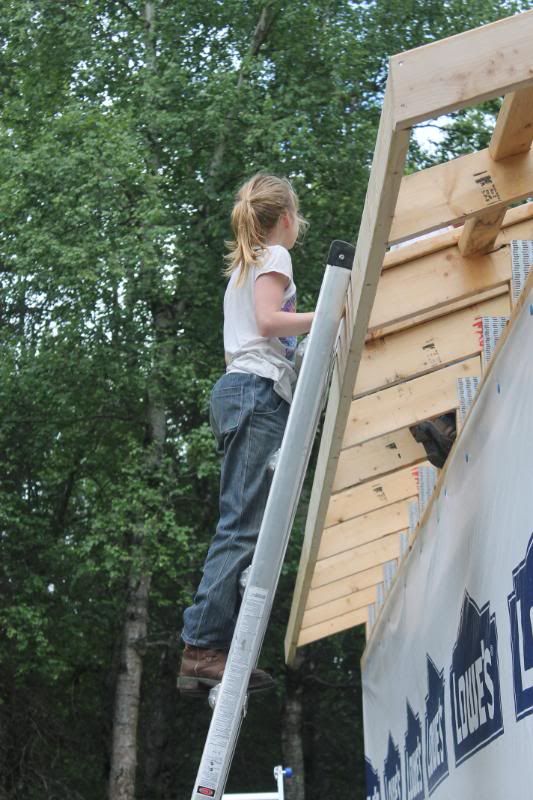 "Ok now can I come up daddy? Can I sit inside?"
"Yep, as long as you hand me tools and do not look at your mother too much. She will look worried I am sure." I mean, yeah! N is a little fluffy sometimes and she is just 10! I was not all over a roof until, well I was at least 11.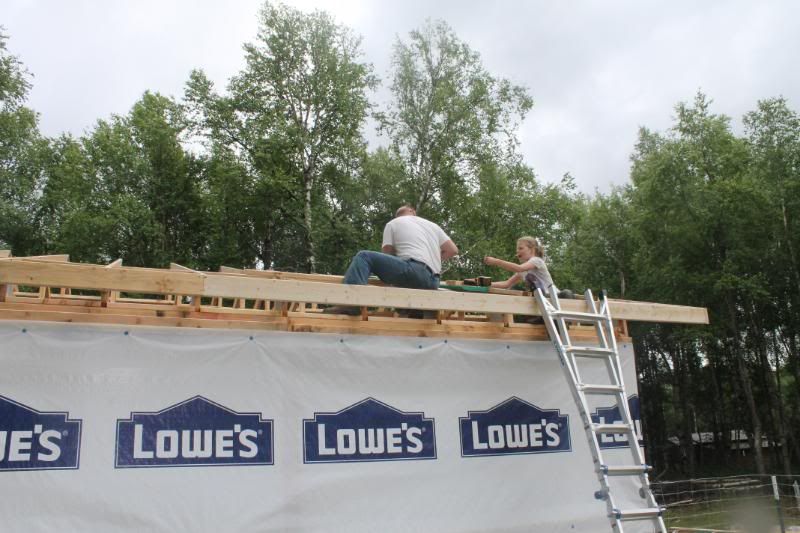 She stayed up here handing tools to him until he was ready for us to hand up the sheets of particle board.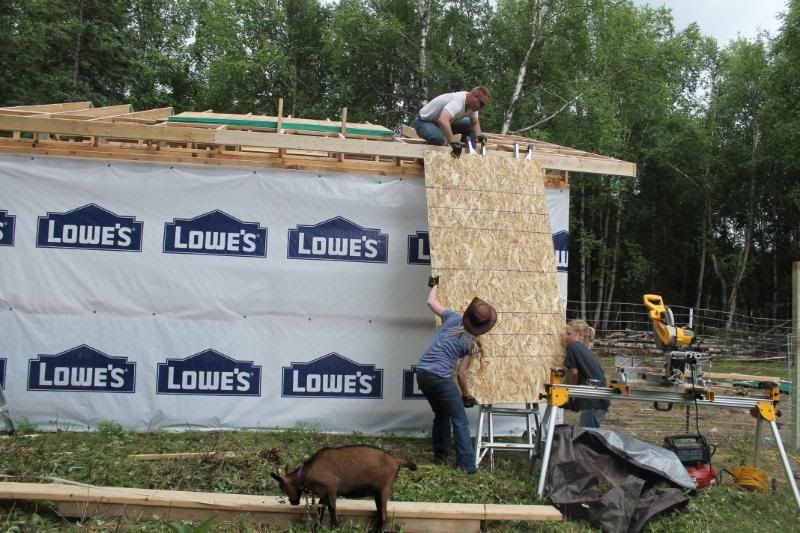 Tad and I pushed up sheets until he had enough up there to do all the whole sheets. In retrospect, we didnt love this method. We prefer to climb up and down, Tad and I, and hand him sheets up and then climb back up to help place them. The pile was in the way and we had to move it twice which took up time.
Frank stacked them all and then came down, we all got tools and headed up and spent the next several hrs getting this side done.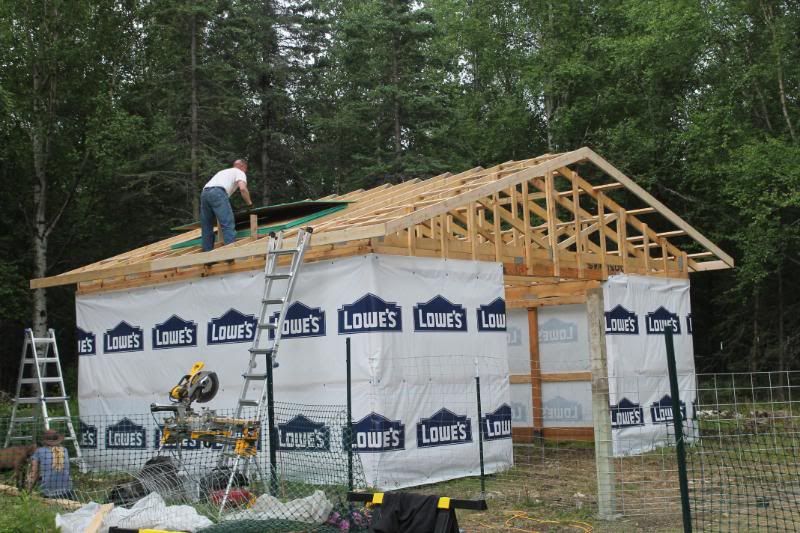 The 2nd half, which we did last night, took under an hr.
Taking a break. Not that we are exhausted-this half was done after Frank did 24 hr duty which naturally means he is gone much longer than that, and has been awake from 6 a.m. Saturday morning. It is now Sunday around 3 p.m.
This is the first roof I have worked on since I was 13 I think, as a kid I was happy on a roof. Now I know what a true injury can feel like, and I do not enjoy it as much as I used to. Its not bad work though.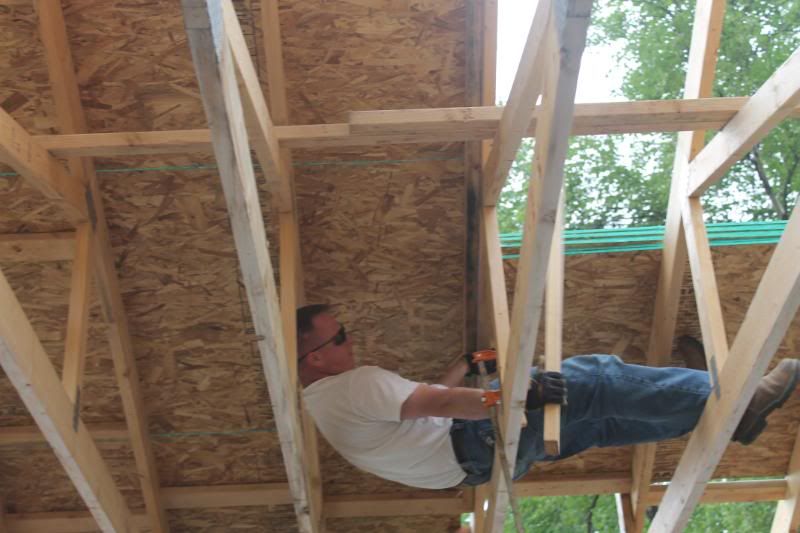 We ran into a problem-we made the overhang 2 ft instead of 22.5 inches. the point of that- it makes it 24 on center. We were 1.5 inches over and thus did not make it to our 2x4 on the first full sheet. Nothing seems to be perfect when we build, maybe if we did it all the time but we do not. Thus, Frank had to go under and attach some 2x4s along the truss that didnt have enough under the particle board for a bite.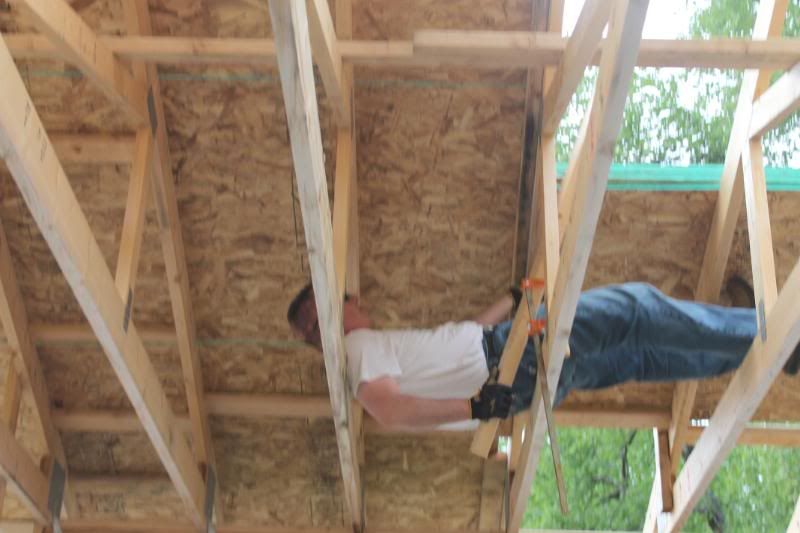 I offered to go down and he stay up top, but I cannot do this. I am not tall enough nor strong enough to hang between them for as long as it took for the 2 of us to position the several 2x4 pieces under there.
Nathalie was taking pictures and did so until the battery ran out on the camera. I got the last few pictures needed to show project completion on my I phone so I will have to post those when I upload them.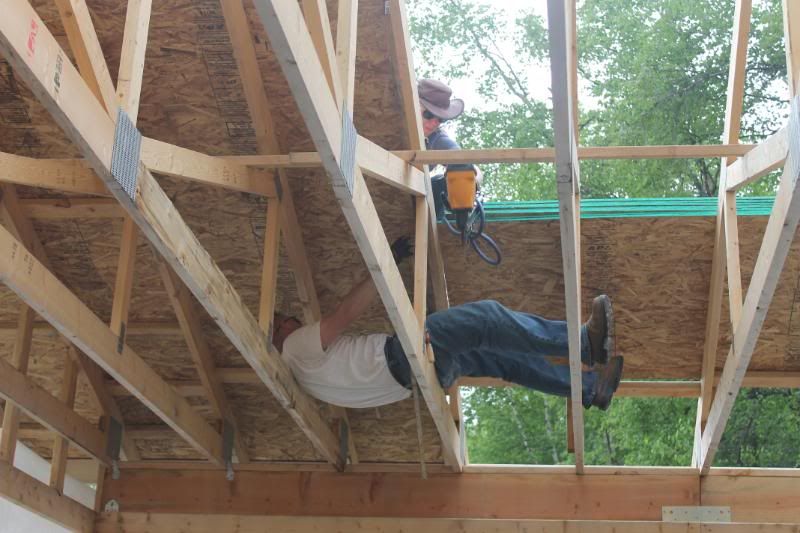 "Daddy, I be glad you are not a plumber." I am handing him the nail gun here, it is a heavy beast. Even if I could hang under here, the nail gun is just too heavy.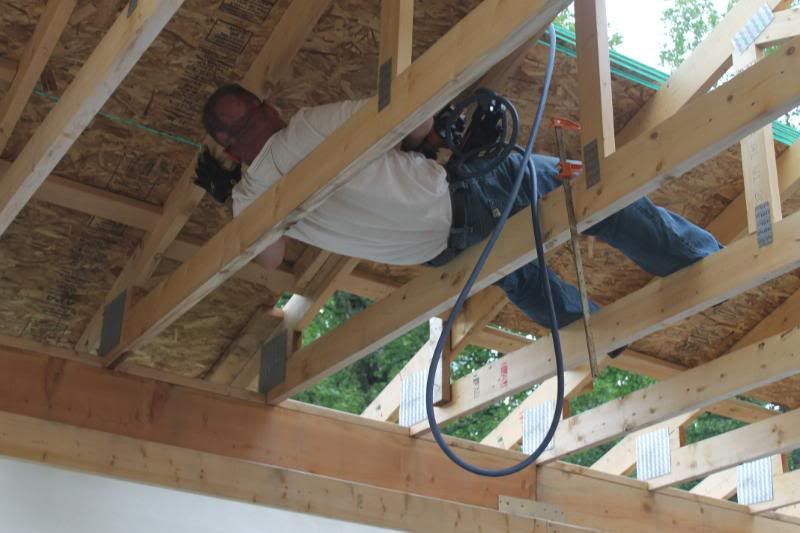 We had to do this both sides, but he knew that the 2nd half and it was much easier for him to put the wood in.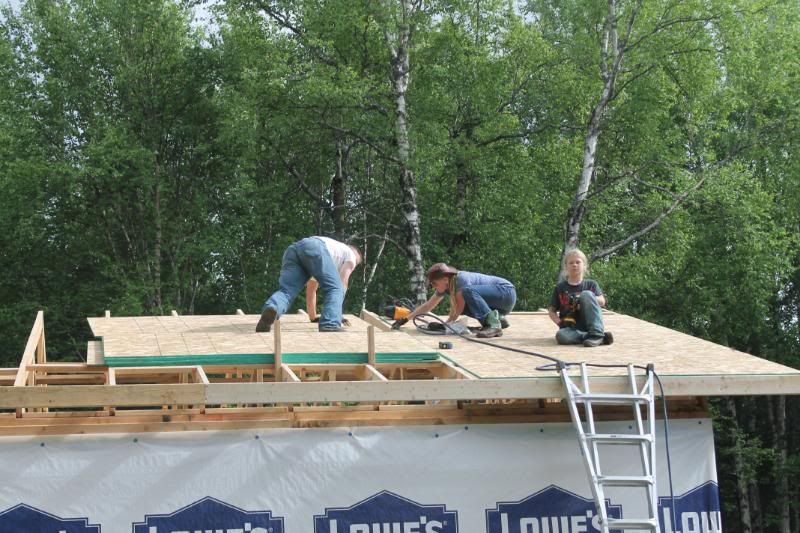 Tad climbed up, and he was all over the roof like a cat but she didnt get any good movement pictures at first. I got some good ones later, but again those are on my phone.
Moving around the particle board. The lumber yard consultant suggested 7/16 and I am glad. They told us at Lowes that it could be really thin, but that would not have worked. We can walk on this but it bows a bit under our weight even with it nailed to the trusses and braces. Anything thinner would not have worked to walk on.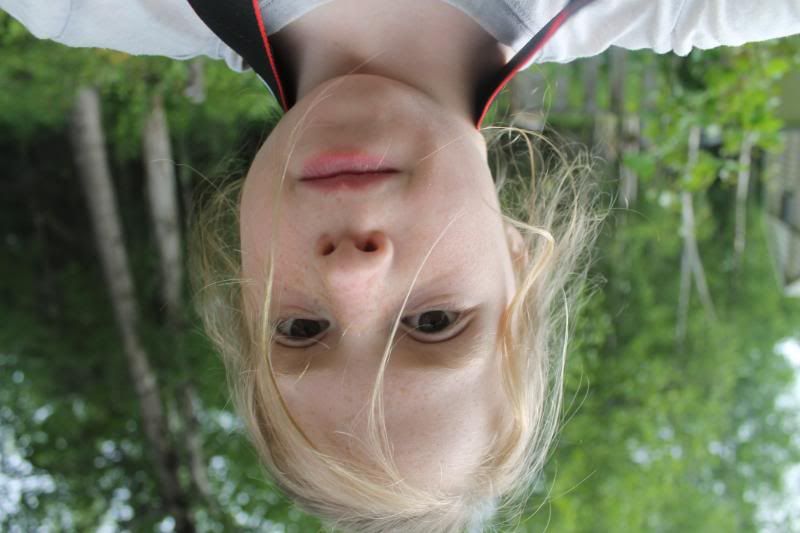 She got a little bored, I will not show you the other 13 photos they took. They are photos that she wants for me to delete. I will keep them in case she likes a boy that I do not like someday.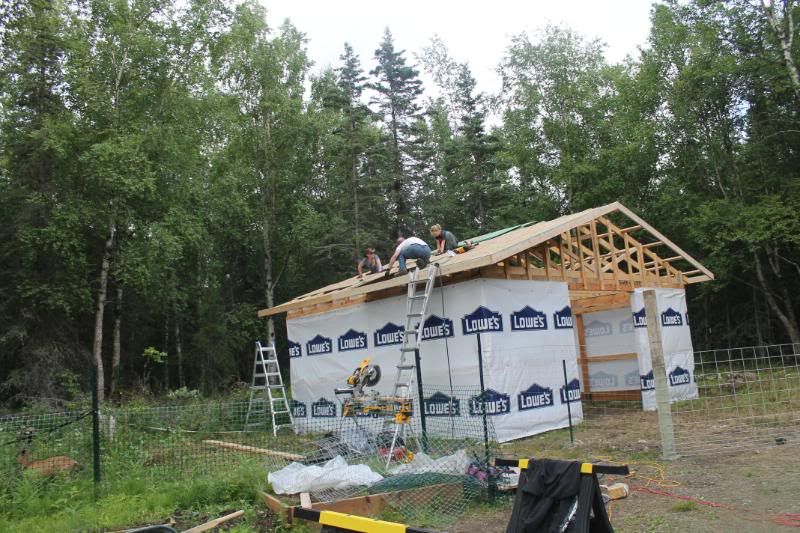 Here Tad is working with us. Nathalie joined us when the battery died. She was nervous but by last night, she was happy up there. I came in the house to make dinner while the 3 of them finished putting in the last 3 cut pieces and lay tar paper, and I looked out to see her leaning over from the top point, looking into the barn. I went out and calmly asked, do you understand extinction? Yes ma'am. Do you think there would be any humans if we all failed to mentally evolve better than that? No ma'am. What were you doing? I was seeing daddy. He was inside the barn with the neighbor. I wanted to see him. Then climb down punk. I would miss something mama. You gonna be missing your life baby. I would go to heaven mama. Nevermind punk stop being a butthead.
It was a long day, but a great learning experience. Each time we do 1/2 of something, we learn that the 2nd half takes 1/4 of the time. we are growing fast in our abilities.The kids gain knowledge daily. I was hesitant to let them on the roof but Tad logically asked, "how can I be a man and build a house, barn and shop for my wife and kids if I do not learn? As you see, his logic won!