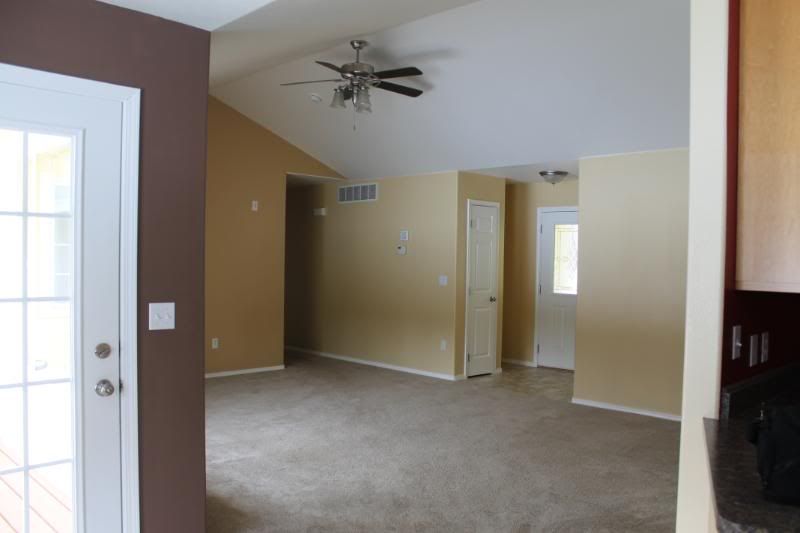 I completely forgot to take pictures of the OUTSIDE of the house. Lets just say this. Its yellow. The above picture is me standing in the dining area of the eat-in kitchen. The photo is of the living room, front door and to the left, the back door.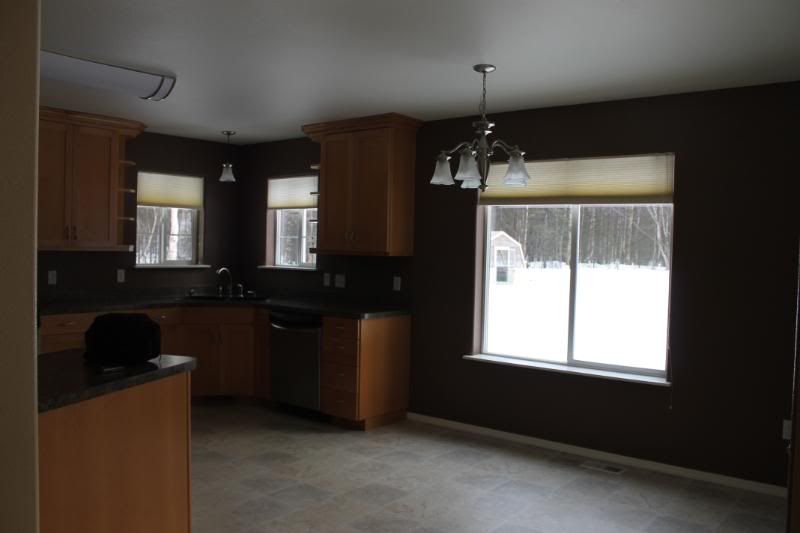 All that I did here is turn around, from the living room now into the dining area of the kitchen.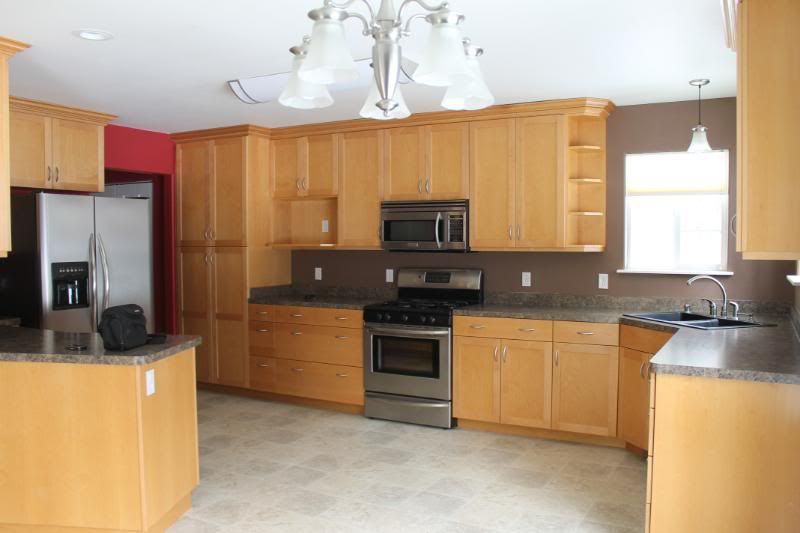 A larger view of the kitchen. Yes, I had 2 ovens in Kansas. Will I miss them? I think because of some new diet changes that we have going on, I may be ok with just one. Oh and I lived in an RV for nearly 3 months, and it was hard to cook in an oven that wouldnt even fit a loaf of bread.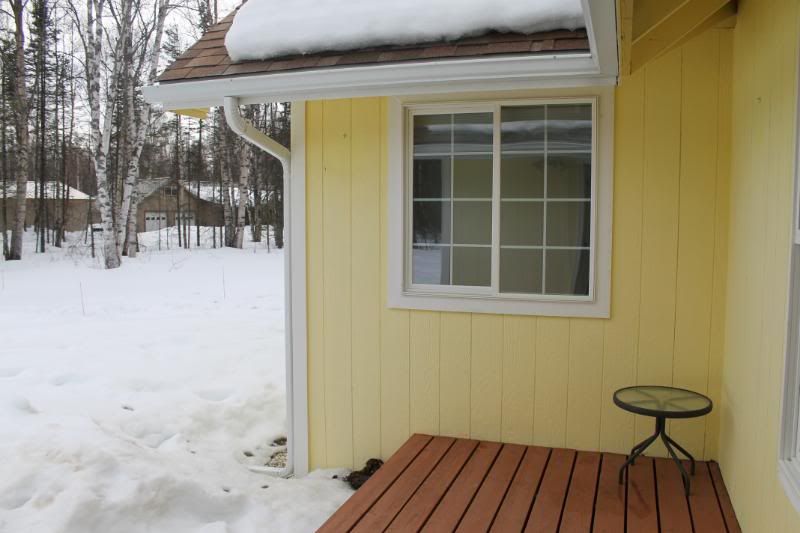 This is from the dining area/back door (in first photo) out to the back porch, and consequently, master bedroom windows. See? The house is yellow. Its not a terrible yellow, I do like yellow. I bought this house partly with my friend Eric in mind. He has a yellow motorcycle. And a yellow helmet. Also a yellow coat. I saw some yellow boots once, I almost bought them in honor of Eric. Yellow isnt even his favorite color.
My greenhouse is also yellow which I am happy about, I think the sun will find it honorable and grace us much in that spot. It is in exactly the right spot to receive maximum southern sun exposure which is what growing plants need the most. I have never had a real greenhouse, this one is fully insulated on the bottom portion. It is warmer in it by far, even today while it was quite cold and snowing steadily. It is still snowing as a matter of fact. There is more snow today by many inches than there was in this photo.
Front foyer up close, the little coat closet wont get much use as a coat closet, we will enter through the garage/kitchen and there is a large coat closet with multiple hooks (quicker than hangers) in the foyer of the kitchen. To the left is the hall, to go down to the bedrooms.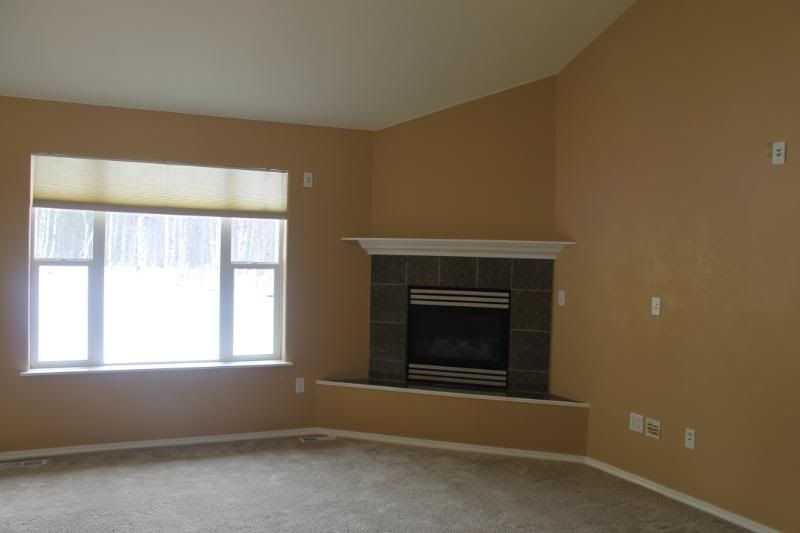 View from the front foyer, the fireplace is gas which we do not love. However, we wont live in this house forever and it had many other appealing factors (IE affordable-hard to find in this area if it is anywhere near to code and often even liveable.)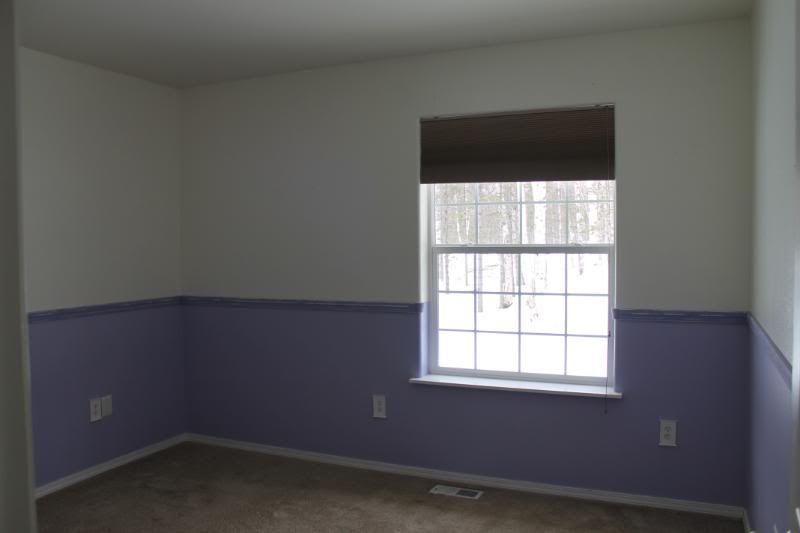 Down the hall to the right are 2 kids bedrooms, this is the purple room and also the play room. We have 3 bedrooms, in Ks we had 5 so its a big difference. We will put a futon in here for when we have guests.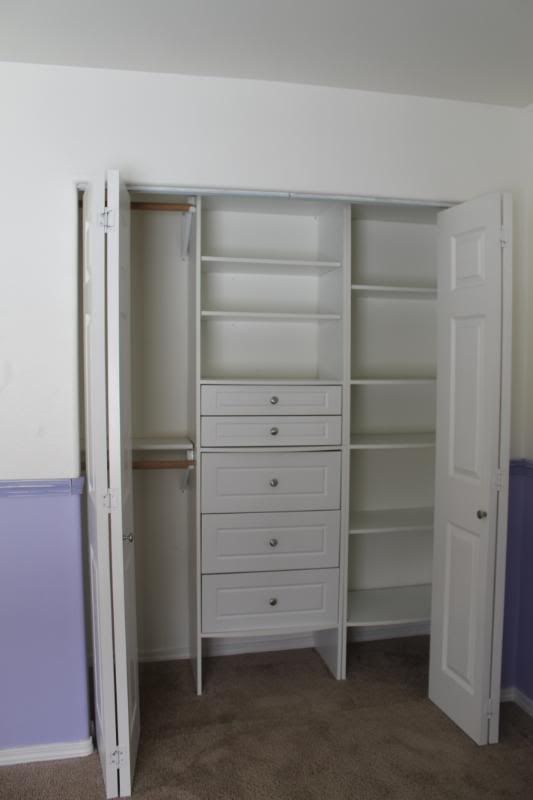 One thing we asked for in the contract was that all the built-ins stay in the closets. They are not actually built in, they are drawers/shelves from Lowe's or somewhere like that. I am glad that they left them, it saves space. All of Nathalie's clothes fit in here, and all of the games, some books and a few toys.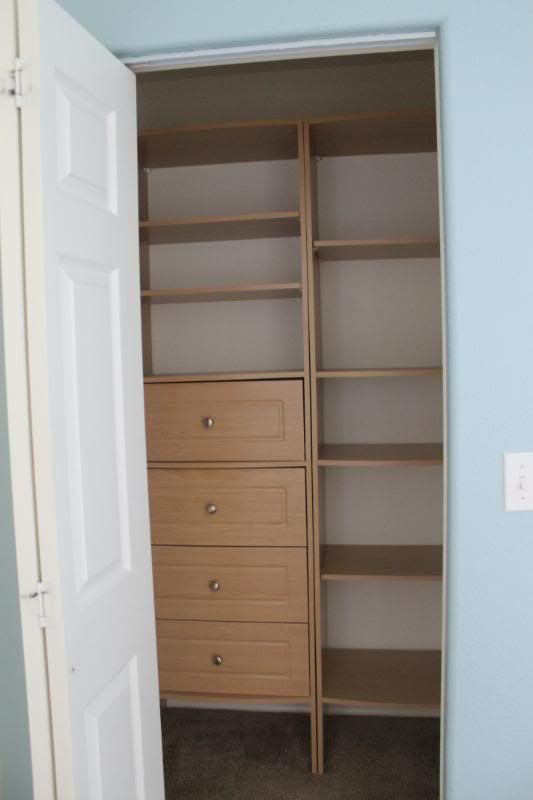 This is the sleep room, Tad's closet is not as large but still has plenty of space for clothes, a few of his toys and some books. The bunk beds are in this room, and a cedar chest that provides a good play top, Tad's guitars, amp and music stand take up the last corner.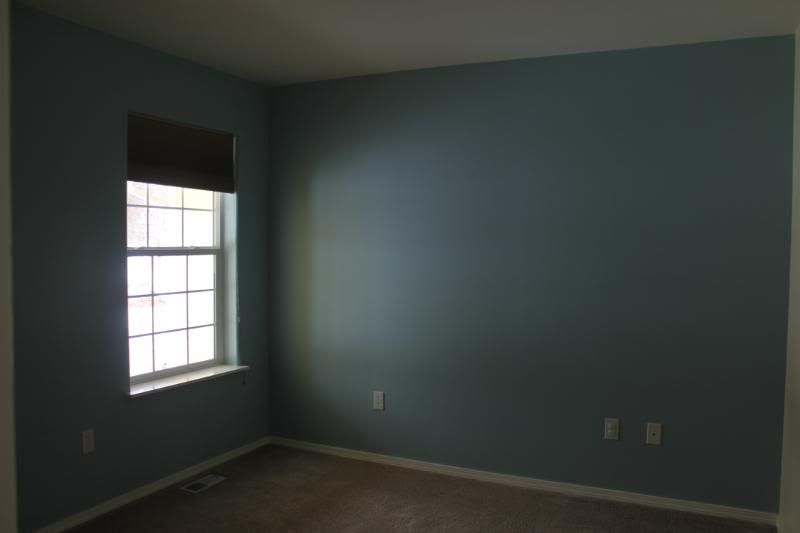 This is the sleep room with nothing in it. We took some flack the other day for letting them sleep in the same room. Nathalie innocently told a lady at the knitting store when she was asked did she have her own room, "No, I like to sleep in the same room as Tad, it feels safer." We were chastised as parents, though we didnt act like we minded or were interested in her opinion honestly. As soon as they are ready to sleep separate, they will.
This is the hall bathroom, otherwise known as the kid's bathroom. Nathalie will keep it clean so that visitors wont desire to go outside or anything but its basically the belonging of the children. Nathalie wishes Tad was slightly neater. She does not, however, desire that he clean the bathroom as she is a clean-freak about bathrooms and she loves the job.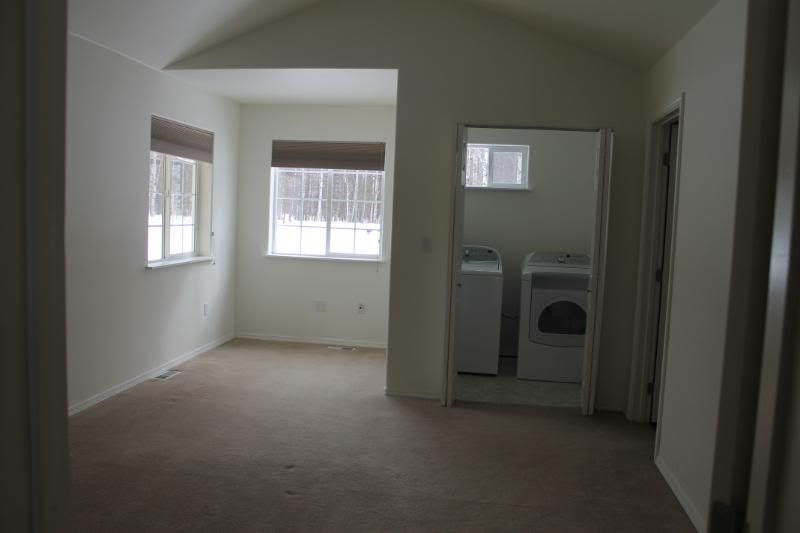 View into the master bedroom if you turn left in the hall, yes the washer and dryer have their own little closet in my room! I actually dont mind it at all. I dont mind the sound of them while sleeping so I do laundry before laying down. I have always worried about a dryer fire, we have plenty of detectors and I am a light sleeper. I prefer for something to start where I am, I have a good chance of waking in time. I like the nook, we are calling it the office. We will put a desk in there for the printer and my business stuff, maybe a book shelf. We wont block the windows, I love the light.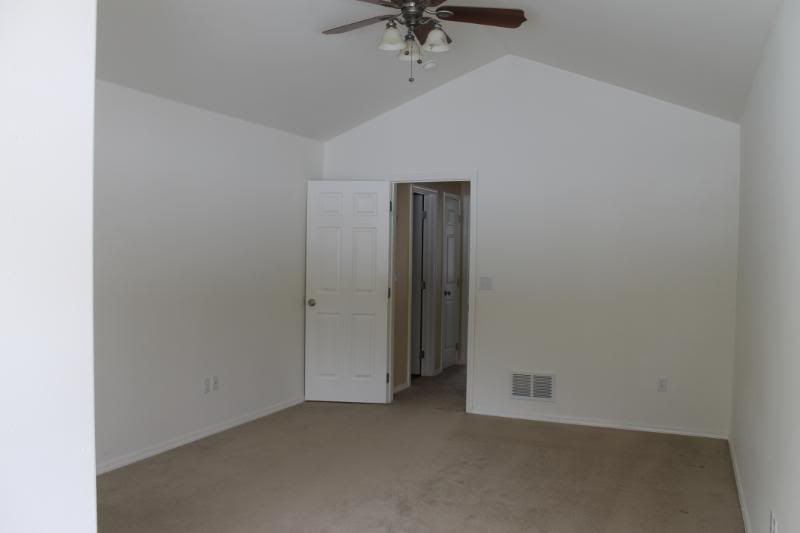 View from the nook, by the laundry closet out. If you go right out my door, to the left is the bathroom, straight is playroom and straight (a bit) then right is sleep room. Just right is down the hall back to the living room. Master bedroom is pretty large, I think that the one in Ks was a little smaller.
Doorway to master bath, the laundry is on my left here.
To the left, bathtub/shower, 2 sinks.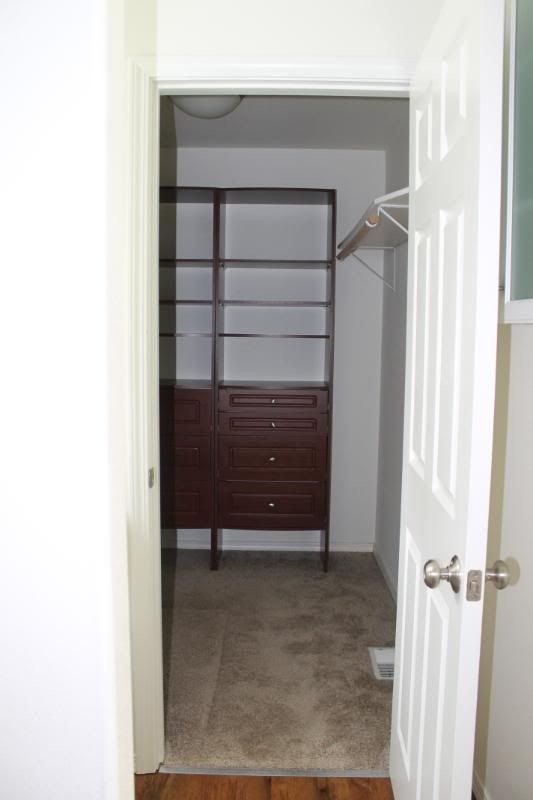 To the right you can go to the toilet, and into the master closet. We do not know what possessed the builders here. I would rather access the closet from the bedroom but it could be worse. I like the built-ins here, our clothes fit completely which is good, that leaves the 2 small dressers that we had for my sewing supplies.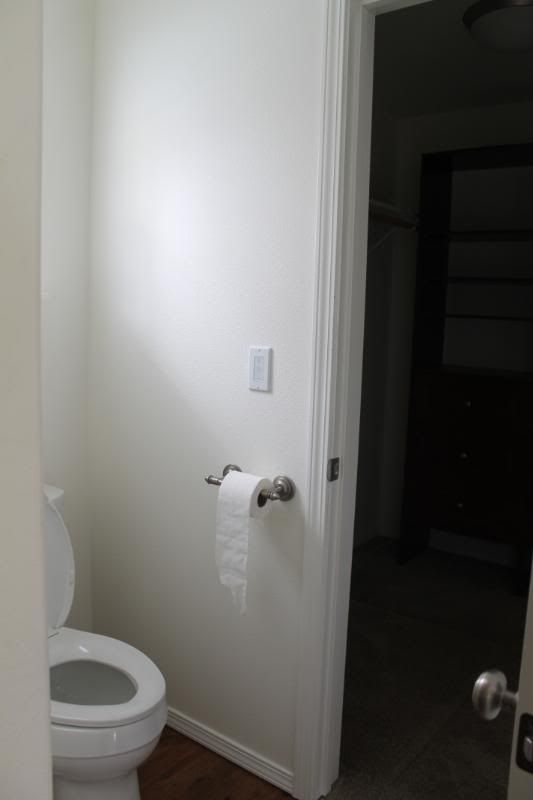 The toilet spot. It doesnt have its own room, but it has its own little nook. I think thats pretty special.
Inside our closet door, is a trap door on the floor. It doesnt quite look non-existent but we didnt notice it on our first look at the house. If we wanted to hide anything like contraband this would be the spot. If someone was after me and I wanted to hide, I would possibly not go down here but maybe I should. I wouldnt because I have been down there a lot, and I have seen no clear sign that says WAY-OUT and so I cant really use that as a place to run to. That just sounds kinda stupid.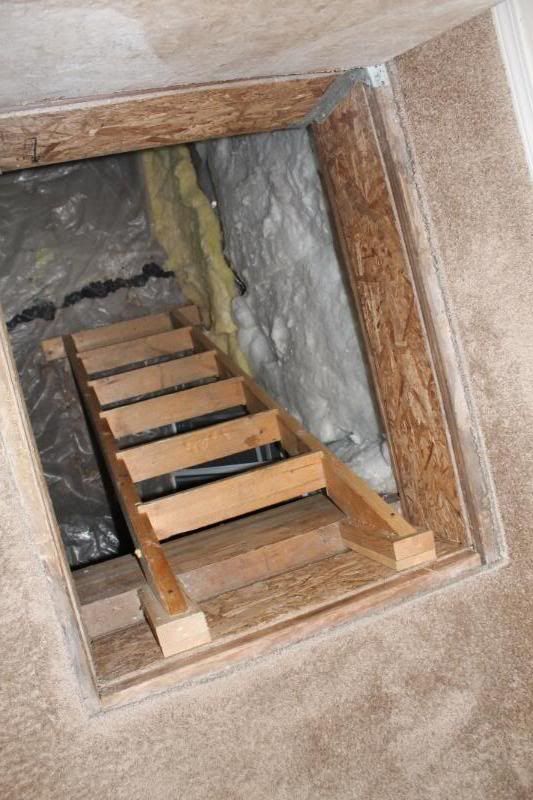 It is dry, insulated, has plastic down and a de-humidifier that hooked up to the house drain system (we empty nothing, turn nothing on/off, do not monitor) so its very comfortable. We are storing a large number of things down there as we live in 1500 sq ft compared to 3800. We did get rid of a lot of things but it was nowhere near enough apparently!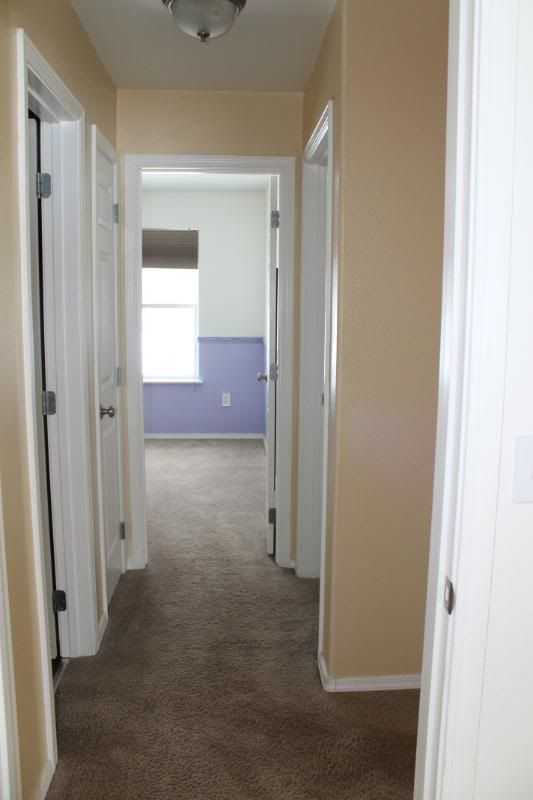 A little out of sink, this is the hallway. Right-living room. I am standing in the master doorway here.
Looking down the hallway to the living room/kitchen.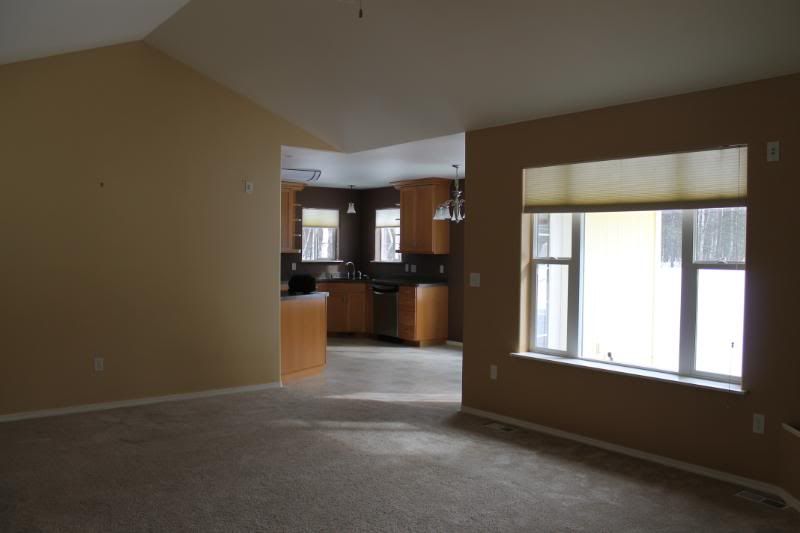 Back in the living room, another view.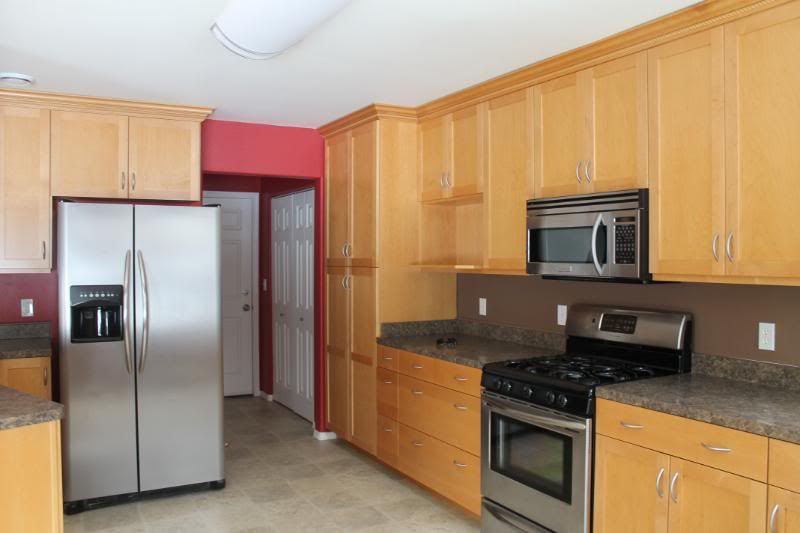 And once again, great kitchen. It was painted red now its not all, I dont know why. Kids bathroom is painted red, I kinda like it. I love red paint though. The door here leads to the garage, the closet doors on right are coat closet doors, though we are putting some of our pantry goods in there as well.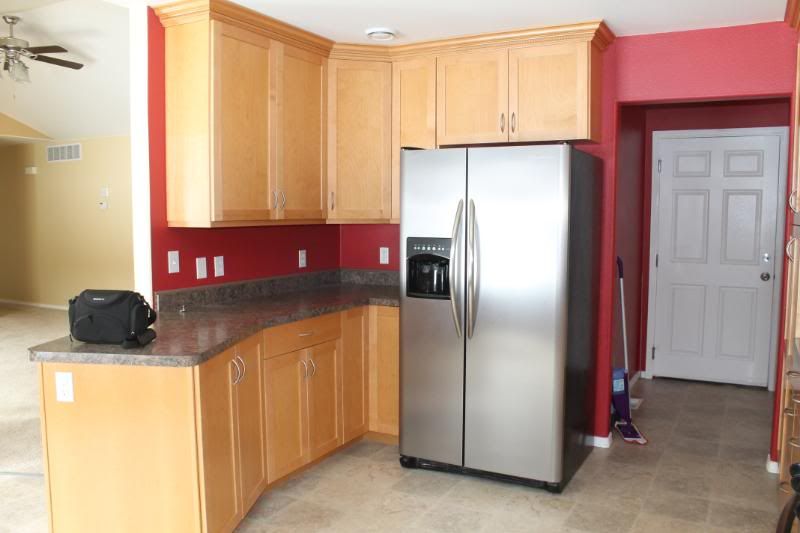 The day these pictures were taken was wednesday, before we unpacked the RV and made a huge, huge mess that has not subsided. Thursday we worked on it, but needed some of our furniture for some of it. Friday that was all delivered and now we have about half the house unpacked and filed away.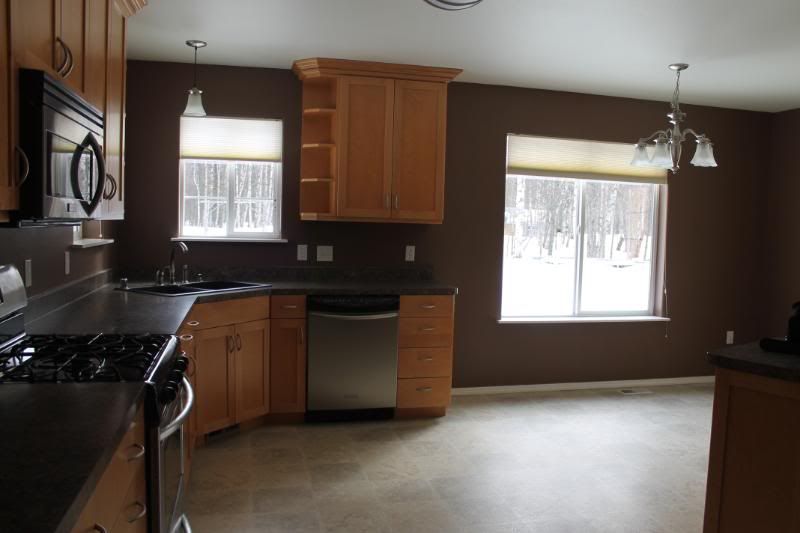 Grand view of snow out the dining and kitchen windows. From the outside, back of the house it doesnt appear to have enough windows. From the inside though it feels like a lot, its very light this time of year which is nice.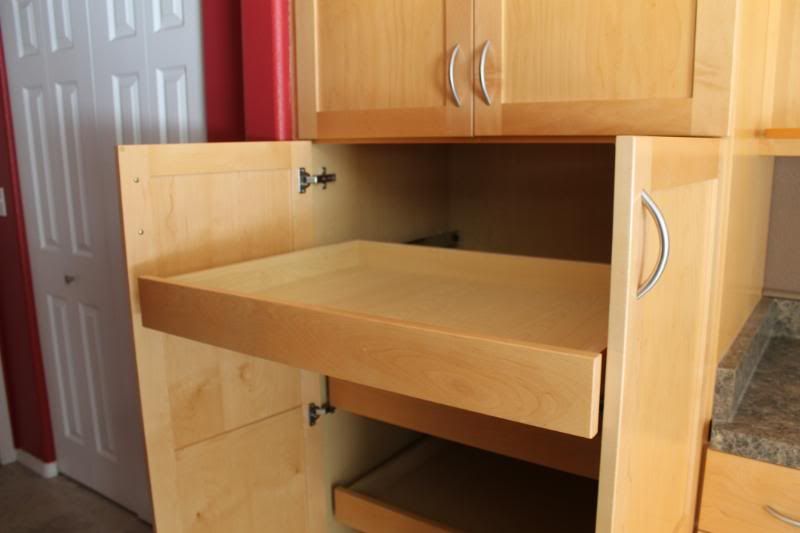 Is this not the coolest thing? Mom and dad had this, both of them in their pantries but it was from remodeling. This house was built in 2005 and I guess it has become the norm in cabinetry?
And then as if that were not fancy enough, instead of cabinets there are huge, deep drawers. I put all the pots and pans in here, they pull out very nicely.
Over here, well the purpose of the photo is to show you a few things. One, my lazy susan, bottom right. Two more importantly, MORE COUNTER SPACE! And three, some of my outlets. There are 13 total. In the kitchen. Someone really thought out this kitchen thing.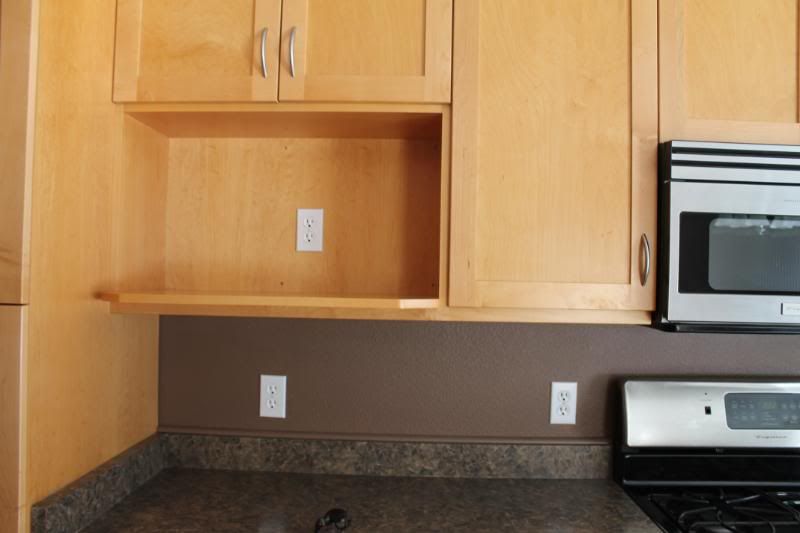 This is probably for a tall person, I put my bosch and grain grinder in here, basically its like added counter space without taking up any space. None of my mixers, blenders, toaster, coffee pot, crock pots etc have to be put away, I have so much counter space they all stay out. My vita mix and toaster are under this neat little shelf WITH an outlet.
The upper cabinets do not pull out but they are still quite nice. And I have a gas range which I far prefer, yes they are worse to clean and I can cook well on electric but I love gas. Even with the prices, its still cheaper to use because it heats faster, I like how evenly it cooks especially with cast iron. Basically, I love my kitchen.
So the RV... we planned on buying a fixer-upper here and living in the RV. Which I think would have been okay in 2 cases, 1 we had enough land for gardening and raising animals. The RV was hard for 2 reasons. 1 was space, and 2 was we didnt have any home. When we went outside, it wasnt ours. We had no purpose, no animals, no growing things. I wouldnt do it differently, the trip up here was a trip of a lifetime. We are all glad that we did it, amazing experience.
I would never live in one again though, it saved us a lot of money. We paid about 500 $ a month total for all living expenses and it is an expensive place to live. We would have spent 2000 $ for a decent apartment and still had to get internet and utilities. It was worth it looking back, but hard during the living period. Nathalie did okay with it, the rest of us felt useless and bored, and in Tad's case sometimes just miserable. poor guy... he is very happy to have a house. We all are, we dont even mind the unpacking.
More later on our new diet choice. It is interesting, I promise.