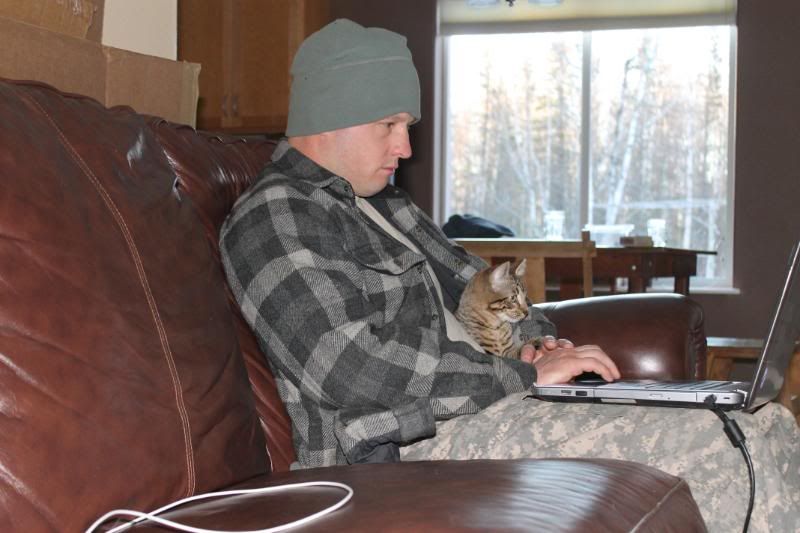 I think we are back to the spot that we call living. This was the longest transition that we have had I guess, in moving. We move a lot being in the military. It seems like our move into this house settled fast. We were unpacked except for 4 boxes in exactly 7 days. In less than 2 wks we had meat rabbits and a kitten, now we have goats!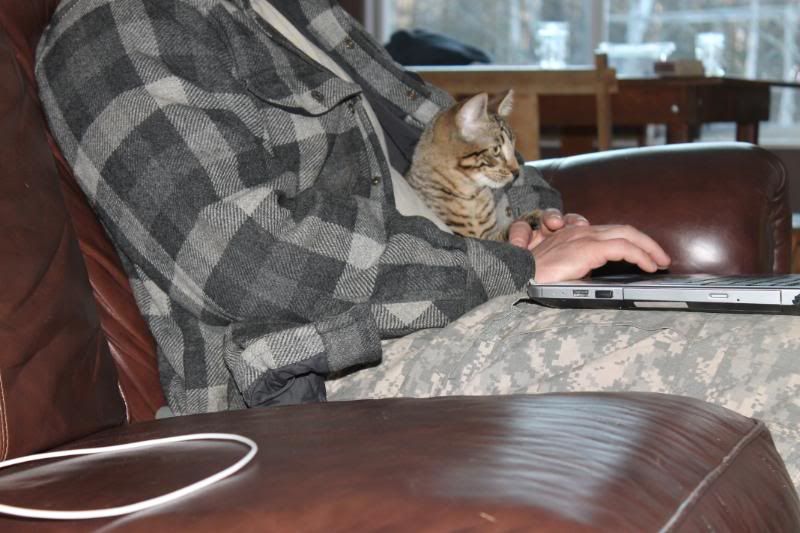 Mr. Kitten Britches loves to sit with Frank. He gets into his coat, and if Frank leaves off his pajamas for a uniform, Mr. KB climbs INTO the pants. He also gets into bags, backpacks, grocery sacks etc.
He looks dead here right? He has discovered the great outdoors and asks to be let out. It is pretty warm here, so we leave the back door cracked. If he discovers that it has been shut, he crawls under the back porch and waits. He came in from some outside time today and sort of died in a sun patch.
This is a life picture. Kinda messy huh. Its how my living room looks during the day, we clean up before Daddy comes home. This is life because we are back to normal, sewing while doing school, knitting (not in photo) toys in the floor, open math books, cast off uniform.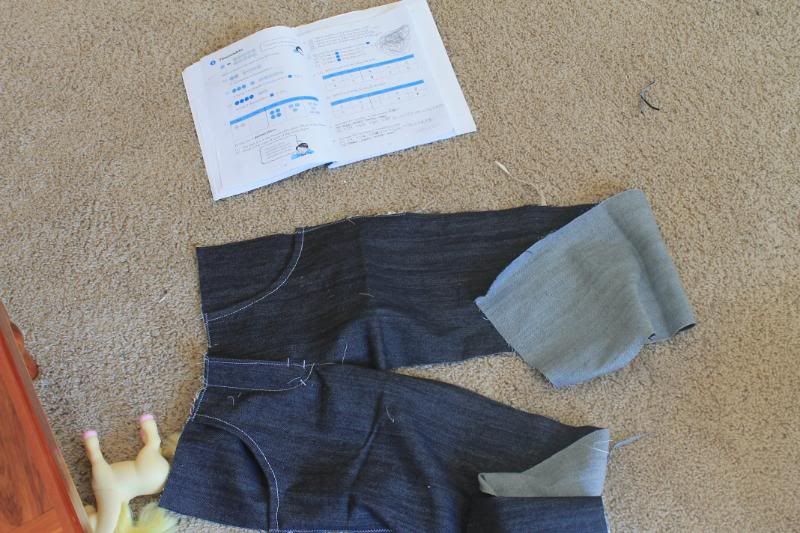 Close up-Nathalie must feel pretty tall because she asked were these pants for me or her. They naturally need clothes, it seems like the seamstress children always need clothes. The cobblers children have worn out shoes, the printers children write on paper scraps. Right now they are messy from what is officially labeled, by Alaskans, as snow yuck. This is the damp, dirty, webby looking junk on the ground as the snow melts. The kids sit and splash in the muck and are often covered. Our road is dirt (I do not mean gravel, I mean true damp, hard packed dirt) and they ride up and down it fast on bikes, come in splattered all up their backs.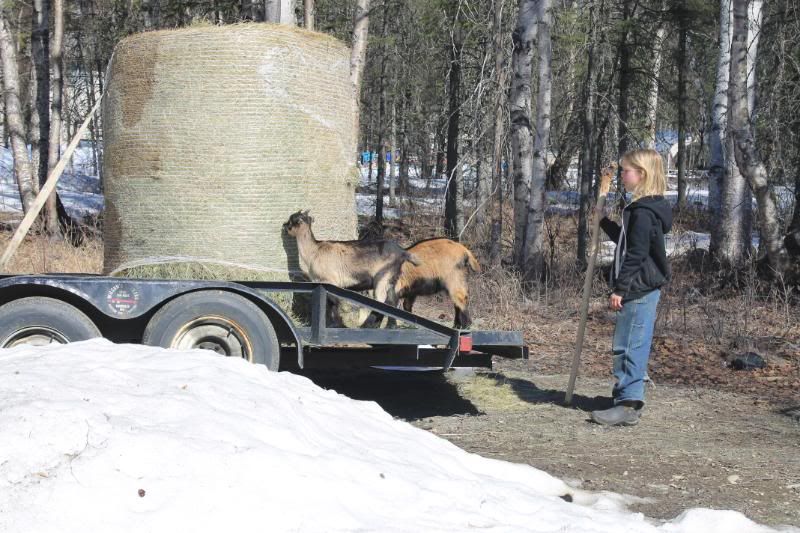 Baby goats! I will say that most things cost more in Ak. A 16 ft cattle panel in Ks was 18$, here it is 64$ and they are not even in stock. Big difference. In Ks, an average goat in milk would be 200-250, a really nice doe 350 and up. Here a completely sad, mix breed, non-registered, nag looking pitiful nanny goat is about 400$. In milk. We paid 200 each for these baby does, they are nice especially compared to what is available. They came from VERY nice dams, nice confirmation, great udders. However...they have horns. The people who sold them live in the true Alaskan wilds with bears and wolves and they let the horns grow. My goats in Ks generally ran from scary stuff, they didnt stay and try to butt anything so I see nothing but a problem with horns.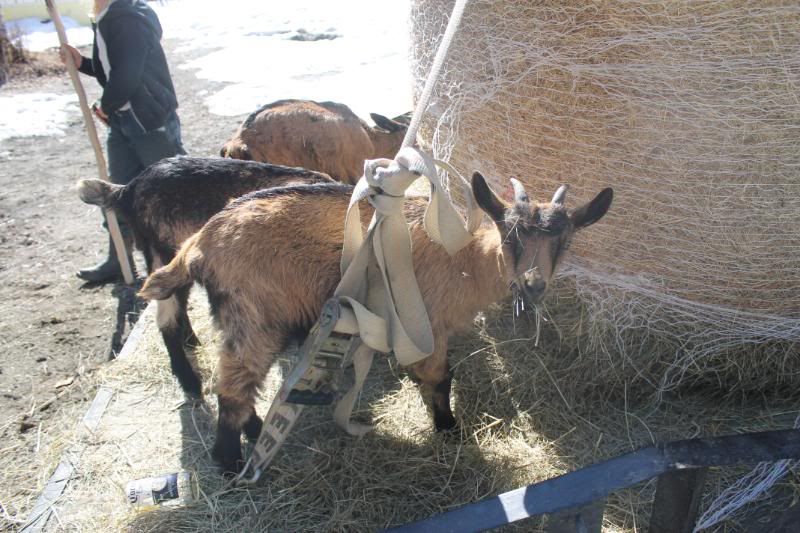 It is what it is though, we have to start somewhere and this is it. They are oberhasli/alpine, or alpine/la mancha cross does. They are sweet and healthy, they are eating hay off of the trailer here because we have not rolled it off onto a pallet yet. we need one of those 64$ cattle panels to make a cover for it.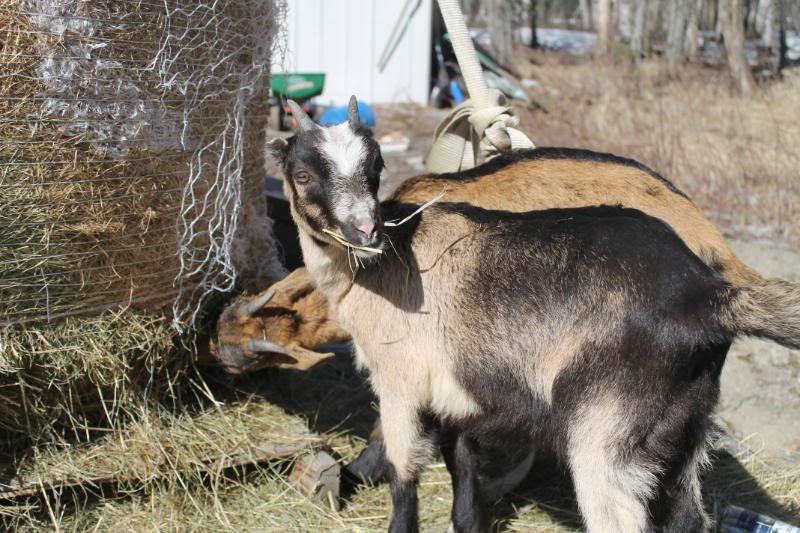 This doe is half la mancha, thus the lack of regular ears. she is Nathalie's favorite. We dont think they can be shown with horns so we will contact a vet this wk to see if they can be removed-I doubt anyone up here will but who knows.
This is their temporary pen, we do not have a barn yet because the ground is still solid. we will start a pole barn as soon as the thaw occurs, we still have snow as you can see. This building is a 6x6 ft bldg that the neighbor gave us, he was going to throw it out. It is watertight and safe, so we put a dog kennel in front and during the day they are loose in the yard for the most part.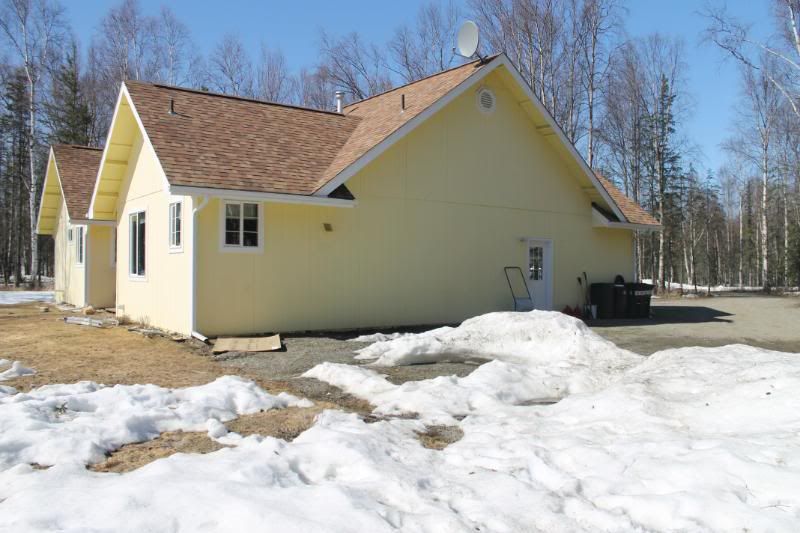 Side and back view of the house, the garage is on the right and that is where the bunnies still live. We dont have much grass the neighbors say, I do not know why but when the land was cleared/leveled a lot of pebbles and gravel were brought in. we will see how bad it is when it thaws.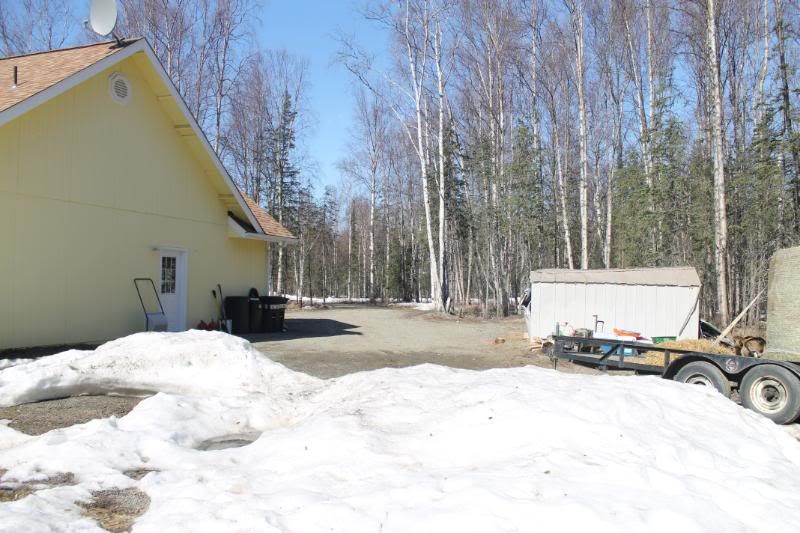 Down the drive, the little shed on the right is trash. The previous owners are coming back to tear it down this next month, and to clean up the yard when the snow melts. Apparently the snow was too much for the shed and it caved in. It cannot be saved, they say there is a lot of junk under the snow as well so we are glad they are cleaning it up.
Woodpile and then just past/to the right is where our barn will go. We dug out the 2-3 foot of snow in a 20x20 sq ft area to see how the ground looks. pretty unlevel but that is ok for a pole barn. The neighbor is a contractor and has a pole barn, it is what he suggests here.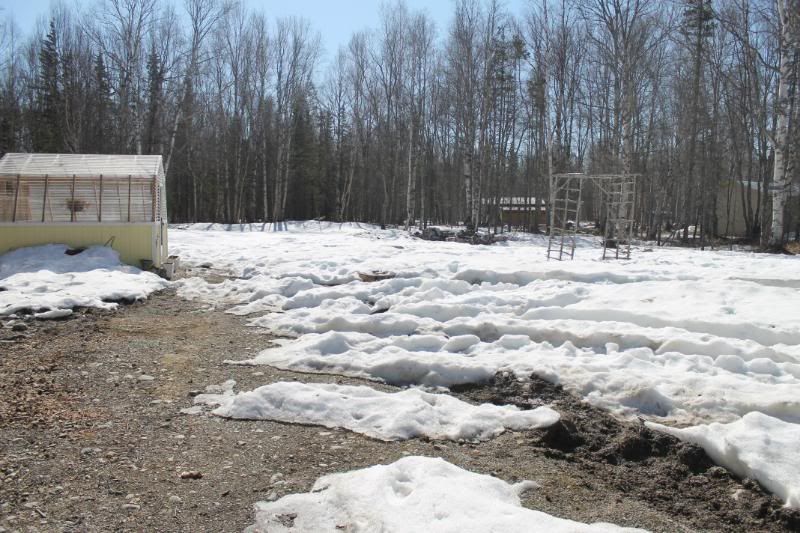 This is to the left of that woodpile, my greenhouse is nearly out of snow! We are starting to see raised garden beds around and in front of the greenhouse. We will have to fence in the garden and greenhouse area, against moose though everyone says they can jump a 6 ft fence. We will have to do the best we can do I guess. I want a garden. We have a lot of plants potted indoors, will photo those later.
thats it for now. going to go do my homework, instruct my children, sew, knit, snuggle my baby goats...