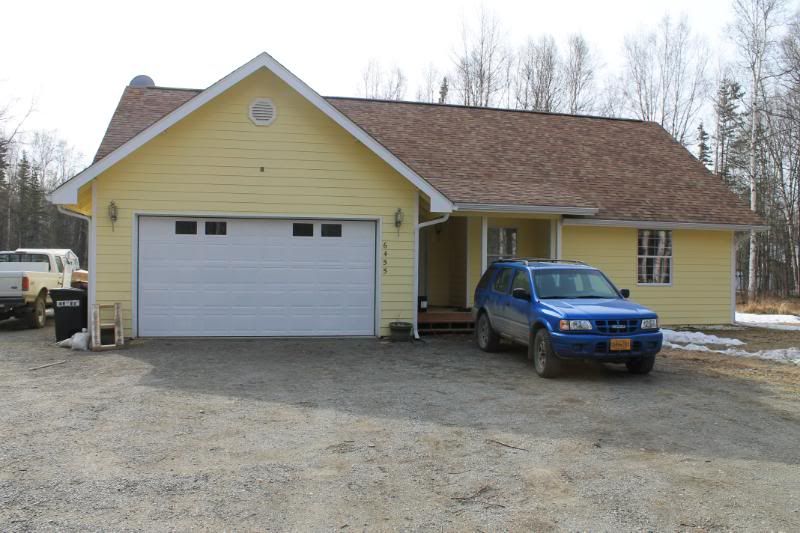 So Eric has asked me multiple times if I would post the front of the house. I have posted photos of the back, and the one side but not the other side or front. He SAYS that he cant read, I cannot explain how he has asked for the photos, because he did write. Maybe he dictated to Jeff? This is my house front! We have a garage, it isnt very big really. We are not sure what to do yet about this. We cannot build a shop effectively because we wont make our money back. I think we will build a nice yard shed and that will leave the entire garage open for tools. The little blue Isuzu is what Frank says is a POS but I happen to like it.
Another front view, once again the sad little garden shed to the left was badly put up. Thin sheet metal with absolutely ZERO supports through center. Basically it fell in, was crushed, from the weight of snow. The previous owners have scheduled to come tear it down for us, it was in the contract. Along with cleaning up a pretty messy yard as soon as all the snow melts. We will put up another garden shed there likely, a better one that is considerably larger to make up for the small garage.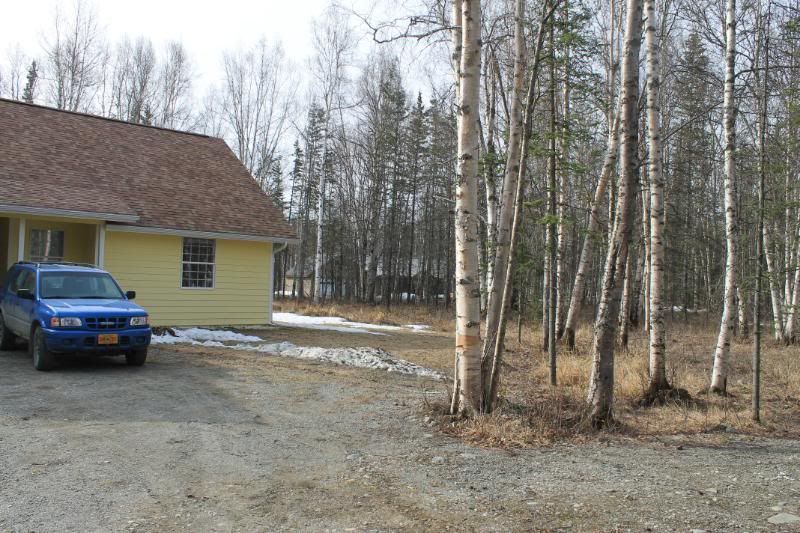 Part of our front yard, we have a lot of trees here. We have more trees than anything, probably an acre of cleared land and the other 2.5 is all trees.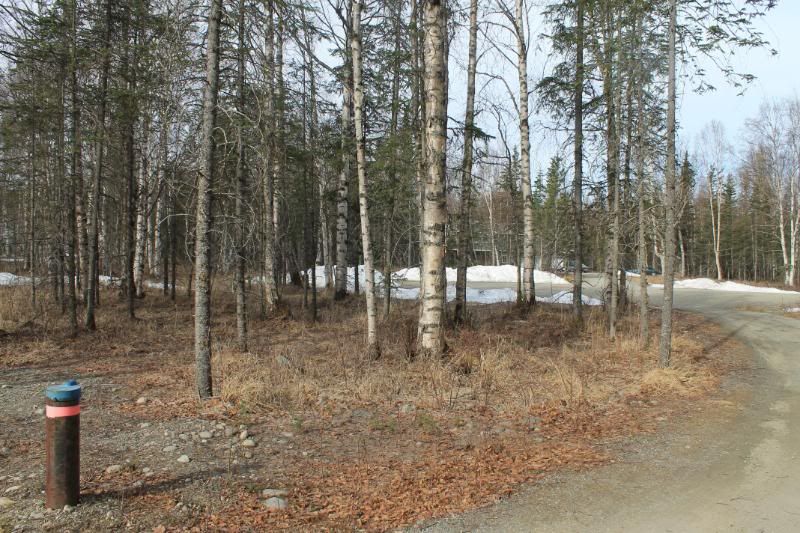 The driveway, and our well. The big pipe-thats our well my uncle Kenny says. He says the pump is in there, we took off the cap and can access the electric wires for the well pump.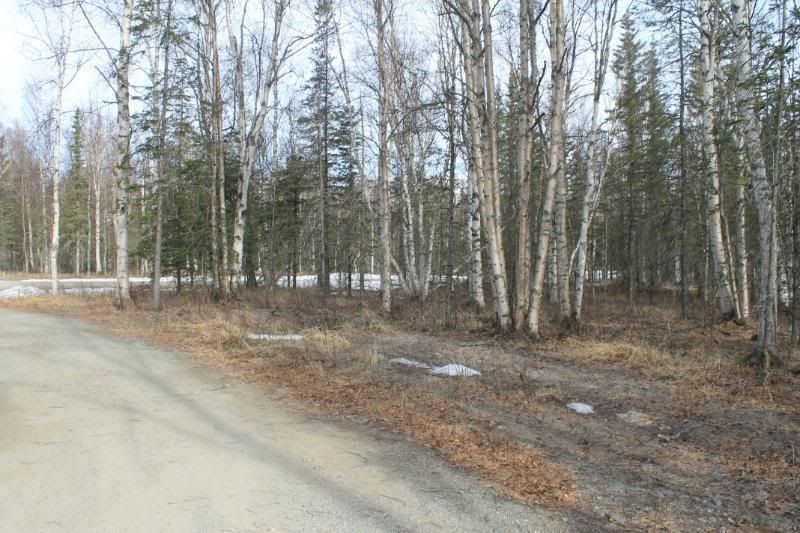 More driveway, more trees.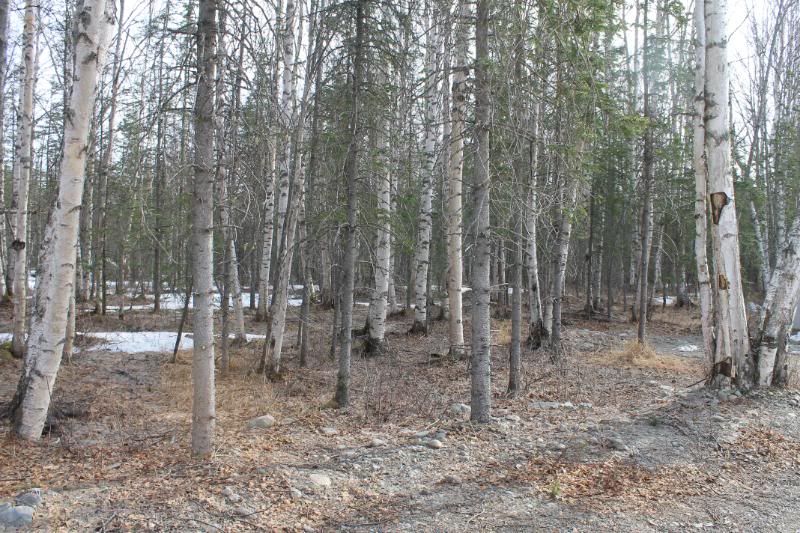 There is a neighbor through there but we wont see them in the summer/fall time because of the foliage. Each person on this road has several acres but the houses are kinda forward so we can see each other. So I have to wear CLOTHES when I hang laundry out. Hmmm. Maybe I should move.
Trashy side view. My greenhouse is not staying warm at night. We have to figure that out. New glass or plastic, a small solar array and a heater is our solution, but that is something we will put money into over the summer so that we have it for next winter. That way we can raise some food for ourselves, and feed the meat rabbits and chickens in full. We hope. The trailer to the far left with the hay on it isnt ours, its my Uncle's.
This is the opposite side yard, the window is Nathalie's room, and the tiny window at the back is our bathroom. We are almost done with snow in front and side yards, still quite a bit in the back.
Front landscape bed, glad to see this is done already. I did enough landscaping for a lifetime in Ks before moving. Especially because I did that in about 100 deg! Eric was there for part of that. Of course his was the easy part due to the fact that he is stronger than me, which I guess I cant hold against him. Right? Or maybe I can.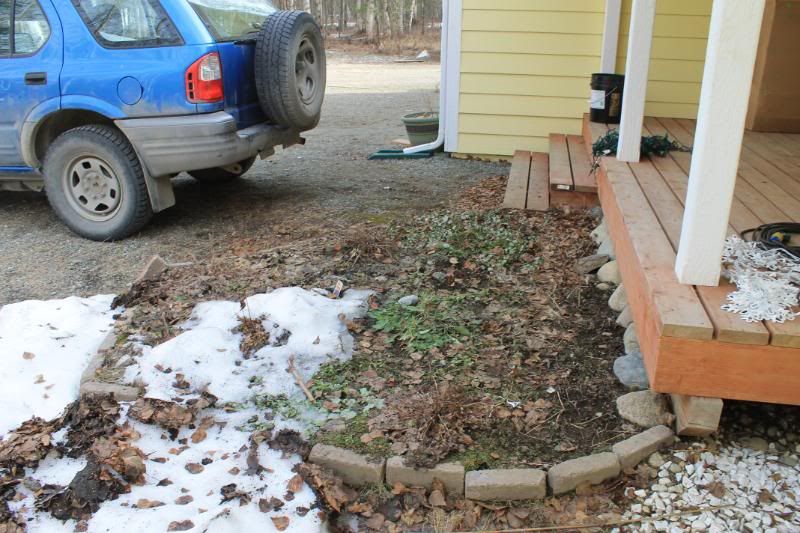 I am not sure I understand this little bed. The lady who sold the house to us said the previous owner did a lot of gardening, mostly flowers. I cant see how this bed would work though, this gets no sun much less any southern sun. So who knows. Maybe it grows something small, or prevents the need to mow/weed eat on this side. There is so very little grass at all here because someone thought the time was ripe for gravel in the yard!