Okay so blogger has changed the way I can post. Some things about it are easier and others are not. The photo wont stay in one place anymore and I hate that, the words that I type do not go in the right place. ok fine I hate it. This is the new toolbox. We have to buy all new tools because of the shop fire, this is part of our new tools.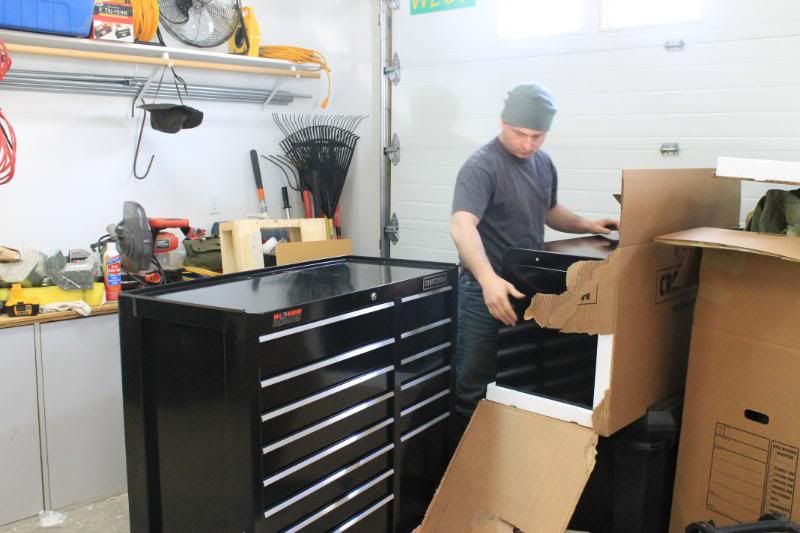 The second half of the new tool box, somehow Frank can lift these. I would be completely incapable.
Nathalie cleaning the cat box, we hauled rabbits in it so we had to clean it up to buy Mr. Kitten Britches. He ended up hagning out in the truck loose, he didnt want to hang out in this used rabbit box.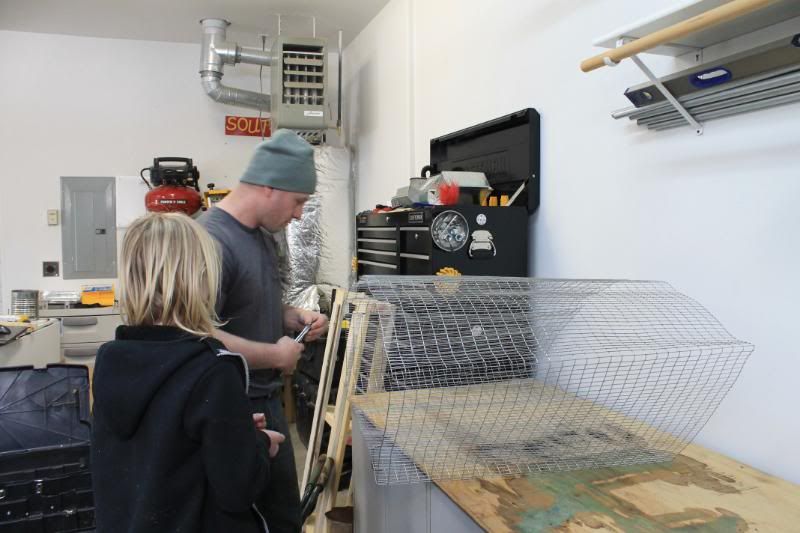 Making rabbit hutches, this initially looks floppy like the wire cannot create a box but it actually does. It was a pain the first time, the tool that you use to put it together was kind of a pain to use. We made one and the stand for them, and the next day made a 2nd. We still need a 3rd.
This was the best look I could get him to make. Sorry people, he is good looking but sometimes he wants to prove that statement untrue.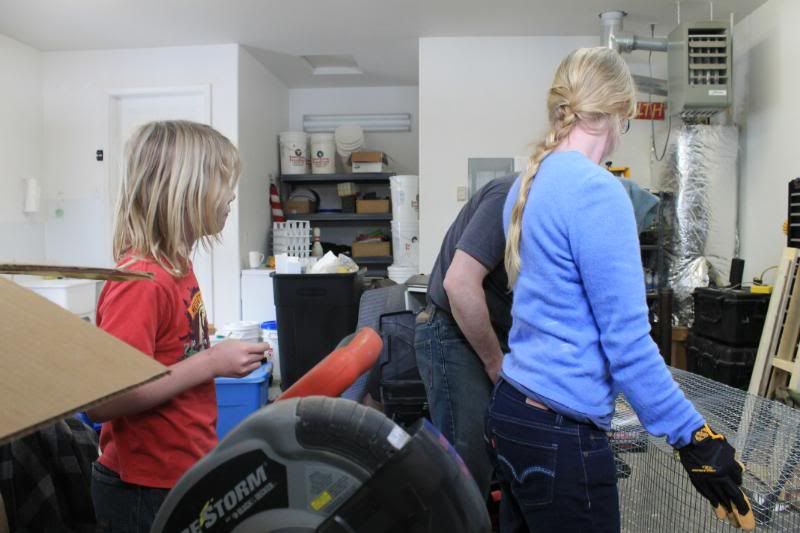 It took 3 of us to build it. I am, of course, the brains of the operation. Just kidding, Frank designed these. He wanted large hutches/cages because most rabbits for meat or pets are in tiny homes. They can barely turn around, and he wanted them to have more space. When we build a barn, we intend to have an area where they can be out of their hutches altogether. Right now Little Babbity (the new smaller female) is loose in the garage, their potty is easy to clean up and she has an open cat carrier for warm sleeping spot and free choice food and water. Mrs. Babbity was mean to her so we had to move her out. Sometimes females can live together, but they are territorial so that doesnt work especially if one or both are pregnant.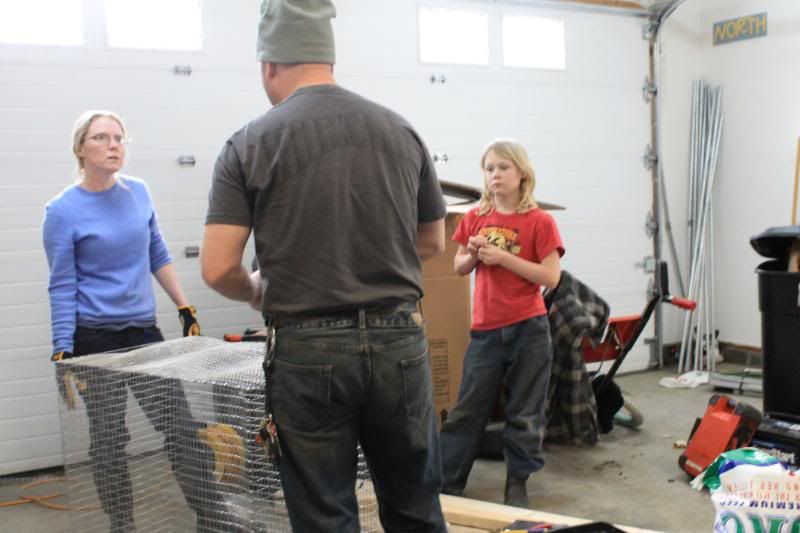 Discussing the next move IE make a 2nd hutch and then the table, or make the table. We settled on table as it was already late, Frank likes to set us up so that we HAVE to keep working and finish but I felt 2 hutches/no table was not as good as 1 hutch/1table and a 2nd hutch the next day. I won!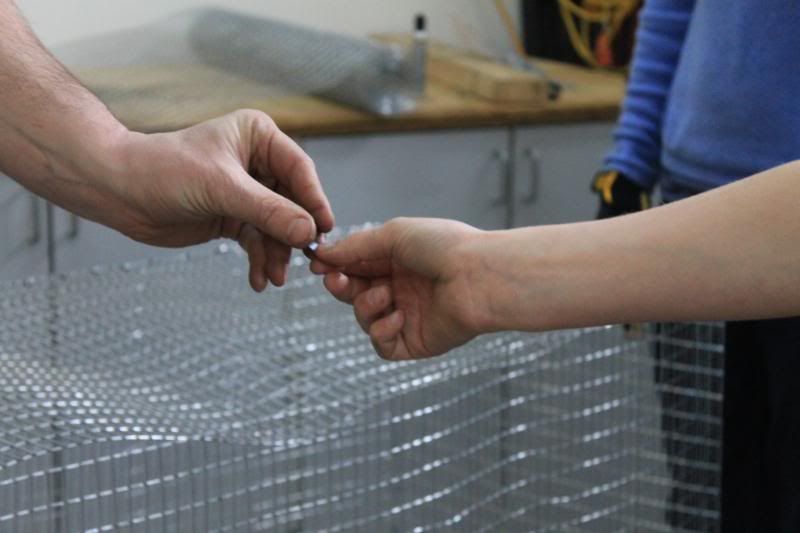 I like this picture, their hands already look so much alike. Square, strong, callused.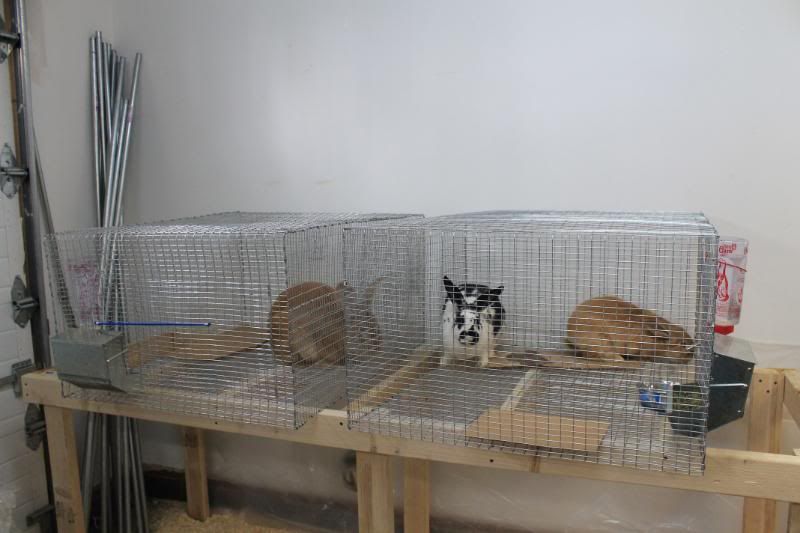 And here we have the 2 finished hutches. We made the table by the original dimensions, then realized we had enough wire to make larger hutches but forgot to increase table measurements. They work fine hanging over a bit as the wire is strong. The rabbit on the left is Mr. Babbity Rabbity and he is the buck, then the spotted doe is Mrs. Babbity Rabbity, just known as babbities though. The last one is Little Babbity. She is not old enough to breed yet but will be soon, and we need 2 does in order to have meat more regularly. They are pregnant for about 1 month, and you eat the baby rabbits between 6-10 wks of age. Having 2 will give us not only more meat, but more regular meat.