Not many people photograph zip lock bags. Most people also do not decorate their yards with them. I wasnt doing either, well ok fine I took a picture of it but that was to show you that it was frosty.This was our first morning of frost and somehow there was a plastic bag in the yard. I didnt leave it there, that would be tacky.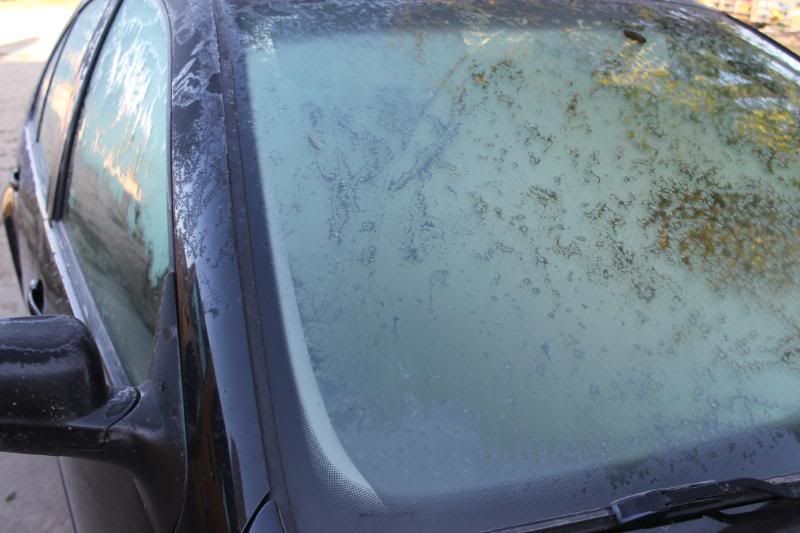 Frost on the car. This was an early frost, earlier than other years past. It has been pretty cold some mornings!
Nathalie's vocano, there is a sandy area in the field and she created a grass and dirt volcano then took photos of it so that you could all see it.
I had a piece of purple stretch terry, my mom bought 20 yds of this, of 3 different colors. This is the last of 20 yds purchased 8 yrs ago. I made Nathalie some pj pants, and then made 4 wipes out of the rest. I sell these, give them away or use them. They are household cloth. The striped ones are "kleenex." I know that is a brand, but we use the word anyway. The stripey fabric was a pr of PJ pants that I have worn for 8 yrs, and they finally fell apart. I have mended/fixed them twice, and replaced the waist elastic last yr. This is all about recycling right? No. I miss my pants...
So he wasnt in a good mood and had some weird hair thing going on. This is a new jacket/pullover that I made for him. He loves the half zip, he uses it over his t shirts so he doesnt have to wear long sleeves. It is made of heavy weight waterproof/windproof Polartec fleece and has neat pockets!
The toggle and elastic in the hem allows for it to be pulled tightly, then add a coat and the wind going up a coat doesnt affect as badly. Since we are moving to Ak... The pockets are pretty neat, they look good and are very deep-the kids and I decided to seam up the sides halfway because it looks good and closes up the bottom of the pocket.
Nathalie's, once again not a great photo. The kids are super excited about upcoming events and are not into posing. Her jacket is a midweight-polartec waterproof fleece. Her doll has a matching one that I made.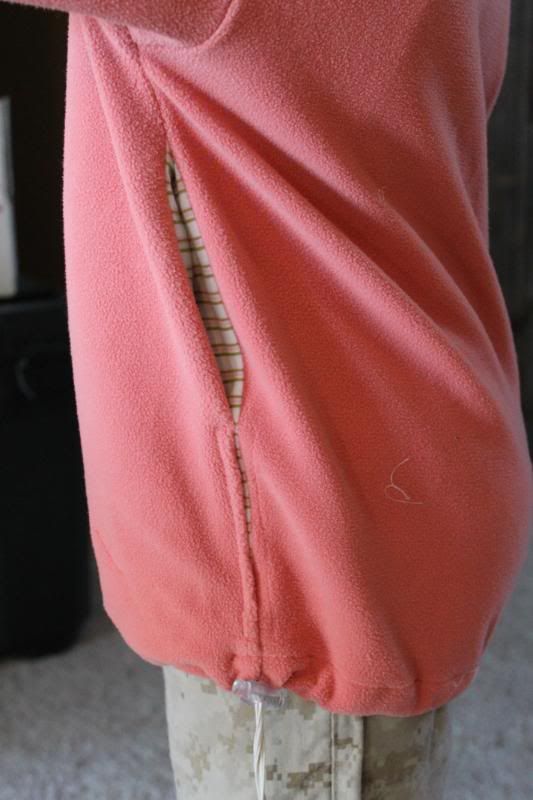 Once again, the pocket and toggle. She says she needs 2 of these because we have it in lavender as well.
Nathalie was sewing during the same time, she was sewing and learning. We made patterns for her baby, dress, shirt and leggings. Oh and Nathalie made "sock" patterns which is basically 2 halves sewn up on one side, other side on a fold and its more like a baby's bootie only long. She makes them up to the knees so her baby is warm. The baby has on the socks here though they match her pants.
Cutting out her baby's dress, or possibly its a nightgown. Nathalie has a matching nightgown that I made 2 yrs ago. She still wears it despite the fact that it only reaches her elbows.
Her patterns and pieces all cut out. She has become quite the avid seamstress. She loves to sew and sews with or without help.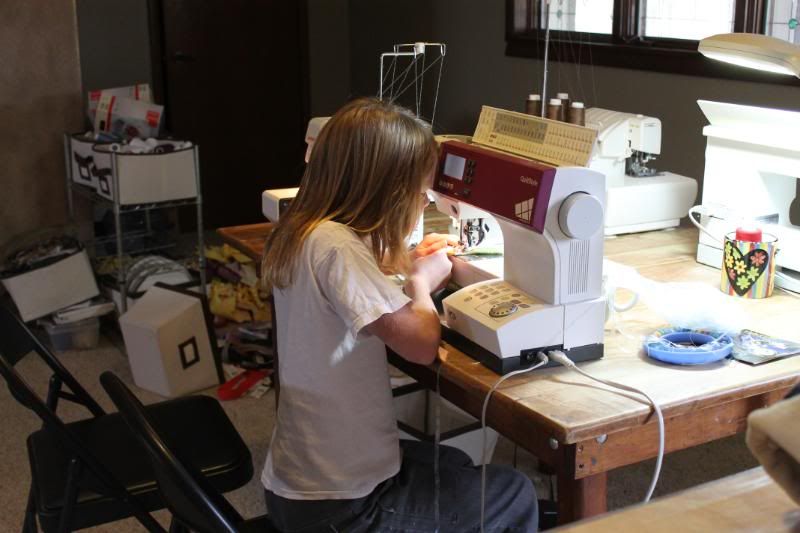 She learned to use the serger this summer working on a 4h project but is still more comfortable using the sewing machine. She is convinced the serger will eat her fingers or at least a thumb.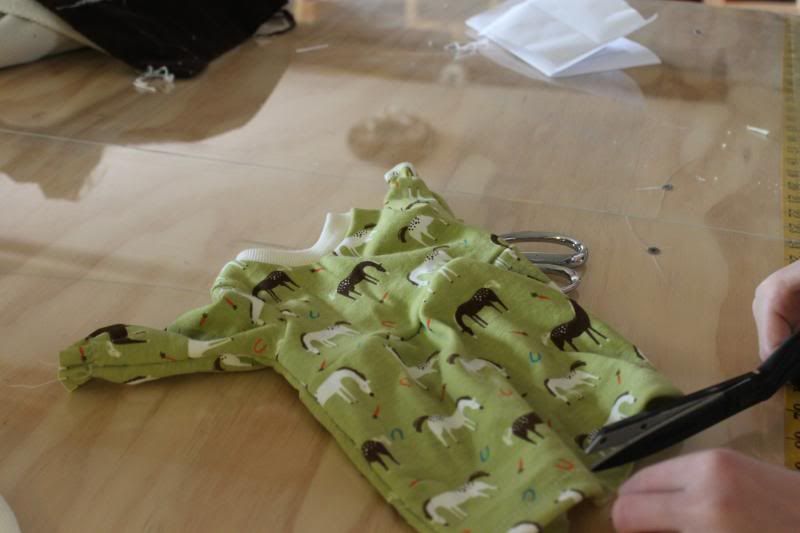 Finished product getting a trim. I still help with the neckline and she didnt hem the little sleeves. It was such a tiny hole. Using clear elastic was easier than making cuffs, so she just trimmed the sleeve ends.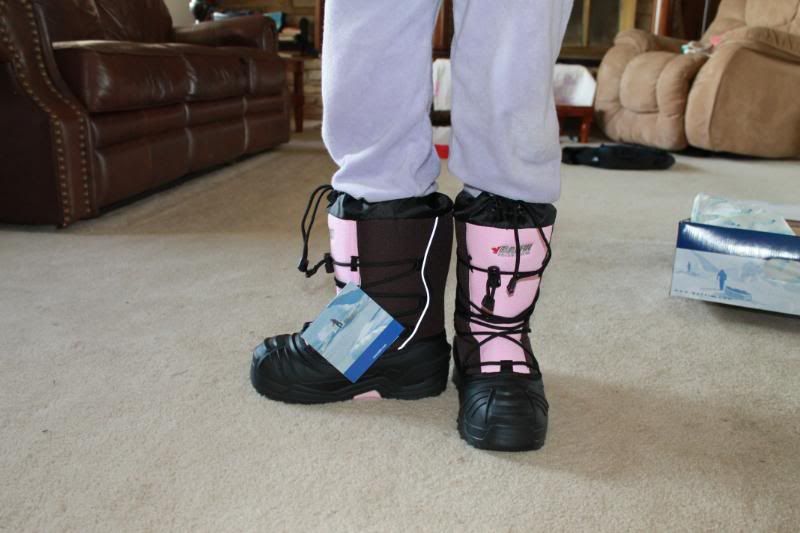 We got new snow boots! These are Baffin, supposed to be one of the best rated brands for arctic wear. We want to be very warm. I can tell the difference in traditional LL Bean snow boots and these. These are almost like dirt bike gear boots. They are a bit stiff, though are easy to walk in. Heavy, and well padded. They have sort of a wool liner thing in them, 2 of them, that can come out if they get damp.
Kids boots are rated to -78 assuming they are wearing 1 pr cotton socks, and 1 pr wool socks. They are very nice boots, they should be for their cost!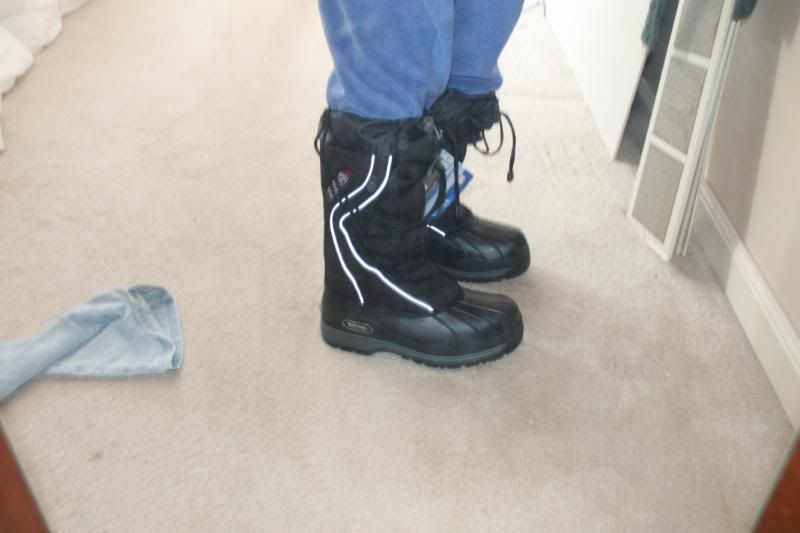 These are mine, weird pic it was in the mirror. They look a lot like the kids boots. The site said do not size up, but I did by 1 size for each of us and I am glad I did. They fit fine with cotton socks, comfortably snug with 2 pr socks. They are a little heavy and will take getting used to but they are tall, warm and waterproof. I do not want cold feet, the few people that I have met who didnt like Ak, didnt like it because they had improper gear. We all have very good coats, wool long johns, wool outer clothes, lined pants/overalls, good boots and will also have good snow pants.
Nathalie sporting her boots while in PJs still, she is outside on a warm-ish day (60s maybe) in a short sleeve, jeans and these boots. She is in love. She says she loves the way they feel and they make her look bigger.
We are taking a short break on remodeling, my wrist and back need it. I have been sewing instead. Have completed many more sewing projects not pictured yet.