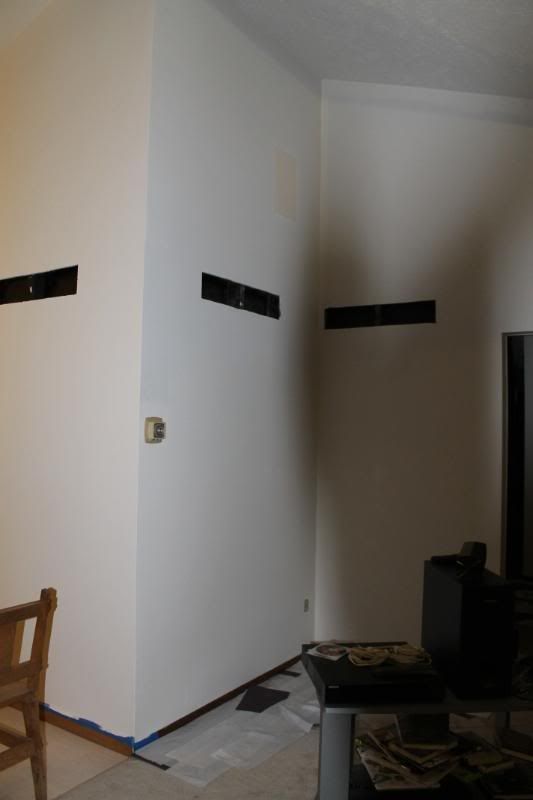 The cut in ceilings that I was paiting, now all of my furniture is moved to the middle of the living room. Yesterday I painted the dining room, kitchen and part of the living room.
The right of the photo is the living room wall, the left by the chair and beyond is the dining room. Sadly there is paneling in part of the dining room.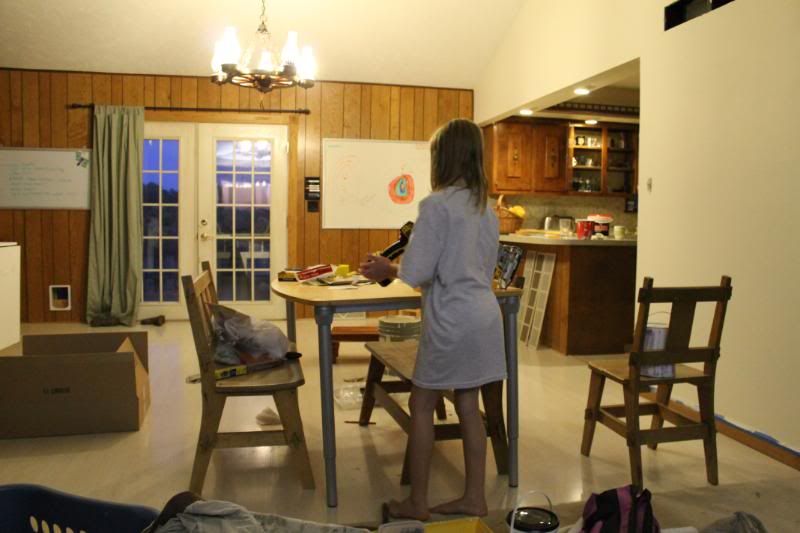 "Mama, it would be easier to find your tools if you organized them by type."
"I cant understand you punk, speak english."
"Nevermind I will do it myself." Since the shop burned down, we have bought only needed tools. We will replace the rest of our tools in Ak. Due to having no shop, and needing the tools constantly we made the school table into our shop table in the house. The benches and chairs function as short scaffolding or additional tool/paint storage area.
Just showing the mess to you. We do clean the house, completely. We make it sparkly and nice! It is pretty well organized, partly because we dont have a lot of stuff and I clean up and organize each room that I finish. Right now the main house is being painted so its a huge mess!
View into the kitchen, and vaulted dining room wall. I painted this whole wall before I ran out of paint, part of the living room was painted and the other part, far right here, was primed yesterday. This is the first part of priming. The wall on that side only is super dark, the rest was white/cream.
Inside the kitchen. You can see the paneling, it isnt pretty but I doubt we will take it down/mud paint-there are a few options with paneling leaving it up or taking it down. The dining room/living room have several windows and high cream colored walls so it helps the darkness. The hall/foyer had to be painted, they were dark in daylight.
This wall in the kitchen had wallpaper. I do not know why someone was possessed to do that to one wall but it was horrible. I peeled what would peel easily, mudded and sanded edges, primed and painted. The cabinets are dark, and if we had/have time we will pull the doors off, take the weird fronts off, paint and put new hardware. A cheap way to lighten up the kitchen. We may have time to do this when Frank gets home.
Kitchen desk shelves, the desk is built in so I taped and painted here, I also painted inside that little wooden plate shelf around 2 walls of the kitchen... bit of a pain!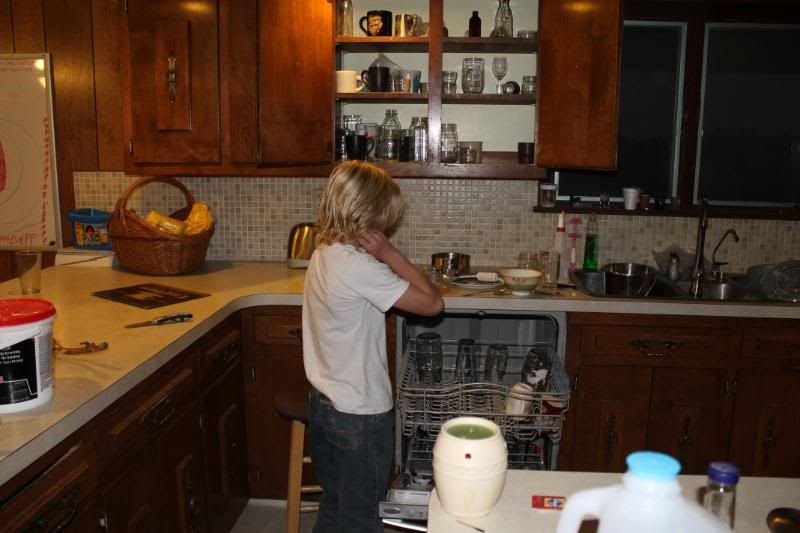 While Nathalie organized tools and tried to straighten our main house mess, Tad unloaded the dishes and cleaned the kitchen. They clean the kitchen better than some adults! They understand this means reload, wipe down counters, clean stove top, put away any extra counter top items and sweep if needed. I think he is pretty tired in this photo.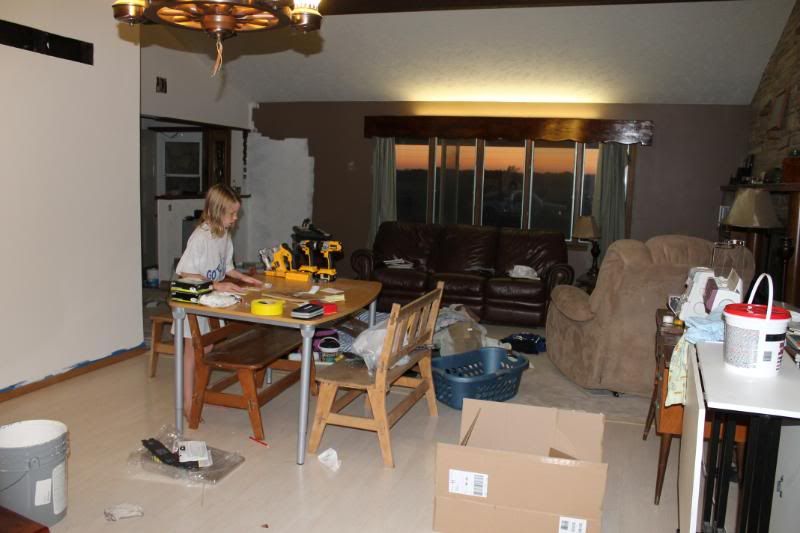 Nathalie, still making life easier. It really does, she makes it all set up so I can grab whatever I need. She also discovers things that are not tools, usually things that I set amongst the tools and lost.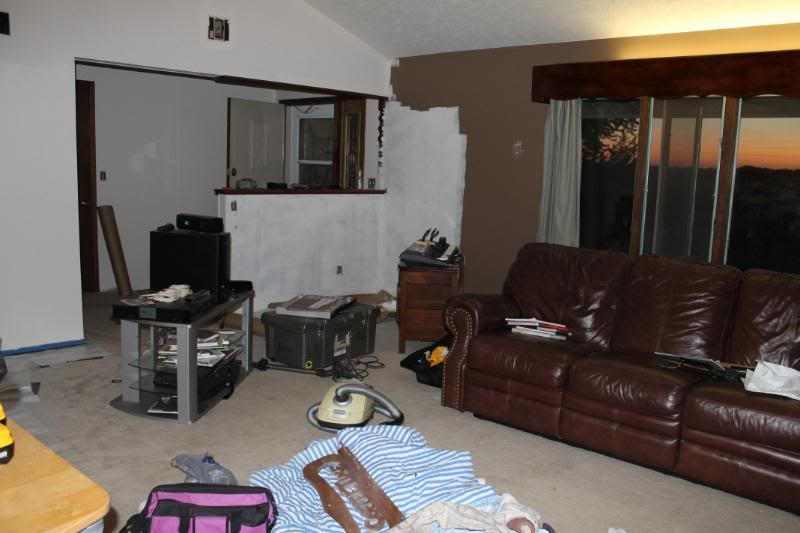 The mess, and the primed wall compared to the original color. It will be a cream color when I get to lowes for more paint (friday).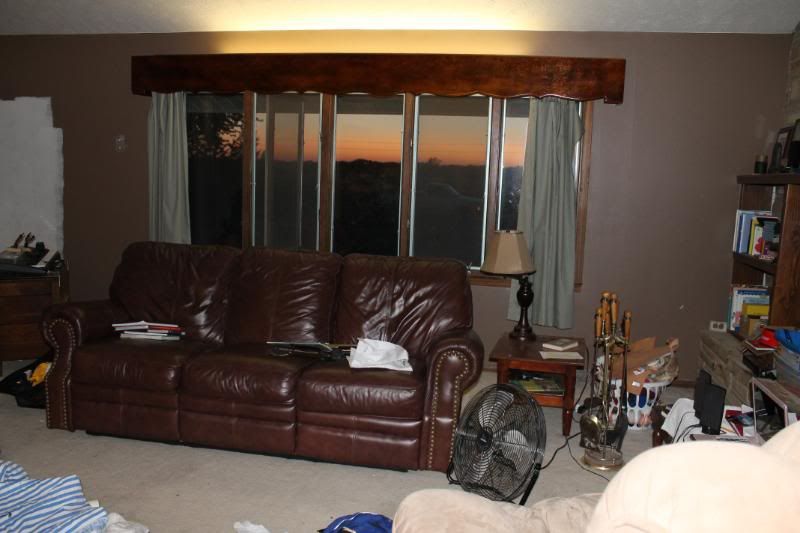 Look at my sunset! If only work time was over... but it wasnt. We worked until 9, read stories and the kids went to bed then I worked on painting, homework (my college) grading their work, sewing and reading until 3 a.m.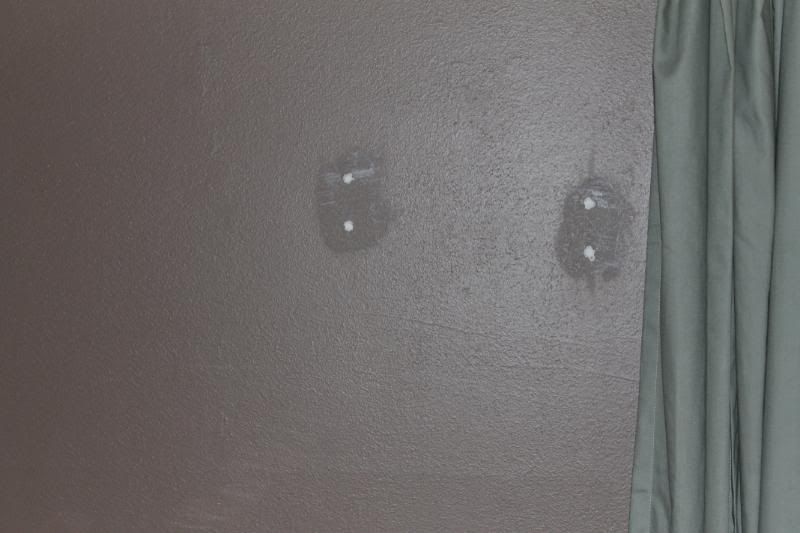 Mudded holes from the violins hanging on the wall. We have hooks specifically for violins and guitars, they left huge holes!
I put paper down, I often dont when its just me but the kids were helping. I ran out of tape so they stopped at this point because I cut in the molding and windows. They cannot cut in yet.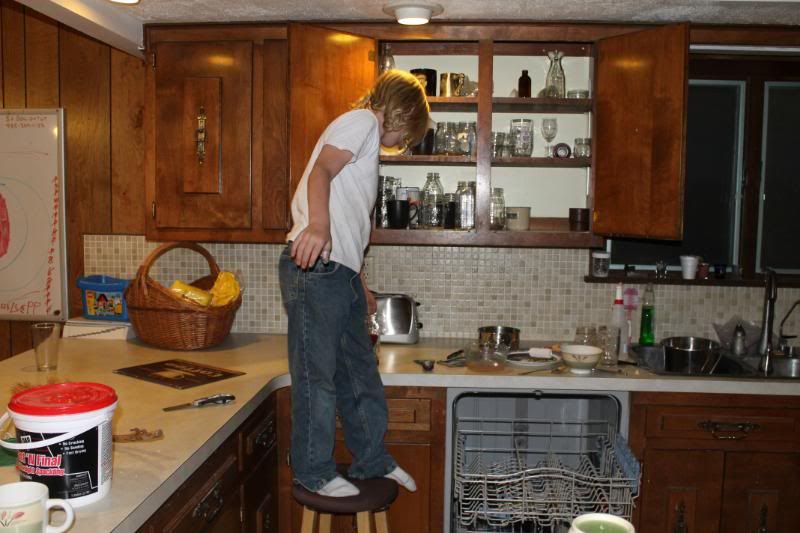 '
Putting away cups. If you could look closer you would see boot prints all over the counter tops! Last night Nathalie suggested we eat elsewhere... I did walk all along the counter tops, and stools placed strategically around the kitchen in order to paint the area along the plate shelf.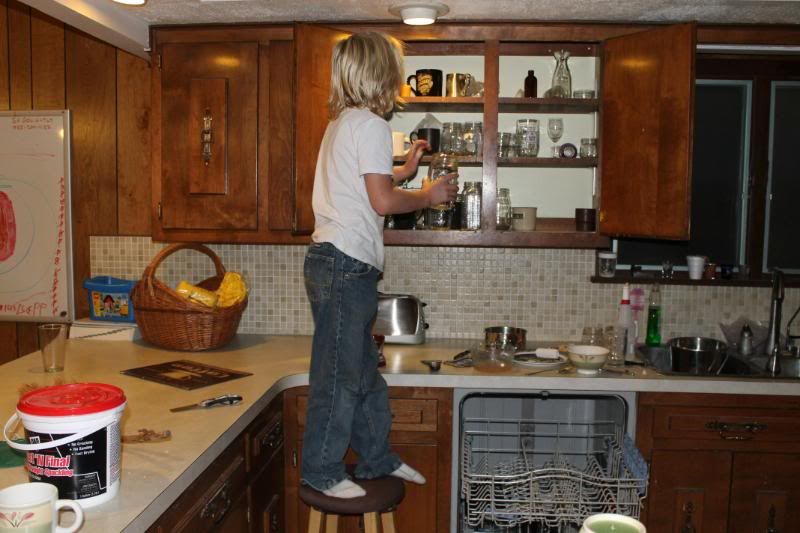 He is cute isnt he...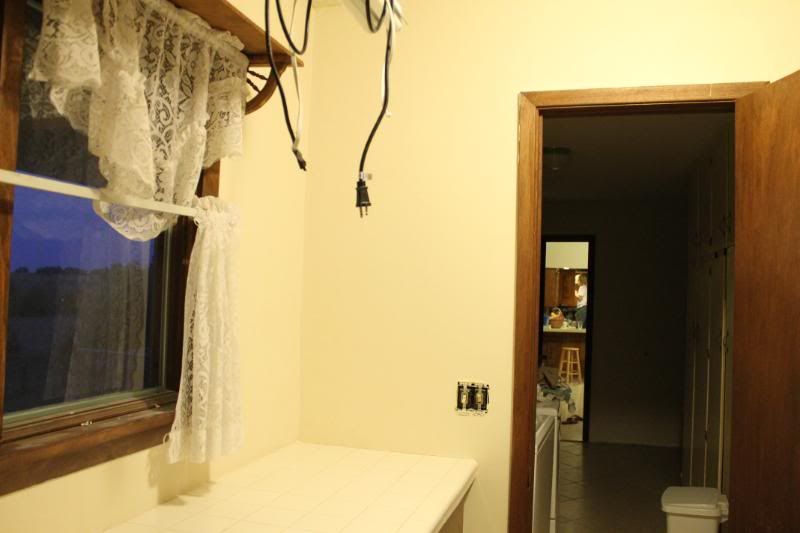 This is the laundry room bathroom-we still have a grow light hanging in here. We will take that down/pack it. They are expensive! I took off wall paper from this room, fixed drywall, patched, mudded where needed, sanded, painted and it still look poor. The mud and wallpaper lines still just showed, so I textured it. You cant see the texture, nor can you see mud lines which you could in photos before I textured.
Same bathroom, needs it fixtures and socket covers back on. The previous owners painted the socket/outlet covers and it has been terrible. They are hard to remove and nasty looking so they will all be replaced. This room, and the laundry room next to it, had new tile put in by us last yr. I painted the laundry room also. These rooms along with many others need molding, caulk (bathrooms only) and outlet covers in order to be finished.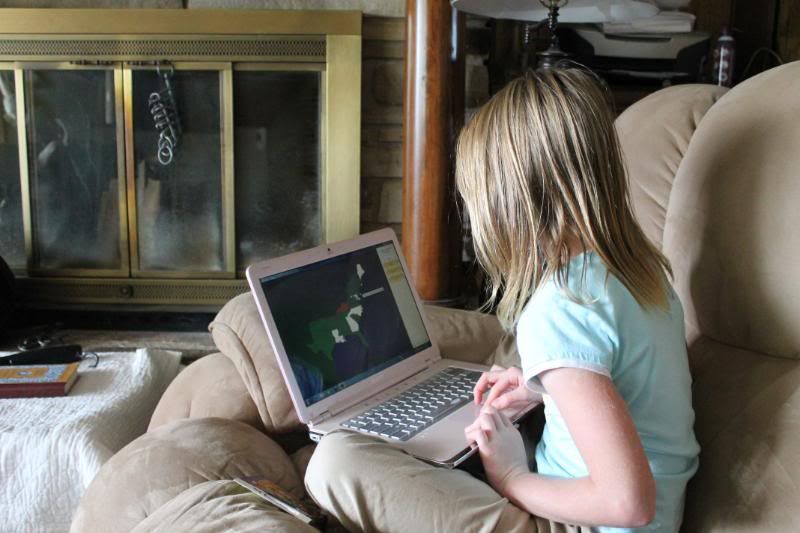 Nathalie doing seterra, a free geography download. They do all sorts of maps on here, it isnt their geography per se just a supplement. Nathalie was getting in some extra time trying to beat Tad.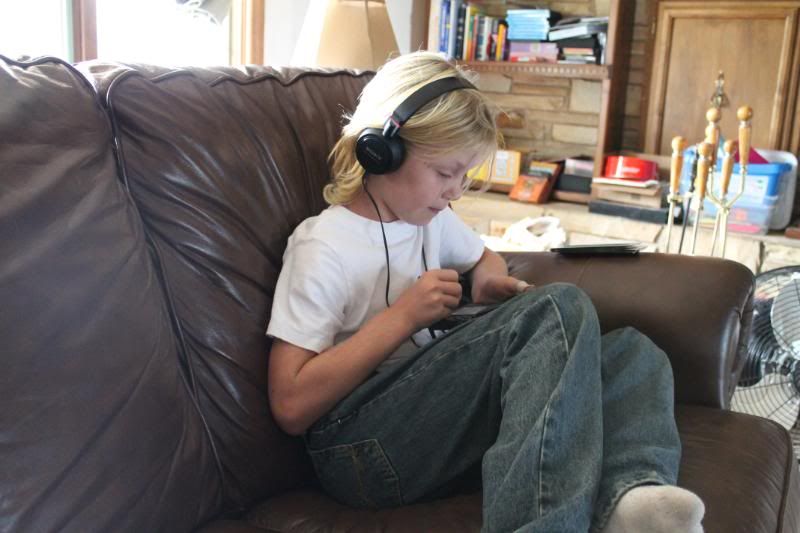 Tad using his free time for DS, he can have 30 min a day though usually doesnt take it. Today he was playing "My French Coach" which I found on ebay for 20$. It is 60$ new! He loves it and learns so much from it, he cannot hear himself with head phones but he has a fine accent. They both sound good speaking French.
Thats all for now, I am off to tile the next bathroom.