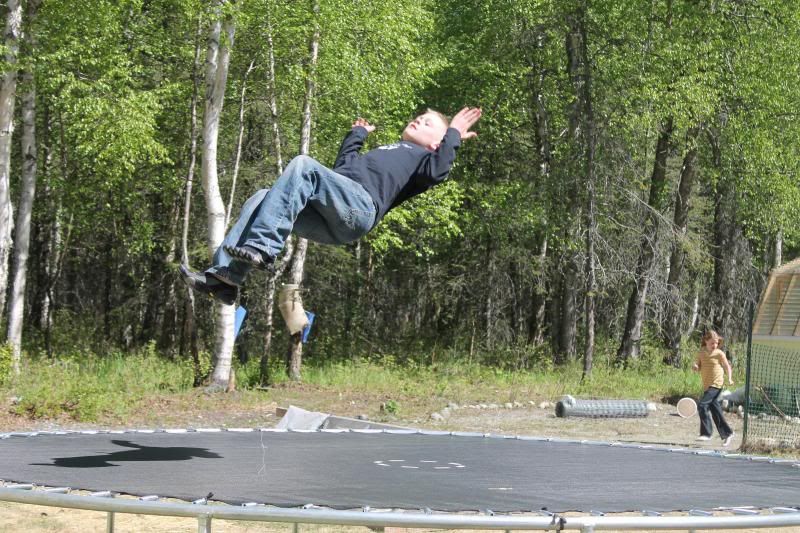 This is delight! He was so, so happy to be able to jump. We did not jump all winter because the trampoline was snowed/iced in. Then Frank had surgery, and then Tad broke his foot so jumping either did not happen or in Tad's case-was on 1 foot! Uncle Jacob got a new trampoline while we were there on vacation, and it was hard for Tad.
We flew to Seattle Wednesday June 5th at night, (yesterday) and then flew back same day... Needless to say we were completely exhausted. Tad saw an orthopedic specialist who cleared him to move to a brace, and physical therapy. His broken growth plates are healed.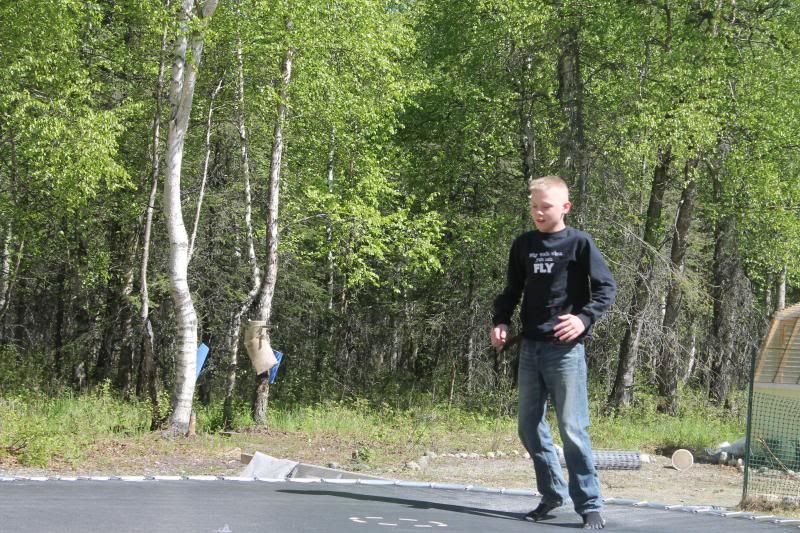 Next we saw 2 Rheumatology specialists, they are convinced that Tad has arthritis. They think that he has a genetic form of arthritis called Sticklers Syndrome, meaning that Frank and his dad likely have this as well. Interestingly, it is usually accompanied by severe hearing loss which both Frank and his dad have. So does Tad incidentally! We have reasons for all 3 to have hearing loss, but what if our reasons are not correct? Or what if it was going to occur regardless of life? Tad's joint pain and swelling, hearing loss and severe, constant sinus infections could be all related to this new diagnosis.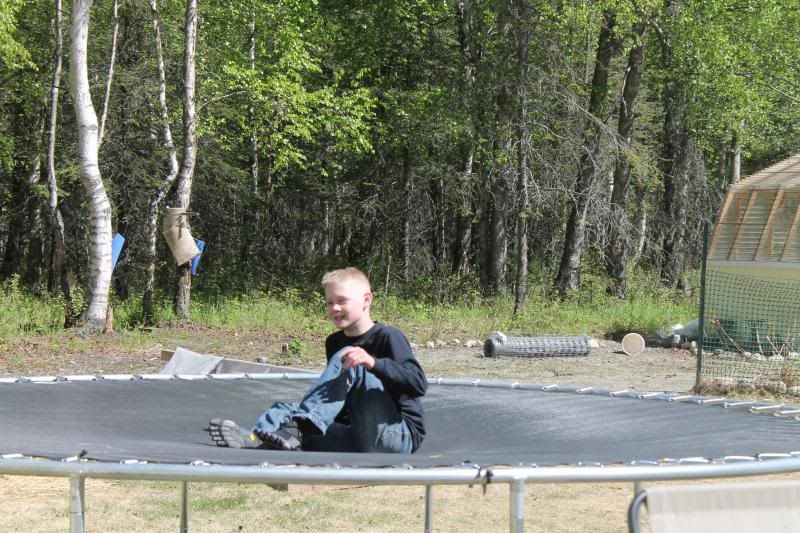 And today, he got to jump! He was so, so excited. He turned front and back flips until he was tired and had to rest the newly healed ankle. He will have physical therapy for months, be in this brace for even longer and possibly forever if he wants to do any running. He wont be a runner, it will be something that he simply cannot do but he can run around.
We went shopping for shoes today, Tad has always loved pull on leather work boots but those are a thing of the past. He has to wear good, sturdy hiking shoes. We bought Merrel as they are supposed to be the best, he complained some and was generally miserable about the change but he can handle it. Shoe tying is NOT his specialty so we will attach bungees for quick tightening. These will be for most applications, expeically barn chores. Then we went to a tiny, local store for shoes to wear around the yard, to swim and in the house. Right now it feels better to have shoes on than off as he has been in a cast for wks and he is used to the fit. The shoes he is wearing on the trampoline are called toe shoes, they literally have spaces between each toe! Nathalie was dying to have a pair too which I could see, and she did not ask. They are not cheap. I knew Frank would buy her a pair so I told the lady to check her size too and her delight was wonderful to see. So easy to please. I somehow felt a little better though Frank is gone, to do something he would do. I am too practical, and he pays attention to what makes them happy even if it is NOT practical. I miss him so, so much and I will continue to blog to feel connected to him.