We are still on photos of the 2 wks. I am nowhere near done posting! I have taken very few pictures since he left, I will let mama take pictures when we go to Tn next wk. Somehow, the tailgate to our truck left. I dont know if it got tired of being yellow and went to a home where it would be appreciated and painted, or if the kids left it down when I was driving off (this is likely) and it fell off. No, this wont happen to most people because most truck tailgates stay on when you drive off. Frank is putting a net across the back, which works until our tailgate comes home.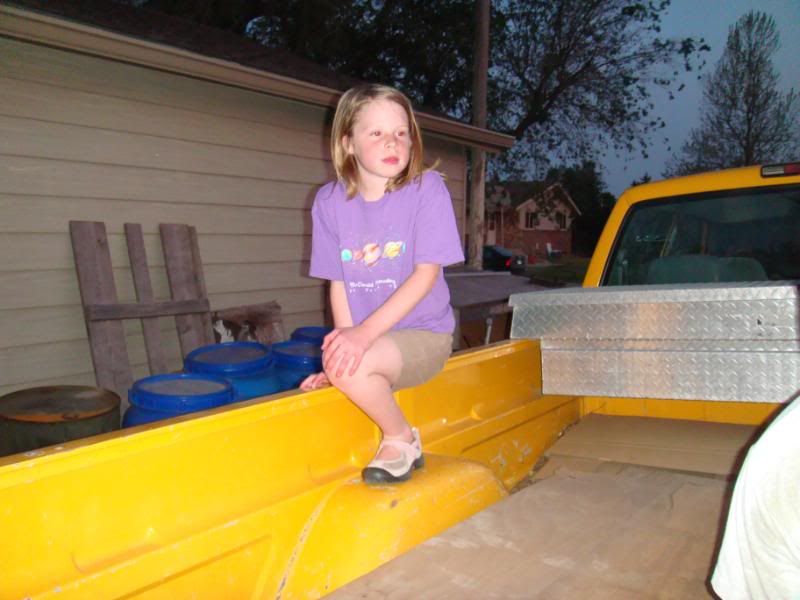 The kids and I watched or helped with all that he did while home. Nathalie clung to the side of the truck for however long this took.
Tad stood at the back running back and forth for tools. Tad helped us organize the shop, which took 3 days including the time it took to cut/put up pegboard. Frank taught him more about our tools, which makes Tad more useful to all of us!
The lighting in the pictures is horrible, we were not using my Nikon. The camera does well in daylight but not so great after dark. Mama bought photoshop for me for christmas but I am not adept at it yet so I didnt edit these.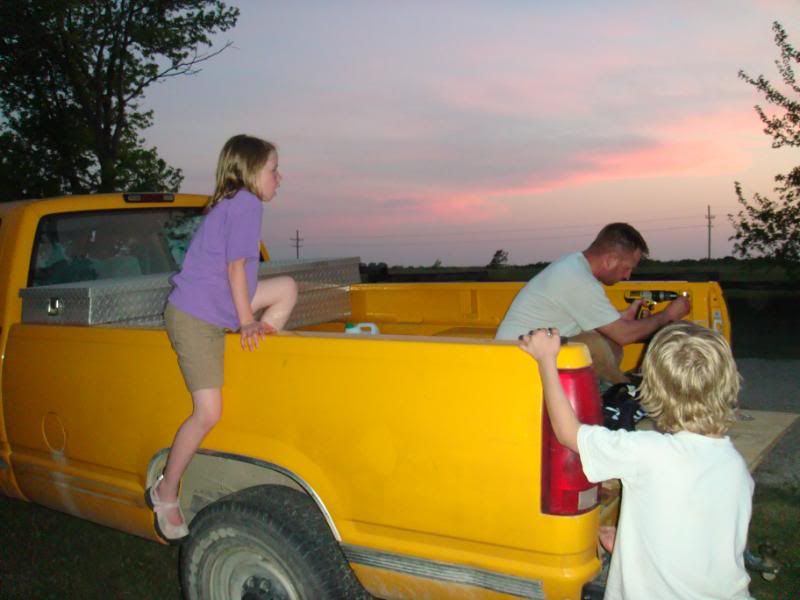 The net works great though I dont leave it on full time. My children probably learned their lesson, I lost it once and after that remembered to keep it up. Thankfully the time I lost it, we found it! We drove the route and it was just laying there on the side of the road. My children are grateful that we are the kind of parents who say, no big deal it was an accident.
beer break.
Or, is it that he drinks beer and has WORK breaks??? That is a good question. If he read this he could answer, but he only comes to this blog for the pictures.
This project didnt take long but I think there were about 200 pictures from just this event. There were several thousand photos from his 2 wks home, I edited and deleted and kept about 700 I think. I am sure there are more to come!