The kids are taking swimming lessons again at our local pool. This is our 3rd year to take lessons, there are 2 sessions offered and most people do only 1. We do both, because they graduate (if able) 2 levels this way. They graduated level 5 last yr (of 6 available before lifeguard training) but they havent swam all winter. So I asked the teacher to put them back in level 5, though its combined with 6. Neither is a good enough swimmer yet to have passed 6. They have the skill but their technique needs refining.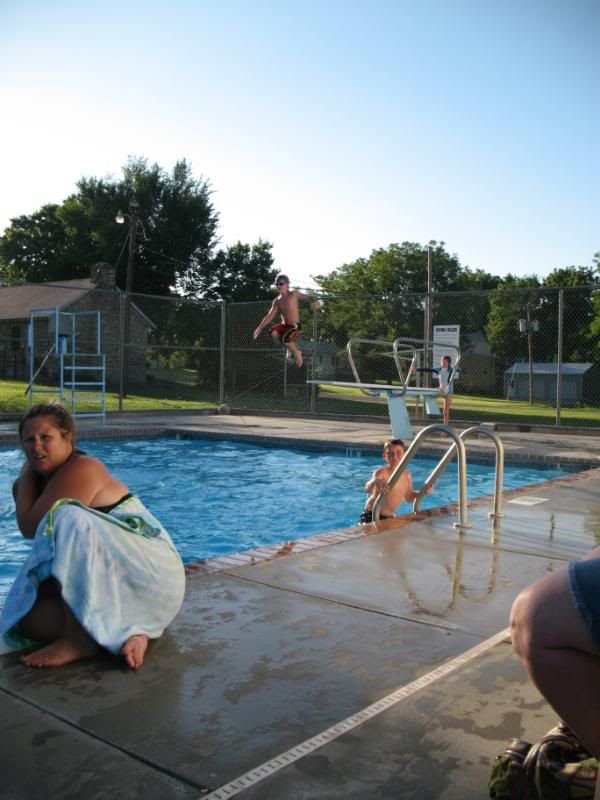 Tad is just jumping here, they can enter the water any way they like before lesson starts. There is one child in their level, and one in level 6 and they all work together.
Nathalie doesnt mind going off of the diving board but her diving skills are the area that she suffers the most in. She is getting extra help during the day for this, when we swim for fun.
A shallow dive, she has to learn to go just under the surface. Her problem? She keeps landing like a cat! On all fours, her knees and hands hit followed by her face, stomach and chest. 5 parents, 3 lifeguards and 4 other children were working together today to help her figure this out (she wont pass without it) and the level 6 boy happened upon a solution as a last measure. He put his hand by her ankles holding up a number of fingers and told her tell me what the number is by looking at it just before you dive. Keeping her chin down is the answer, and in an attempt to see the number she was able to accomplish the dive! We were proud of child I for the idea and N for being able to accomplish the task.
Tad is pretty good at the dive, sometimes he still goes in too far. He is a strong diver, but he also needs to work on form. Last year Frank taught them the shallow dive, or learned it with them. That is possibly why N struggles with it this year, he isnt here to help her remember how. He held onto her thighs and flipped her legs up in time, thus preventing the belly flop but I am not strong enough to flip up her weight.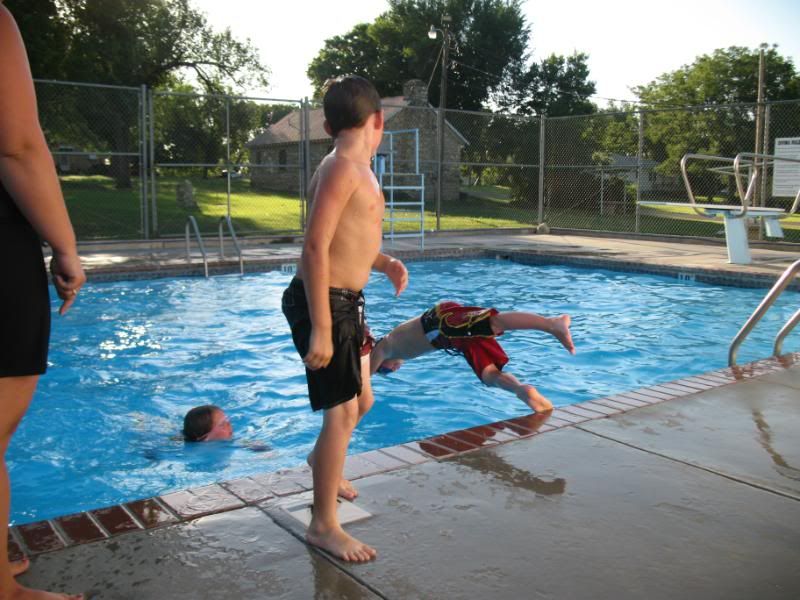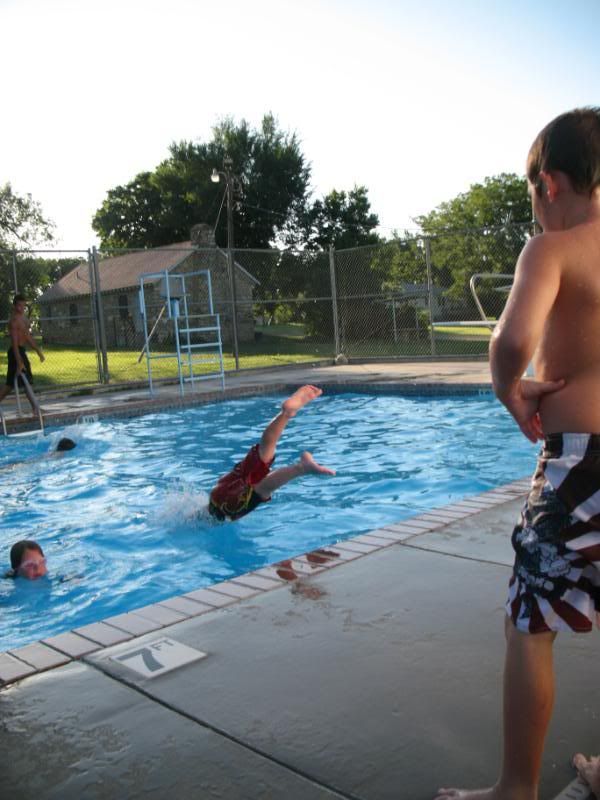 His legs stay nice and straight, they want them together but it doesnt have to be perfect. A lot of people bend their knees (me) and thus "belly flop" their lower legs.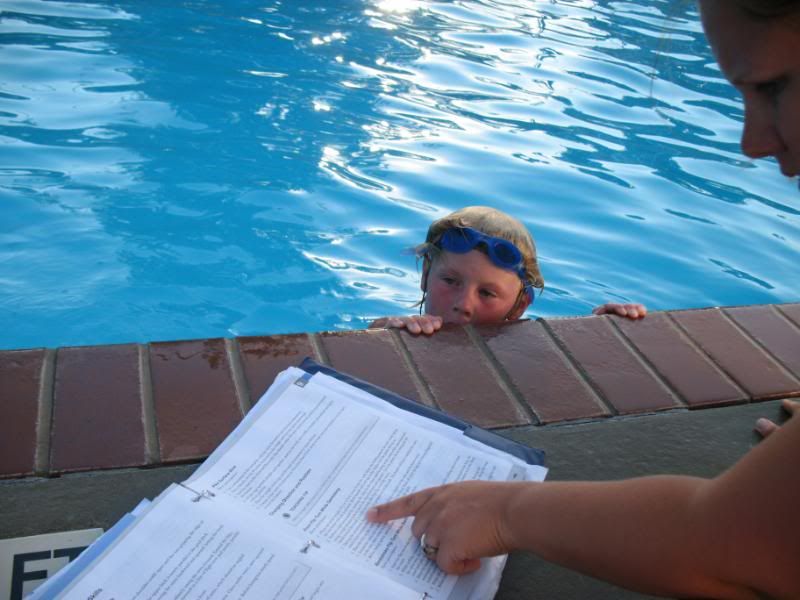 "I have to do what with my arms?" Tad of the teacher.
"You have to turn them in a circle and then..."It was here that she must have sneezed because he lost her.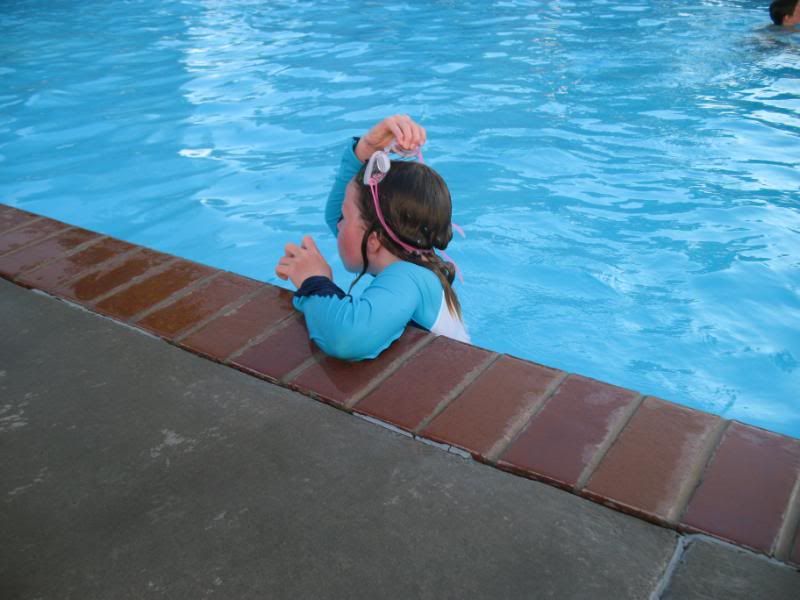 "Oh help. I must have a breath. Why cant I reach the bottom as easy as everyone else does?"
"Because you are the littlest." Another swimmer.
That is true, she is always the youngest in her class and Tad generally is on the younger side as well. This year they have a swimmer in their age group (same age as T), but in years past they havent. They are very strong swimmers and dont seem to have fears. Caution yes, fear no. I am so proud of how hard they work in lessons. I think it is a wonderful skill to have.