Once again I post late. Last deployment I did better, and last deployment I had 1 million things to do and this one I have 3 million. The kids wanted me to show daddy that they ate enough roast for him AND them. They enjoyed a 2 lb roast over 2 dinners together. Okay fine I helped.
Not a lot of kids can share a plate, but see his ketchup isnt touching her plate so it was okay. He has some of his cooling on his napkin, thats SO not the proper use of a napkin! Nathalie is wearing, on her left arm, a set of "handcuffs" that she crocheted. Its two circles crocheted with a bit of yarn in between. They are stretchy and they both wear them as handcuffs and go about with their hands together making it very difficult to achieve things like handwriting class in school.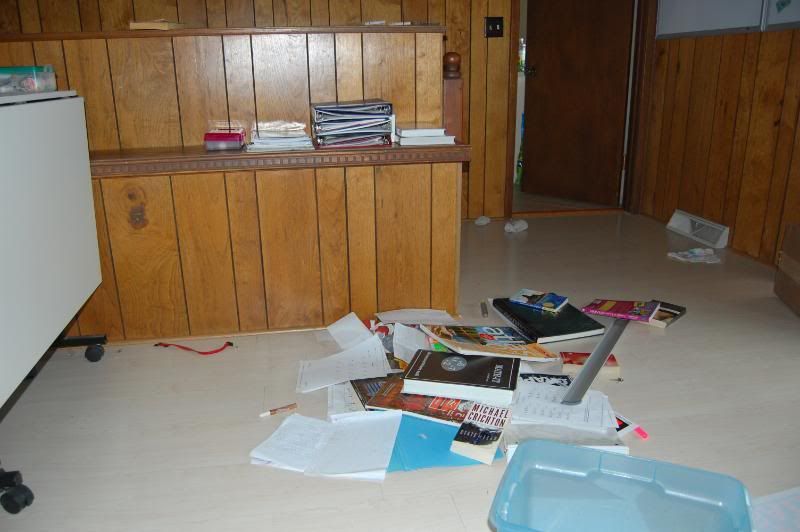 We have had a few days off of school for spring cleaning. I was ready to set off an incindiary bomb in the kitchen/living room hall area because I found that to be pretty central house-wise. We have gotten rid of a heap of things, and gone through closets and shelves. We have made goodwill piles, recycled things and thrown many things away. Here is a pile of junk/goodwill.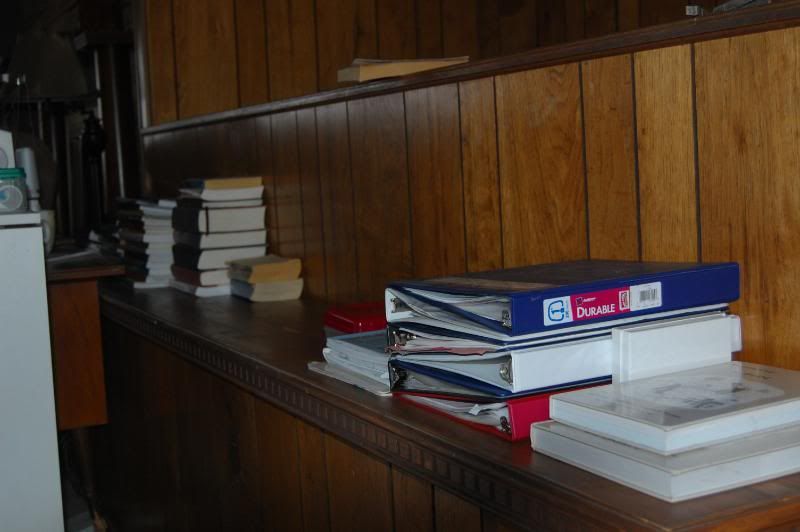 Here is the completed shelf, this one end closest are some of the school things. We dont have bookshelves so many of our books still live in the garage stacked neatly in boxes, but some we have inside. These are now organized by type and stacked, oh and I dusted! That is a rare thing.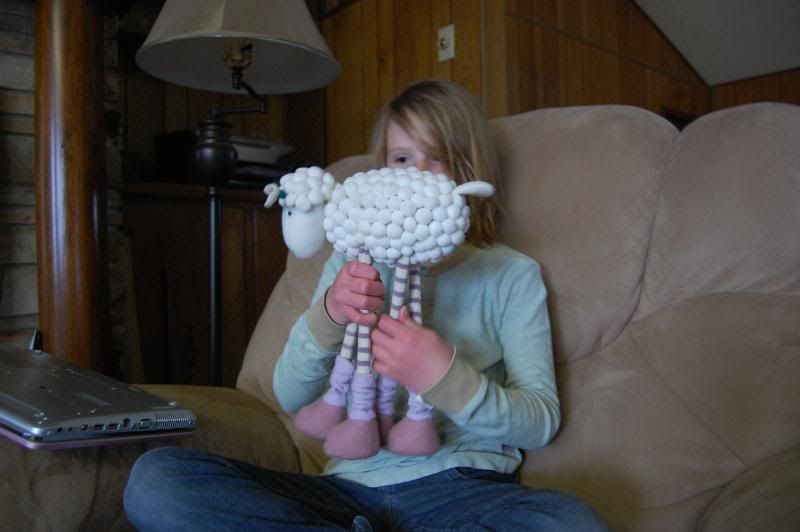 The children and I have been attending a local knitting store free classes given on Sunday. I dont think they are classes really, just the ladies who knit get together and give free help to anyone who comes in. The ladies have taught us a lot and shared their time with us, and we thoroughly enjoy them. The lady who owns the store, Jeanie, has become an adopted extra nana especially for Nathalie. She is one of Nathalie's favorite people and I think Jeanie has grown quite fond of her in return. Nathalie tried to spend her allowance on this lamb Sunday but Jeanie said, no you can have him. He had been there sometime and was a bit dusty and old. And one of his floofs had come un-glued. Nathalie loves him dearly and says I am incorrect, he is a she. I think he is a he but whatever.
These pictures are fuzzy because the camera wasnt set proper. Here she is snuggling her new lamb... I think she named him/her Flamme which is passion in French. I dont know why she named him this other than its pretty, its a brand of yarn I like and they are learning French.
Once again fuzzy photo, Tad is knitting a scarf for Flamme. He is a fast knitter, for a 10 yr old boy who has knit for 3 months, he started this about an hr before this point. Its still very cold outside, much colder than it was earlier this month. I sure dont mind cold but I mind the gray. Its been gray for 8 days and we have another wk of gray to go.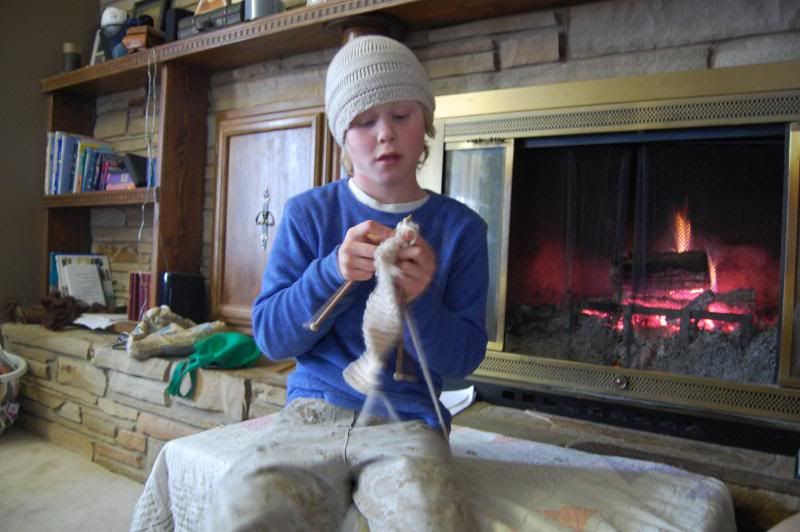 Oh, Tad is wearing the first hat I knit that is technically Nathalie's because its a bit small for me and a bit girly. He likes it anyway and with his new longer hairstyle (growing it out) it helps keep it all back and tame.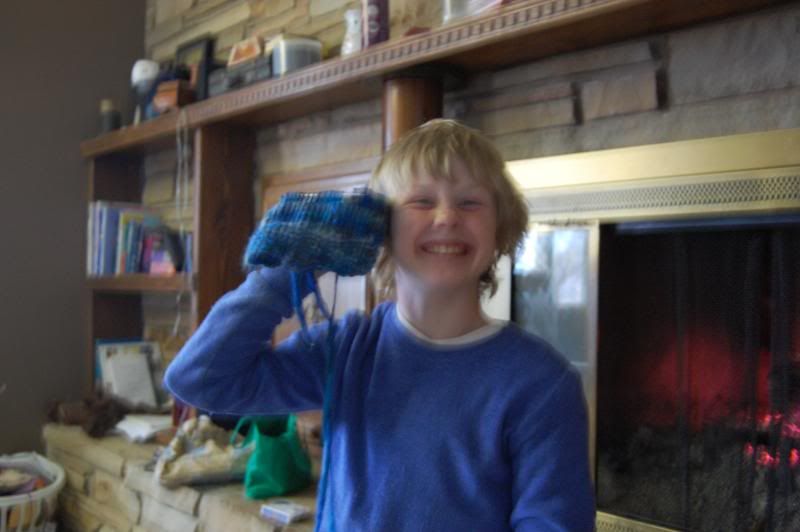 This is his own hat, sorry for photo fuzziness... He gave me this dead-pan look and so I said, dont look like a serial killer please! So I got this look instead. C'est tres charmant! His hat is nearly to the decreasing rows and he is excited, he is making this on a hiya hiya metal circular needle size 10.5 and he is using thick and thin merino/alpaca. Nathalie's is the same in purple, and in MANY less rows. In other news, we are selling most of our goat herd. We were planning on downsizing our herd to just a few for milk and a few for the children's fair projects in 4h. Then an opportunity arose to possibly go to school with him sometime next year. We can either keep this herd, pay to feed them for another winter and breed them and care for them during pregnancy, or sell them now after kidding. We will get the same amount of money either way, and we will buy new goats when we come home. So we have decided to sell for now. We will have 2 milk goats and 4 baby doelings until middle of august. Another reason for selling the entire herd is that I got an offer on almost my whole herd from two ladies who are running a diary together. Its a good offer, a really good offer. I wont make much more selling them one at a time, but I will save a lot of time and technically stress. I love raising goats, I dont love seeing person after person at selling time. Its not my area, people. Goats, my area. So I will miss them, we will miss them but if we can have them time with Frank we will take it!