Kidding season has begun and true to form, Phoenix took forever to kid. Yesterday, Nathalie told us that she felt that God had told her that a goat was getting ready to kid, and had gone away from the herd. We try to listen if God speaks to our hearts, and sure enough she went down and found this dear goat separate-which began our vigil. We have watched her day and night since yesterday morning.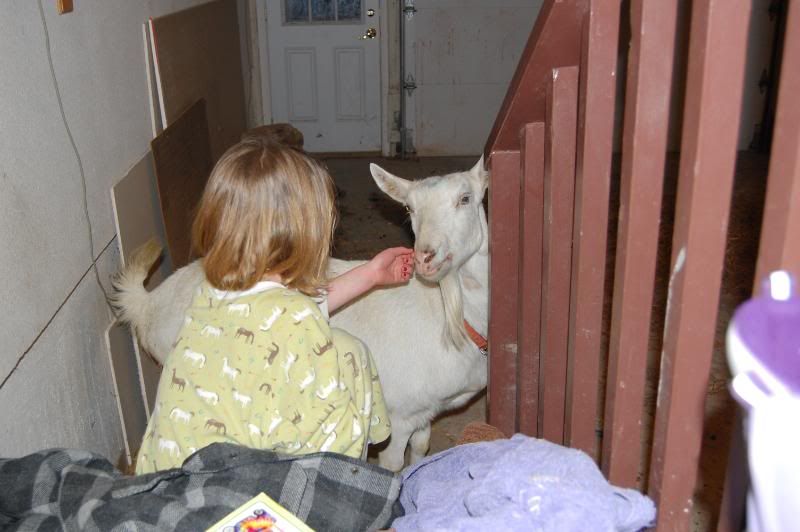 At around 8 pm tonight, I brought her up to the freshly swept garage with plenty of clean straw. Nathalie stayed by her side from then until almost 11 pm, offering words of comfort and encouragement.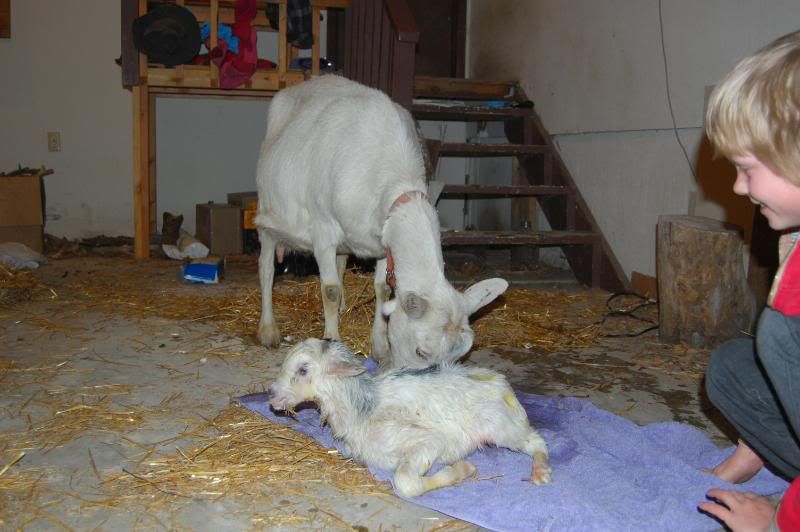 I havent weighed this sable punk yet but he is a big, tall guy. We are calling him Tall Boy for now. He is a sable, which is a breed that comes from Saanens. They are often called colored Saanens. She threw one last yr as well, the buck and the doe must carry the gene, or actually be sable themselves to give sable kids. He entered the world after about 15 minutes of pushing, and a little aid from me.
I was glad he was a buck, we are pulling doe kids for now because our herd was exposed to a virus transferred through milk. Until I get a 2nd neg test back (we have a 1st thanks to Amanda helping me blood draw....) we will bottle feed doelings on heat treated colostrum/milk. I wanted to leave Phoenix with a baby, she is a wonderful mama. If she tests negative again in a couple of wks, we will sell him as Sables are in demand.
Here he is letting us know that he cannot achieve his milk...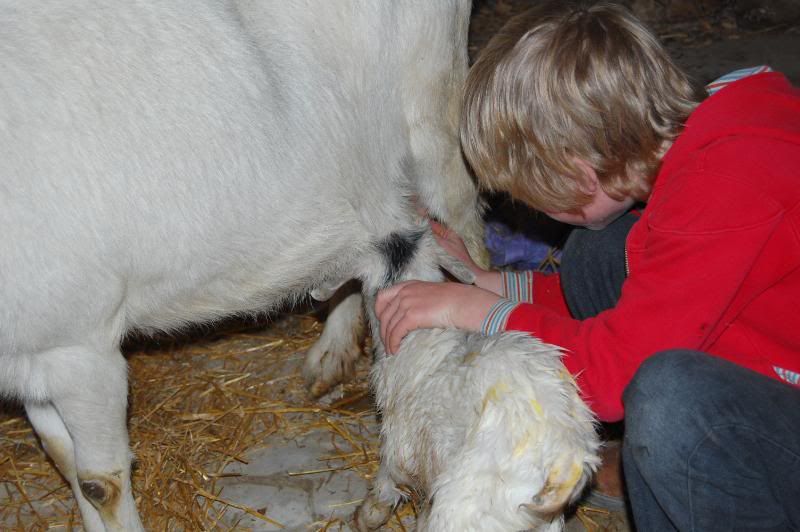 And to his rescue, is Tad. Both human punks were so messy at this point, as they were last year. They are not squeamish about helping with delivery.
Now thats better... Tall Boy latched right on and drank quite well. I was able to milk out a pint of colostrum from her while she was cleaning him up, before the 2nd little one was born. I milked out a 2nd pint from that side after so I have enough for the night.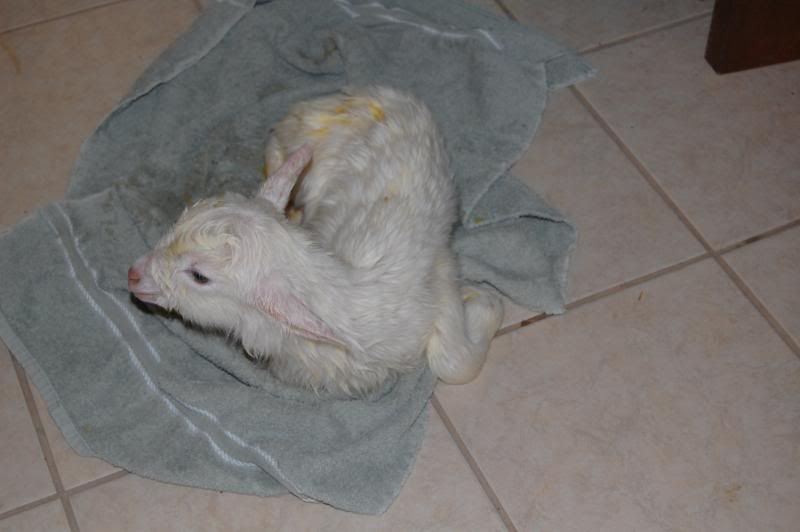 And here is Nathalie's little girl. She wants to name her Willow, and we are considering this choice. She asked could she claim her as her own little 4h project as she helped Phoenix and we said absolutely. She wants to name her Willow because she is already snuggly and one of our best friend's is Willow-she is nearly 5- and she snuggles a lot.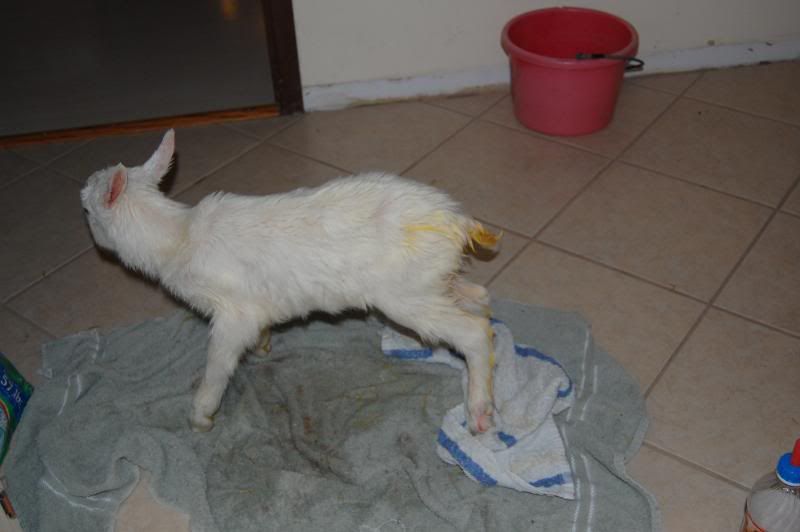 Willow was brought right in, and was able to stand a bit quicker than Tall Boy. We dipped and cut their umbilical cords (with iodine) and gave Tall Boy some selenium/vit e gel to help his legs. Willow insisted she was thirsty and hungry so she had an oz of powder colostrum replacer while her milk treated. To heat treat colostrum, it must come to 130 deg and maintain for 60 min. It would simply solidify without a pasturizer meant for colostrum, which I do not have. I do know a good vet though and she told me to use a Stanley brand thermos, bring it to 133 and put it in, close up and wait 60 min and check temp. It worked like a charm!
See? Its not as easy as we make out. She went flop a number of times as did her brother.
Awww... All that standing and drinking tires a poor girl out.
We cleaned her up more after her short nap, fed her mama's milk and put her to bed in the shower with plenty of blankets. The laundry room is warm, and the shower in there fits baby goats nicely. We put up a baby gate and clean bedding in it and she will stay there until we have a friend at least. Her aunt is due, well today, and we will hopefully get a cousin friend for her.
So thats it for tonight, its midnight 04 and we lose an hr tonite. The washing machine is running with all the towels, and Phoenix and Tall Boy are sleeping in the garage. We cleaned out the yucky straw, fed and watered Ph and made sure TB was comfortable and closed them up. Then we came in, swept, mopped, did laundry, had a snack, cared for Willow, showered, and the kids fell into bed a few min ago, truly exhausted and proud of themselves.
Hopefully we have more babies tomorrow! I want to get this show done this week if at all possible... of course I dont determine this, but their due dates are all between today and the 16th so I hope it goes quickly so we can settle in to just enjoying baby goats.