So I have been gone from here for a really long time. Weeks, and some days possibly. Sorry about that, I have been very busy. We have started school, have swim team, have winter coming in less than a month and a lot of work around here. One thing we had to finish for winter were the rooms/divisions inside the barn as well as windows/door. This is the chicken room. The window was put in last Friday morning, then we started the chicken room walls.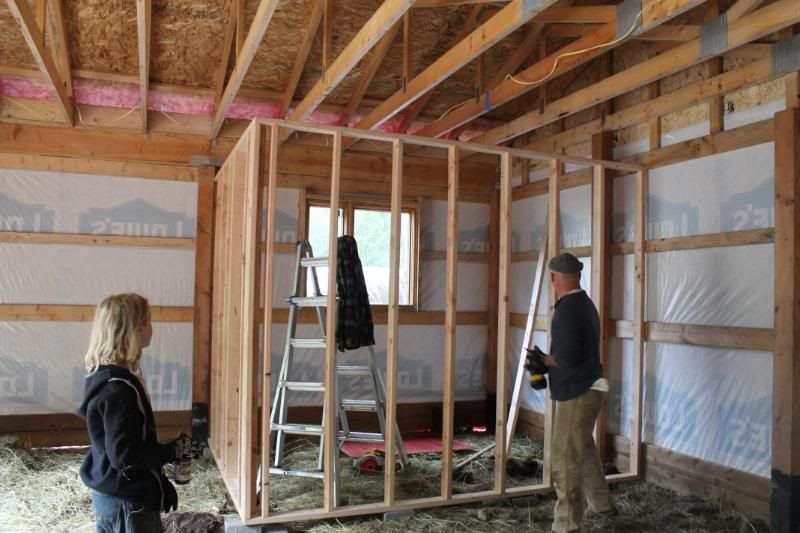 We built the walls first, 2x4s are 16 on center. We dont have a floor as is evident, so we used paving stones, a 10 ft 2x4 and a 4 ft level to make sure our floors were level. We will use straw/hay underneath the walls both to insulate and keep chickens in. The chicken room has a door way on the side to Frank's left in this photo. we have not made the door yet.
In Ks we made several stalls in which we used 4 ft walls, framed with 2x4s and covered with plyboard. We did the same thing here for warmth.
See, the doorway is what you can see the ladder through. The chickens have a window because they will spend a lot of time here in the winter, it is too cold for them to be outside much.
These photos are out of order, somehow this one is in here where I am supposed to have the "making the feed room wall" photo but oh well...This one is not for warmth, this is just for me. I will later have my milk stand in here. Frank is putting in a T post to hold the feeder. I can come in the door (behind Frank-it wasnt in yet in this photo) and make up all dry feed bowls and serve them out of this door. It means no one can mob me, and no one can escape out the gate. I wont have to use the gate at all now if I dont want to, though its a nice gate. We used 2x4 welded wire to cover this wall, the wire was on the property when we moved in. It has helped us in many areas.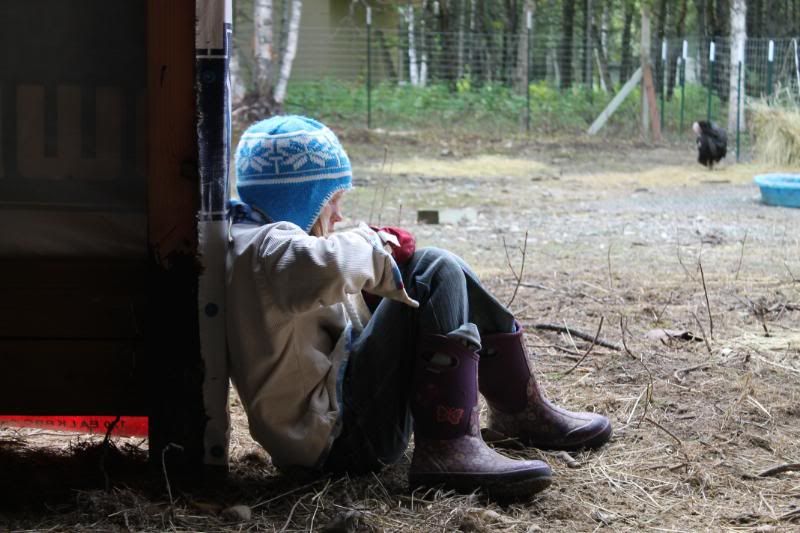 Nathalie had some down time, she is carving a hammer here out of a scrap of tree, she is using a razor knife. yes, in answer to your questions, it is that cold here. She is also wearing long johns.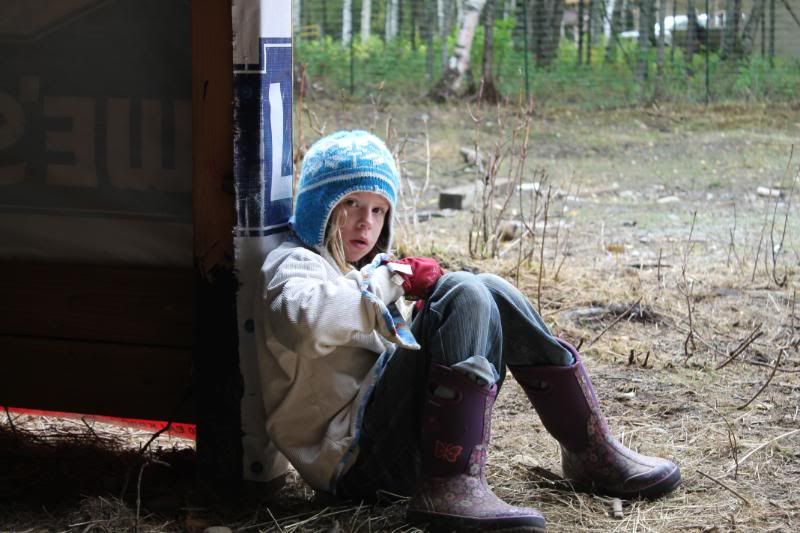 My favorite picture of the year I think, I love love this photo! She didnt know I was taking pictures and glanced up just as I snapped this. It is rugged somehow, I love it. I like how she has bits of uncombed hair falling out of her hat, unfastened jacket sleeves, a homemade jacket at that. Mom made this jacket and it is Ns favorite. Mom forgot sleeve snaps, and N likes to much this way to let me add any.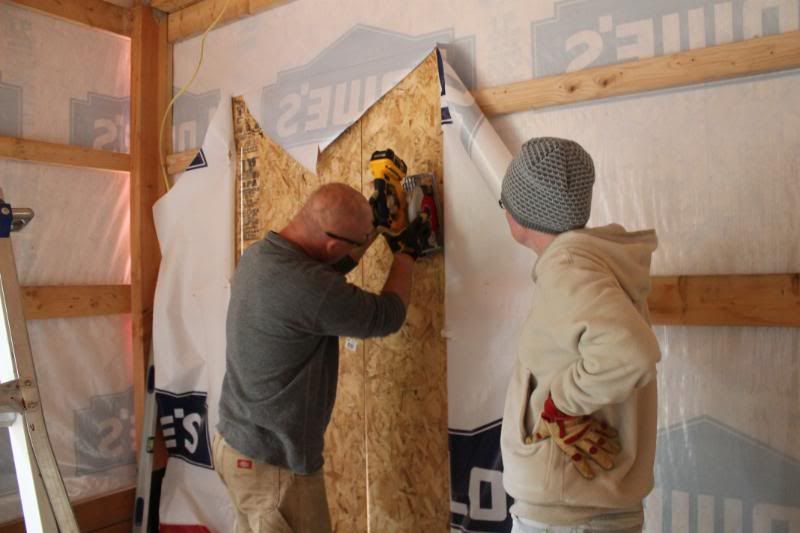 Cutting out for the door, the door came from the same place the windows did. We have a 2nd window not yet installed, my Uncle Kenny who lives here in Ak gave us the windows and door. He had a pile of them to choose from. He recently remodeled his home and still has the old stuff in one of his shops. Its great that he could give them to us, saves a lot of money!
The moment the siding piece fell away. We had not done a door before that was not prehung. We put in the king studs and header, then we made a mitered frame, installed that and then put the door it. We leveled so well as we went, there was no shimming needed. It looks great! We added a door stop, so now it is only missing the little plate on the inside of the jam-I dont know what that is called but we have to pick one up.
Tad installed plastic over the top of the chicken coop. We could have ran the coop walls to the trusses, but if we did we still had to put some fencing or plastic along the top to keep them from flying out. So we just used studs, because 2x10s are more expensive and we would have to still cut them off. Tad put this lowes house wrap over the top both to insulate for the chickens and keep them in.
Nathalie handed him nails during the job, she said it was very boring. He needed guidance a couple of times from Frank to make sure it was applied correctly. We are trying to give him jobs that he does alone, he likes the responsibility.
The door, it needs paint. It also says our animals are protected by ADT which I somehow doubt. They do have Guard the goose though and that may be more effective both noise and guardian-wise over ADT.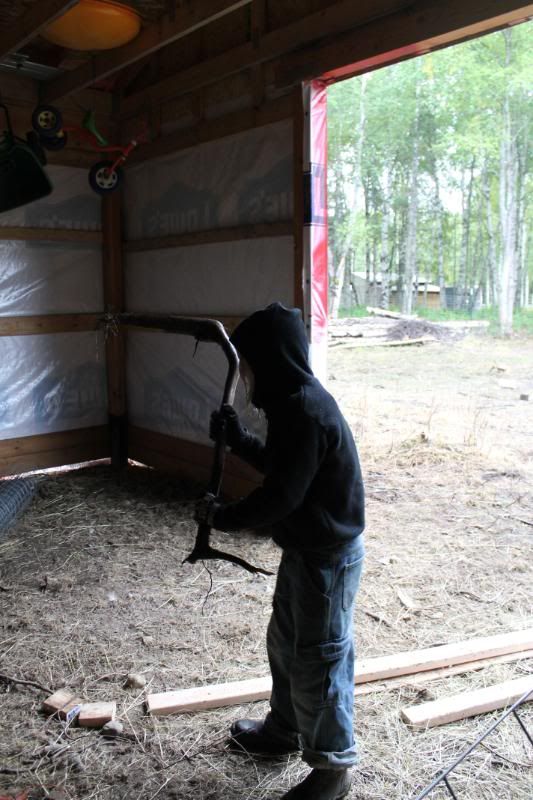 Enter the grim reaper...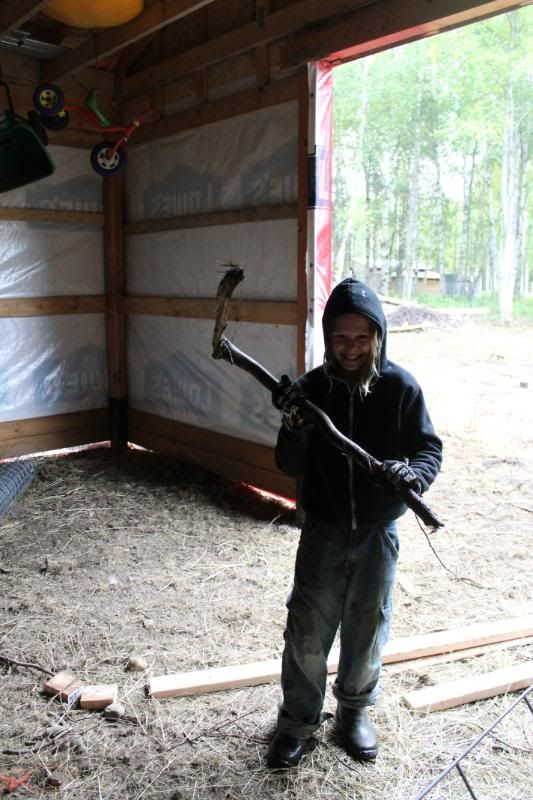 Tad went outside to play in the rainy woods on a break and came back in with this stick. He tried to look mean but total failed as he was laughing.
The 2x4 welded wire going up on the chicken coop. We will use 6 mil plastic on top of this once its very cold, but until then will want ventilation and light. We want the chickens to be able to see the goats and other birds. They can fly so I dont want them loose in the barnyard. We still have to make a door for them and put up some egg layer boxes.
Nathalie has these bits of old junk, toys, some dollhouse items. Most of them she has had for years, her dollhouse people she has had since she was 2.5 and they are still nice! She calls them her little toys, its a basket of junk really. She loves them and drags them outside so she has something to do when she is on break or we dont need an extra hand.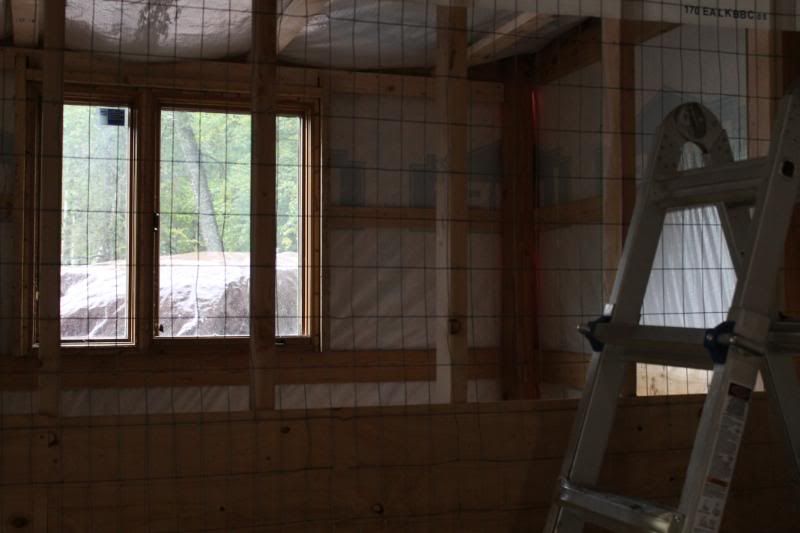 Finished wall. The window needs trim and some spray foam insulation but it went in quite nicely. Windows are not hard to do.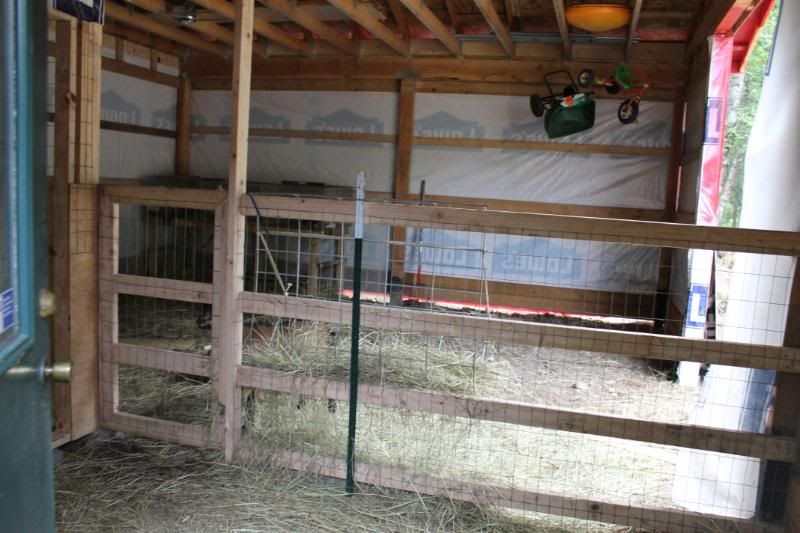 View from my feed room. On the left is a door, its a gate/door, this lets me go out into the mob. Or I can stand here in my doorway and ignore everyone. either way. The goat feeder is hanging on this wall, supported additionally by the t post. the goats get into the feeder, that can be a bit much on the wall over time. I feed over this wall, or I feed in their outdoor feeder (also without going inside) as the hay is lined up right outside of this door under tarp. If its sunny, I feed outside so I rarely do that.
Feed room into chicken room. This is the only access into the chicken room. Frank said we can have a door way from the main barn into the chicken room, but there is no reason to. The goats will just push on it full time and try to follow us into it. I prefer to enter it through the feed room to feed/water/gather eggs. Next yr we will make a covered yard outside of this area, to the left here. So the chickens will have a small door to go into that, but there may not be a need for that either. The covered yard I mean, it will either be warm enough for them to be in roving coops in the yard, or too cold and they will be in their barn room. The roving coops are better because they eat bugs/grass/leaves.
Frank ordered these online. They are nice because they are fully water/bug/rodent proof. you can leave one outside and the feed stays dry, also the goats cannot break into them. They are in the feedroom, but goats can usually find a way to access anything. its possible I will go out one morning and find they broke in. The feed will be safe though as long as I put the lids on well.
The rabbits are on the far side. This feed room and chicken room are basically taking up 1/3 of the barn on the left side. So each room is 1/6, this leaves us 2/3 leftover. We say the rabbits have 1/3, then you have the other front 1/6 in front of them. That will probably be a stall for birds/goats to sleep in on very cold nights leaving the middle 1/3 just open. We divide things by fractions, always. Nathalie and I see the world through a math glass.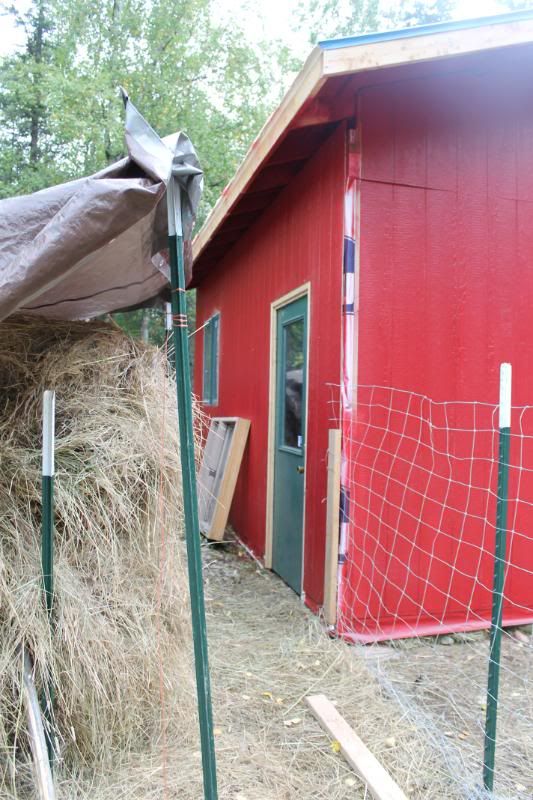 It was hard to get an outside view of the window and door. The hay is in the way. The first bale in this photo is what we are using, so it has a kind of lean too tarp to make access easy. Everything else is more covered and they all have pallets underneath to prevent mold. The 2nd window is sitting here too. It goes in the other front side of the barn, but we dont have that or the front doors done yet.
Kitten spies the neighbor dog coming into the drive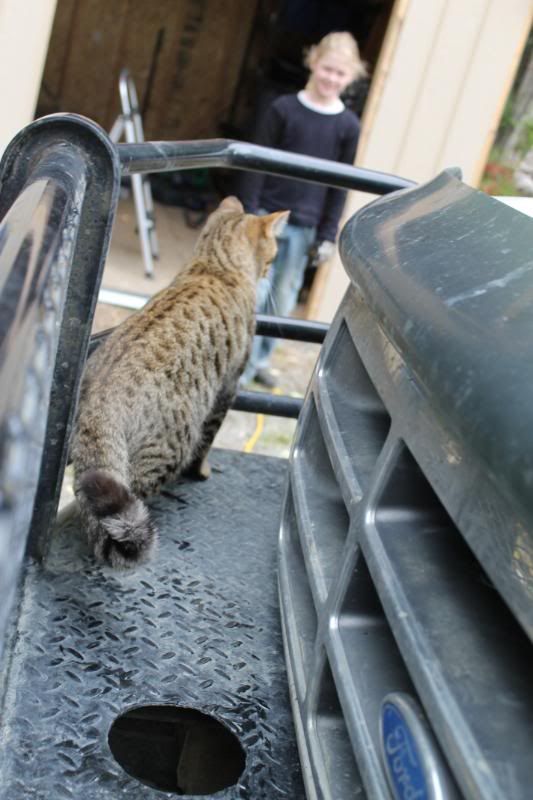 He jumps down into the bumper area, still watching the dog.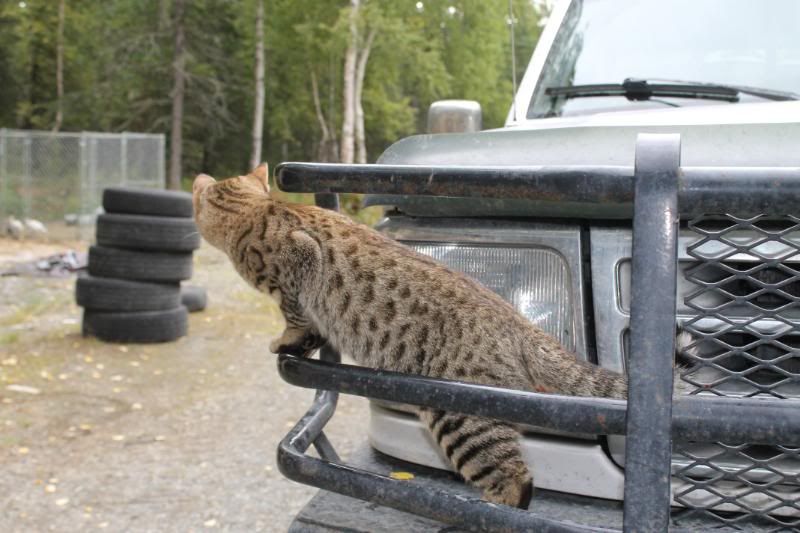 Dog has left his line of sight, he silently moves in for a closer view
There he goes. Look out Max!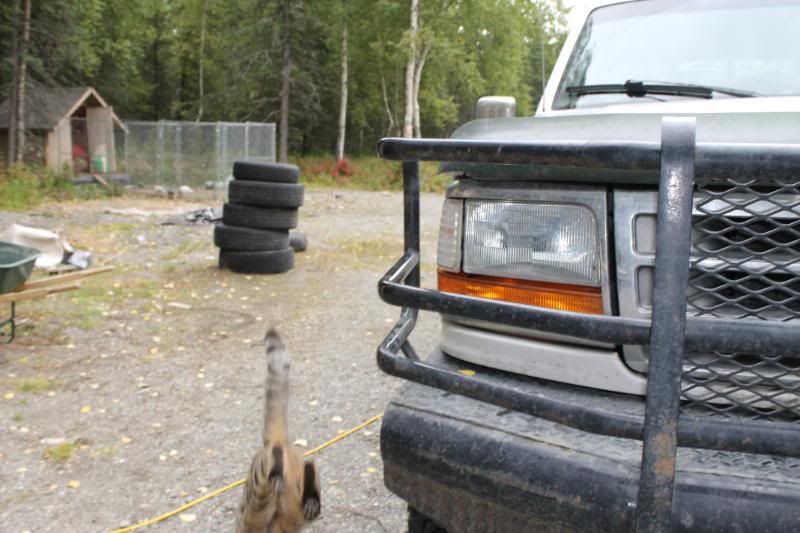 Bottoms of his feet, rear and tail disappearing
Tad is watching kitten, feeling somewhat sorry for poor dog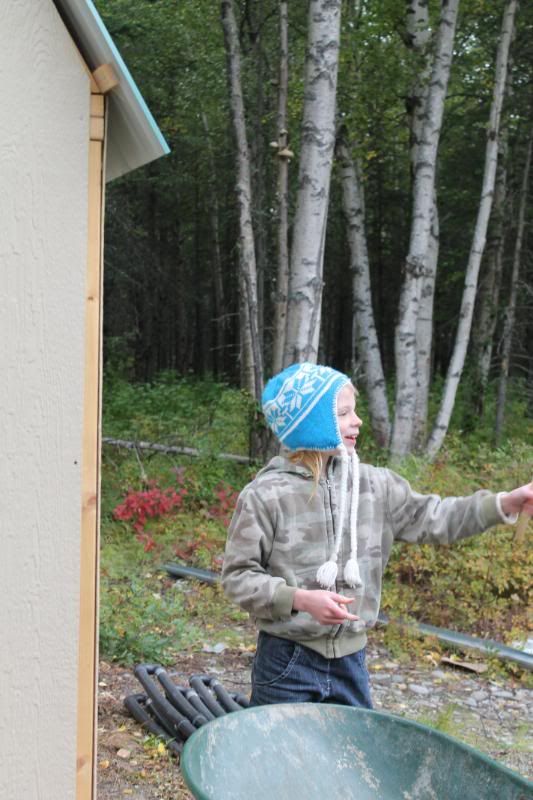 Nathalie pointing and laughing at the poor dog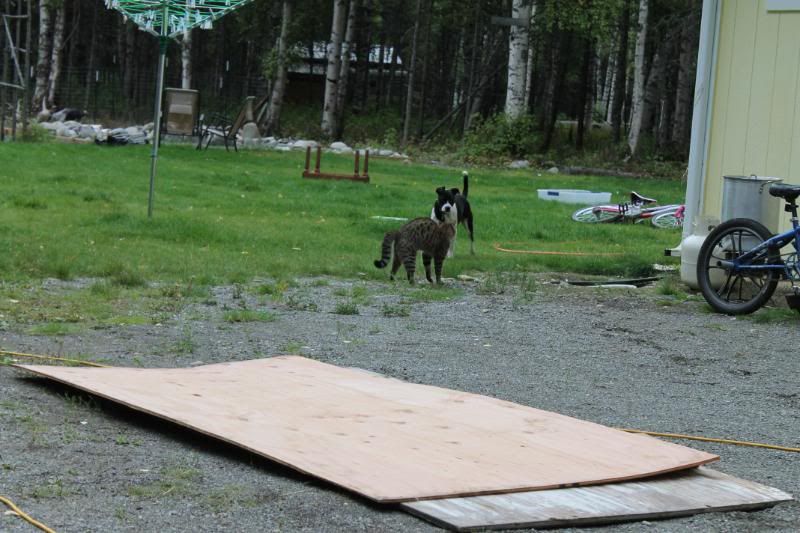 Poor dog attempts to be friendly. They really are friends whenever kitten chooses, but oft times he acts as though he has never met the dog. It is confusing for max.
Back of the shed. I have photos of building the shed, we did most of the initial when Jacob was here. He, Frank and Tad did the walls and built the trusses, then they put trusses up. I helped Frank with some roofing, then we were out of time for a few days. We finished the roofing last wk, and started the siding and this long weekend we have finished the siding. I dont have a front picture yet, we were finishing in the rain. This back though, this is good. Our front is not completely straight which we think is because it was the front and the front always pisses us off.
Measuring the front. This shed will have a full loft, the beams are halfway done for that. 2x4x10s doubled all across at every wall stud, so every 16" we have a double beam. it will have a front and back loft, space between to climb up and it has a 46" door that opens in the front top.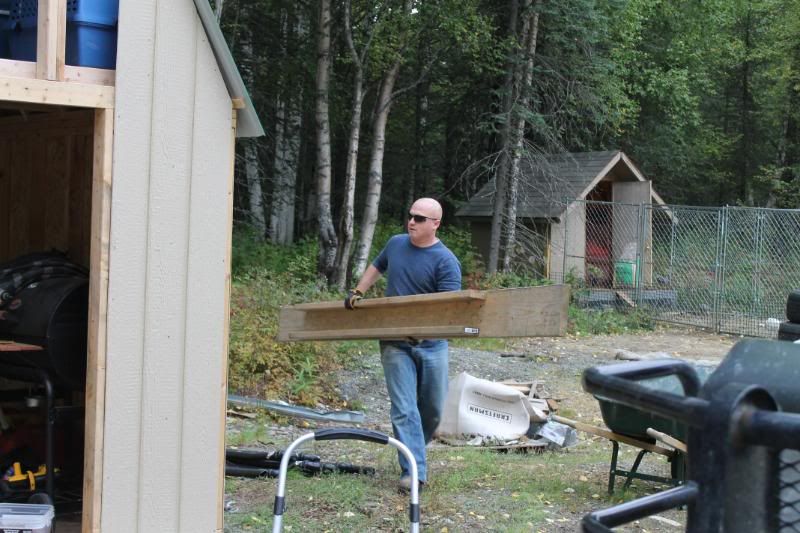 Frank told Tad to get a ladder, so Tad did. Then Frank said, now get the other ladder and I will get the scaffolding. something told me the photos would be good so I snapped a few. Here he comes from the back with our homemade (heavy) scaffolding. We had finished the back siding, moving around to complete front.
Here comes my baby with daddy's ladder (he had already moved mama's ladder around front) and his too small, last winter, homemade wool shirt. You can see its too small. I should make a new one.. poor kid.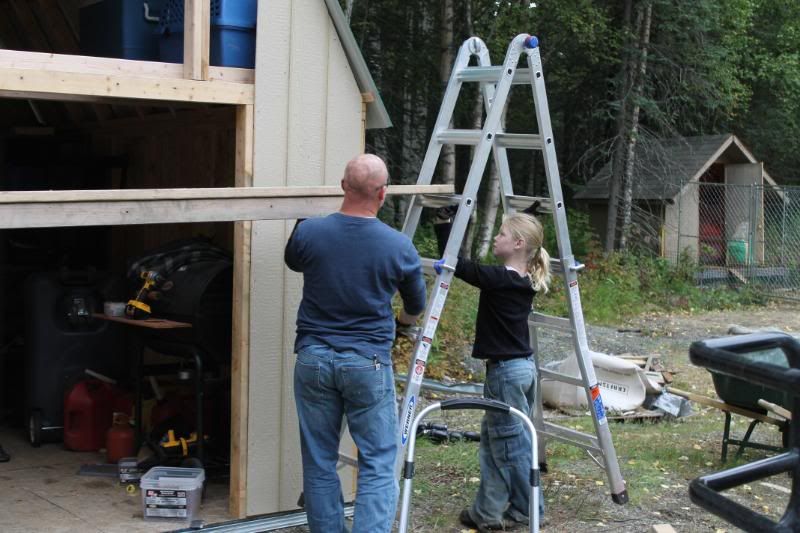 And now they put the scaffolding back in place. Some days, everything goes wrong. Nothing works, everyone feels frustrated. other days, we are like a well-oiled machine. like a handmade, German clock working together as one. Those days or often, moments, are great. We get a lot done because we work well together.
Almost done siding. This is where it started raining and the 3 of us ran to cover tools, or move them into the shed under cover to hand them out only when needed. The top is now completely sided and the building needs trim, and doors. The bottom and top doors have to built, we will make 2x3 frames, hang them and then attach siding to match the lines. Then we paint and add trim. The barn still needs trim, front doors, 1 window and the facia needs painting. We have to get to all of that before snow flies. So that is where I have been, working. We have started homeschool, have orientation tomorrow for the group we are registered with. Still waiting on new spelling books, everything else we have. The kids are swimming 4+ days a wk as am I. We have been working evenings and weekends, getting ready for winter. More stuff than I can keep up with here, but I assure you, no breaks are taken! We are having fun, staying busy.