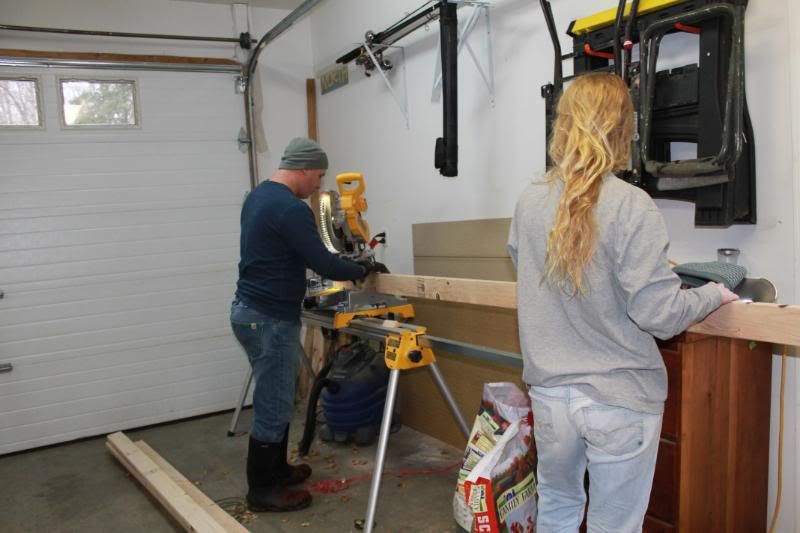 This blog post is proof that I generally look homeless. Tad says this is because, "Mama, I think you go into your closet, look for the crappiest jeans you own, any worn out shirt that has holes or stains and that is what you get dressed in for the day." I dont think he is correct necessarily, its just that-in my closet, there are clothes that fit his description, more clothes that fit that description and a few items that I would rather NOT fit that description.
The work that we do most days, will not lend a nice look to any of the clothes not yet fitting of that description. but also, my hair always looks unbrushed. I shower every night, and about half the time in the morning also (chlorine hair) but I sleep on wet hair. My family brushes my hair, nightly. Then I sleep on it and leave it that way all day! We are actually building a stand, table, something for the little babbity rabbities here. Mitering the 2x4s first.
"Make them go together flush at your side."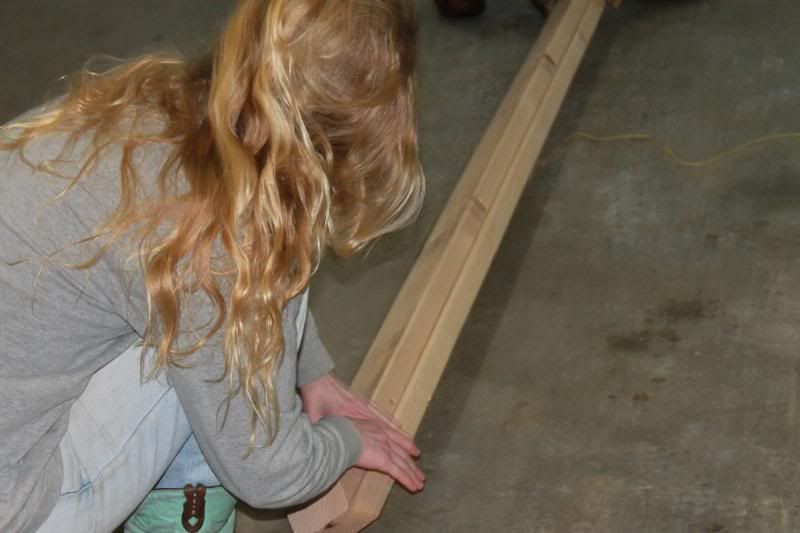 "What? Why? Nevermind...ok." See this is my maturity issue. I sometimes do not listen.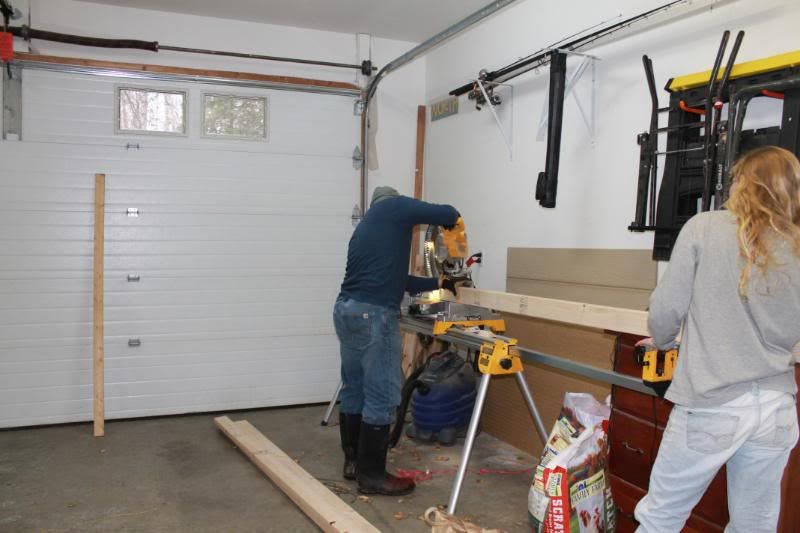 We made a similar table for the big rabbities cages, but the little rabbities still live in a 4x8 ft roving coop. It is easier than making more individual cages, we are going to eat them in a couple of wks anyway. So we put the roving coop in the corner of the barn and naturally our goats are asshats and jumped all over it.
"What trash bag are you talkin' about? Was it my job to carry it out? Wow. That got past me. I am drinking hot chocolate though right now. Oh. Right now? Ugh."
What we need is a large working table. We needed the same in Ks, somehow we never got around to it. Not like we would have it now though right?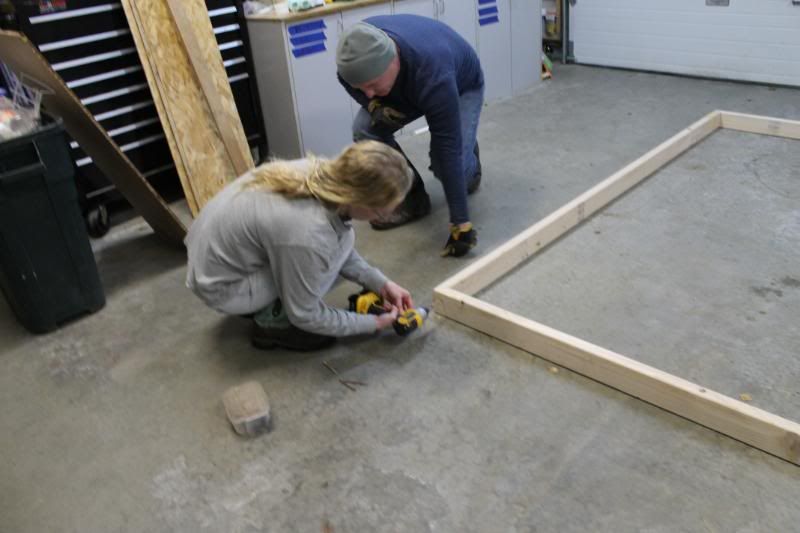 Putting in the first screw
See? homeless person hair. The boards are not staying together well.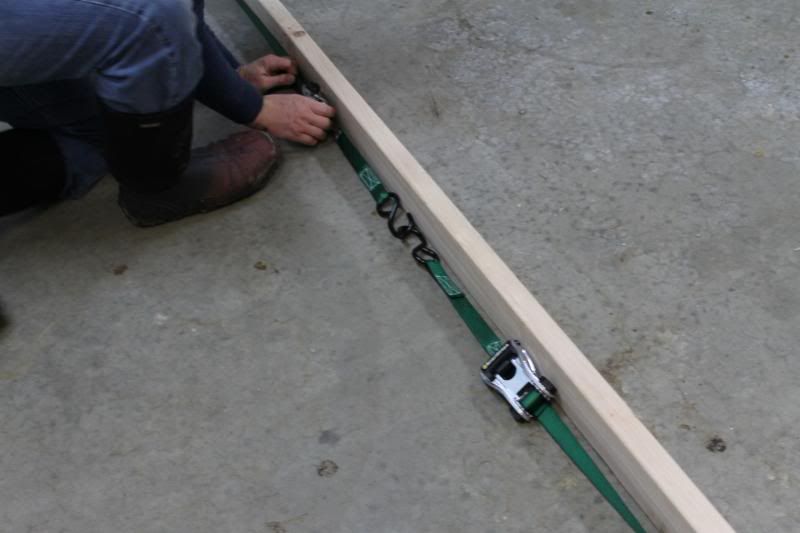 Enter rachet straps, Frank used these to make the shed doors as we were gone to swim team and he had no extra hands.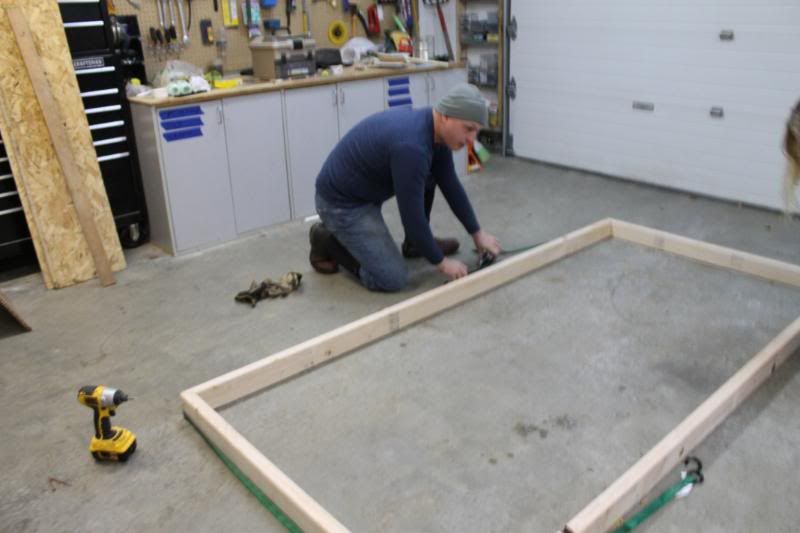 It only takes a couple of minutes to set up, and then your rectangle is set up perfect with no one holding your miters straight at the corners.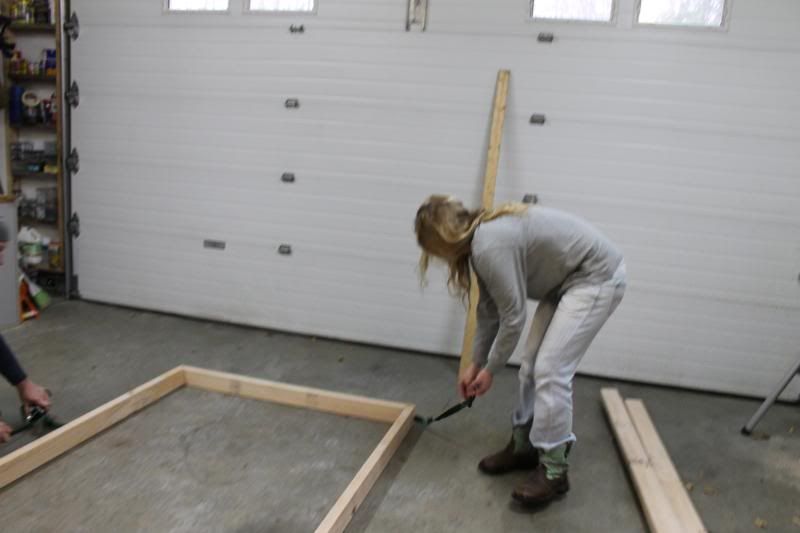 You have to have 3 rachet straps for anything larger than 4x8-if using these small straps.
See? Ingenuity at its best.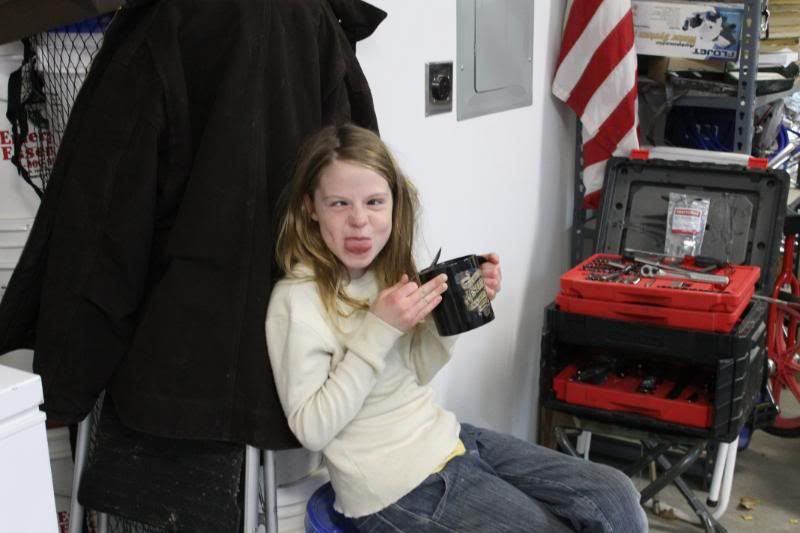 I admit, she asked me not to publish this. But she was laughing when she said it, so she wasnt serious right??? This is her saying hi to our friend Eric. Her left eye can cross alone, Frank said blog it for posterity. I am thinking, blog it to make sure it cannot be deleted so that it can be used as ammo towards a boy we do not like.
I think this is his Gollum (sp-Lord of the Rings creepy little slimy "precious" guy) look. except he is smiling.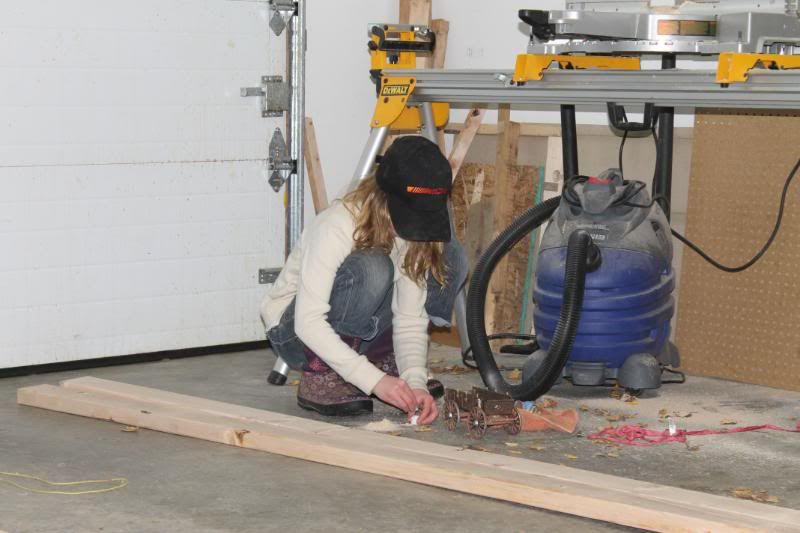 As usual, where we all are, so are Nathalie's little junk heap toys.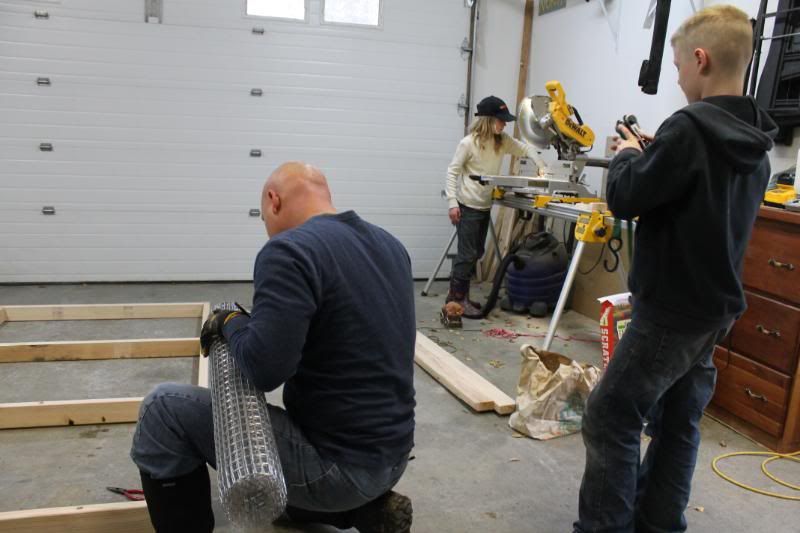 wire for the table, it is 1"x1/2" which is good for rabbit cage floors, their potty falls through this size and rabbity feet and bodies should never, ever, sit in potty. Very bad for their quality of life. Oh, and Tad is rolling up the rachet straps because I said so because it is good for tempers (later use of straps in a hurry) and also quality of the straps over time. Eric said.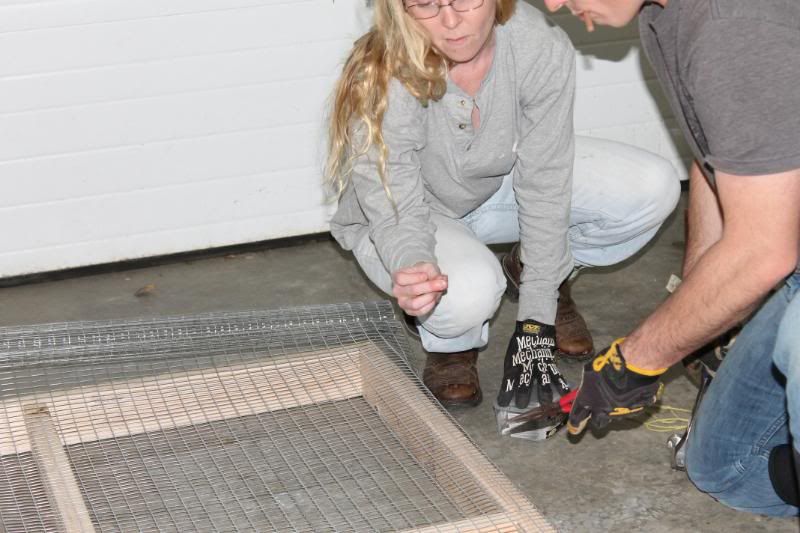 See the tiny staple in my fingers? No? That is because its really tiny. See the tiny red wire dikes? They actually can pinch when someone takes the staple from your fingers. Wear gloves, you say? What a splendid idea. Then you cannot grab the staple though, and furthermore your glove gets caught in the dikes.
It is still the best way to hold the staple. It allows you to hit the staple several times with the hammer, if you do not use these, sometimes the staple turns sideways and after enough of that, the person doing the hammering is total pissed off.
This is our table top now. The rabbity roving coop can sit right on top and the goats will have less access to the rabbity roving coop wire.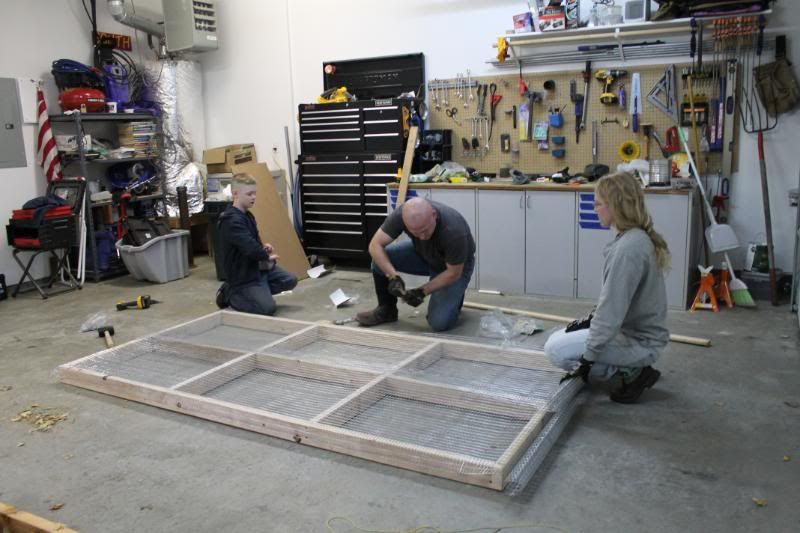 It looks like it would be heavy, but really it isnt. We used the little wire clamps in the middle to hold the 2 pieces of wire together. We dont have 4 ft wide wire-it is 30" wide in this size per roll.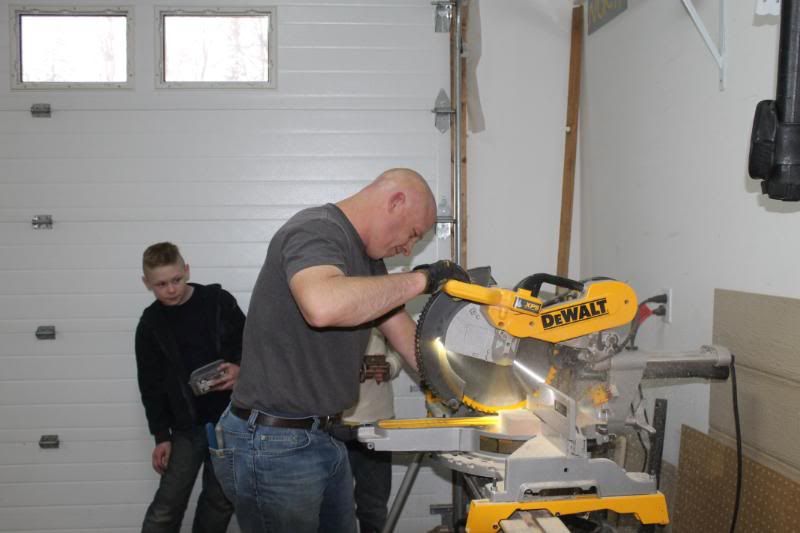 Naturally, we had to have some breaks from work.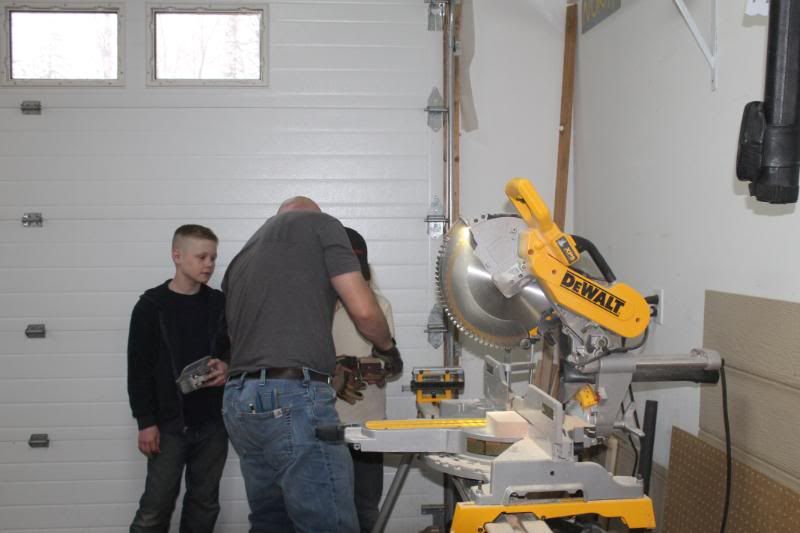 "Daddy, I need a seat for my wagon. For my people. Can you cut it for me?" Sure baby.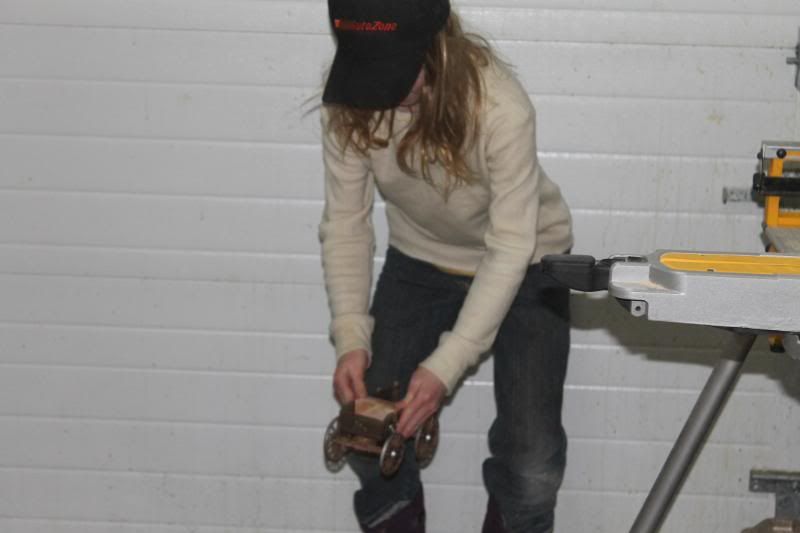 "Look babies! You have a nice seat now!"
This is actually a little wagon made by Schleich. The kids saved up and bought it themselves, and it is the transport for all of Nathalie's junk heap babies.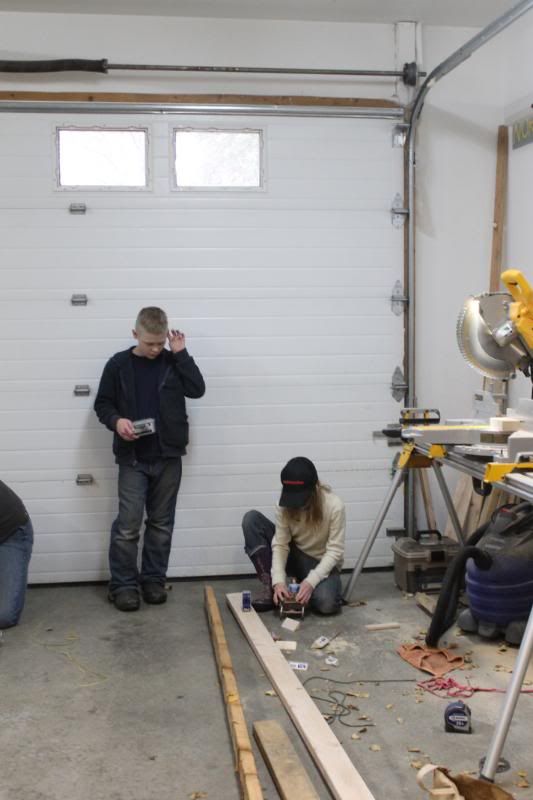 Tad admits to playing with the junk heap toys sometimes, though mostly he is pretending to blow up their towns.
A nearly finished table.
Final screws. Because someone kicked the leg and then it broke so had to add some more support. It shouldnt have broken so easily, just from someone kicking it with their big boot, right??? I didnt take pictures of it in the barn yet, we moved it down there last night and spent 20 minutes repairing damage done but butthead goats before we could set it up. I will have more pictures of the set up, the new wiring and lights etc later.