This is hard red wheat, becoming sprouts soon. We will eat these, as will any animals that we raise.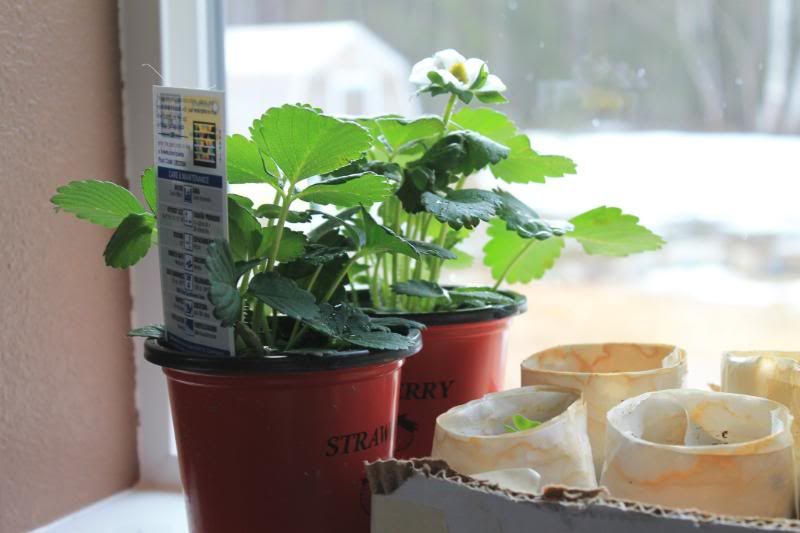 Strawberry plants, we have a bed here pre-established by the first owners of this home from 2005-2010. We are going to add to it, there are 5 total raised beds here, and a large garden area that is lined around the outside with rocks and has raised rows.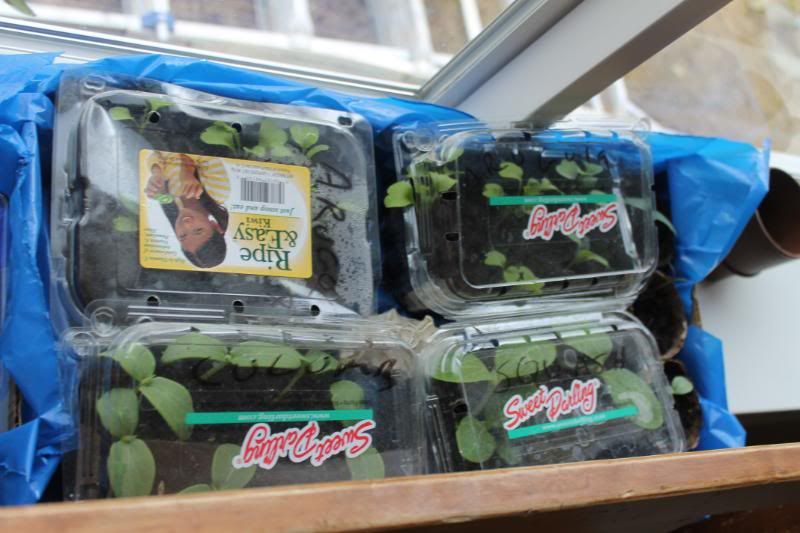 Here are a number of tiny plants, Frank and Nathalie have planted many vegetables and we have purchased some plants from other small growers as well.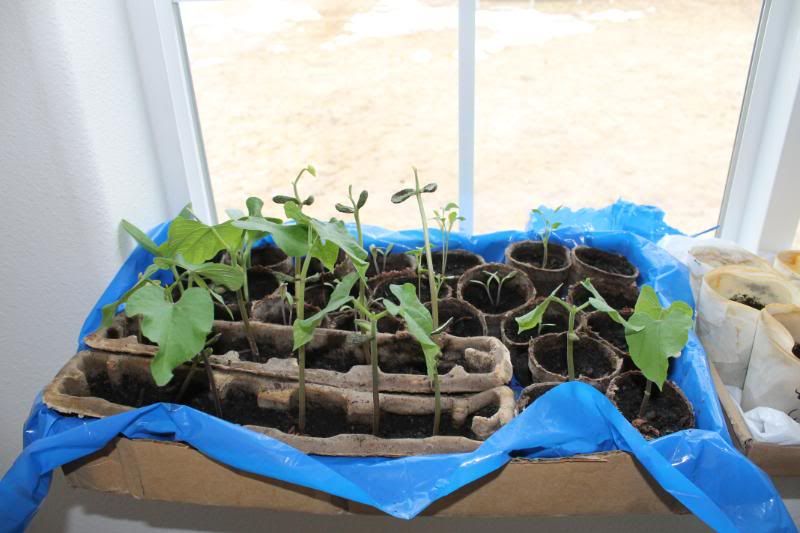 These plants live in our windows that have southern sun, the cat eats some of them.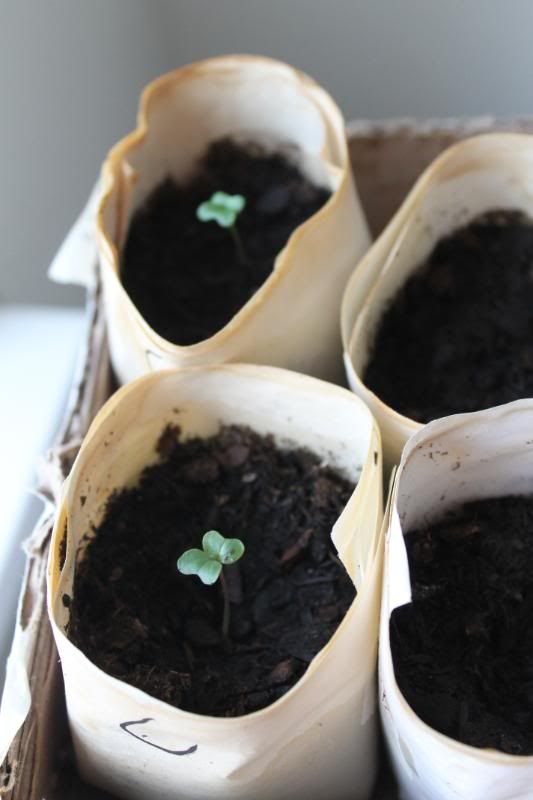 Our first two tiny cabbage plants! This is a great cold weather food, easy to grow in cold, bolts pretty fast in heat which we do not have. The knitting lady (new friend) says that it didnt get above 65 last yr and likely wont this yr, all summer. That is my kinda summer!
So, the plan. What is the plan... We have lived a number of places, first Germany in an apartment. I learned to sew children's clothes here, but not very well. Then South Carolina, I became proficient at children's clothes, ran a small business and had a huge garden most of the year that sustained or vegetable needs. Then Ks, what we did wrong in Ks was, well a lot. I guess it wasnt wrong, so much as learning. Ks was harder to grow in than Sc, less sand in the soil. Not hard I guess, just we didnt know what we were doing. not enough fertilizer. My 2nd year was good, my 3rd year was amazing for a garden.
We had too many goats and chickens, we had to focus too much time and money on them. We learned that we are better raising what we need for milk, eggs, meat and fiber and that is it. We will have enough goats and chickens to sell some eggs and milk to our neighbors. We will raise enough rabbits to sell some meat and I can tan the hides and sell those. Basically our plan is two-fold, grow enough of everything for us, easily sell any extra to the neighbors (they have already all come over and asked to be allowed to buy any extras before we go to market with it), have small enough herds and flocks to also manage a large garden and greenhouse, continue sewing and homeschooling. The 2nd portion of the plan, we are currently enacting. HURRY UP AND GET STARTED! We are working hard evenings and weekends right now, getting things built and getting animals purchased, finding all the feed that we need, getting plants started and finding a solution for heating the greenhouse.
We do not have the luxury to take our time. If we want any sort of sustainment anywhere, we have to hit the ground running. We will move again, we could move in as little as 3 yrs, or as many as 5 but we will be moving. We cannot take our animals back to the lower 48 so we are buying breeding stock, not show stock. We want food from healthy, well cared for animals. We are scrimping, saving, budgeting and buying on sale to build what we need for the animals without incurring debt. If we are creating debt, then we are not saving money on groceries.
So thats it for now people. Off to figure out if its warm enough at night to plant carrot seeds. They grow well from seeds, and we have weather around 33-36 at night. I have to find out if it will work!