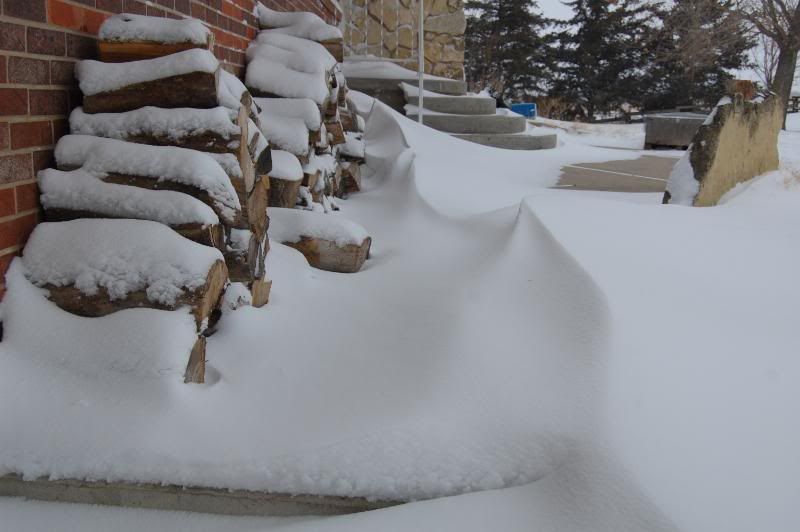 You only get pictures of what is right in front of the house. I went down barn to do chores this morning, wearing a long wool union suit with undershirt/under clothes, long knee socks, long wool socks, wool lined waterproof snow pants, carhart coat, wool balaclava, double layer wool hat, snow boots and gloves. I was warm, truly, but the wind was kinda rough on the way down heading north. Then it died down, and chores were truly not bad wind wise. I arrived back at the house thinking, well its much less windy than the last storm. True, blowing snow burns a bit but its better than the last one. I came in the garage, called for a camera (didnt want to re-dress later) and Tad brought it. 3 pictures into this, the wind kicked up and was quite cold! It was actually singing, the wind, around the corners of the house. I take pictures with no gloves, so you didnt get very many pictures away from the house.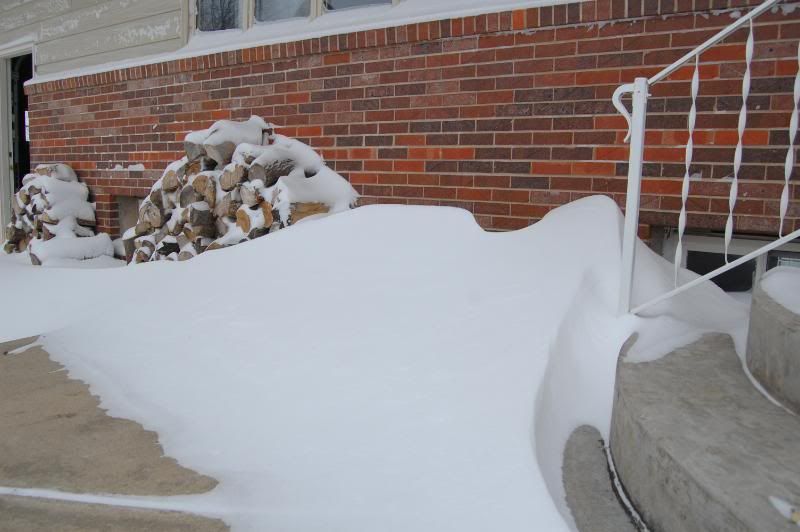 I think this drift is beautiful, and wonder why does it build up this way? How does the wind do this? The house, the basement window, the wood piles, all seem to play a role in how the snow lays. This was my favorite drift, and there were many to see in the goat yard.
The snow drifted here too as if we would need to open the door, its not up against it proper. I dont know how the clear space comes but its pretty neat.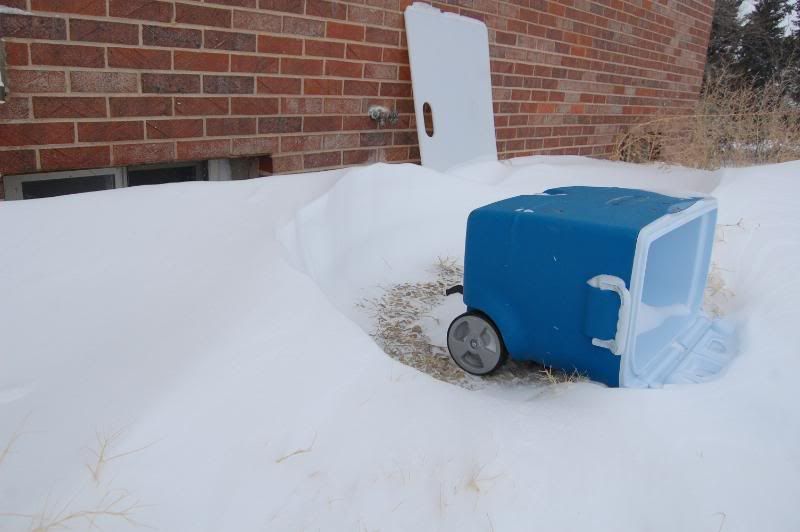 Once again, leaves the area around our (trashy) yard cooler, you can see the rocks of the landscapd bed underneath. I would have expected the snow to be drifted closer to the cooler.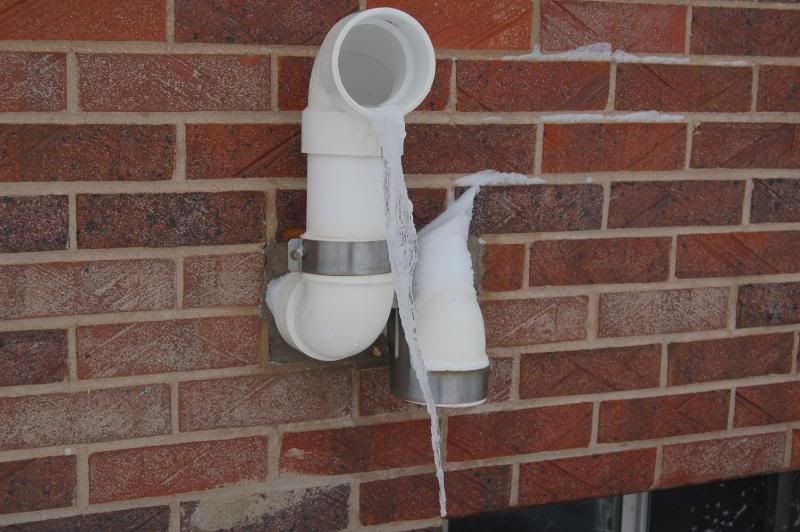 Heat vent icicles. This one wont last, Nathalie likes to break them off and eat them or use them in some sort of murderous ice game, that doesnt actually injure anyone.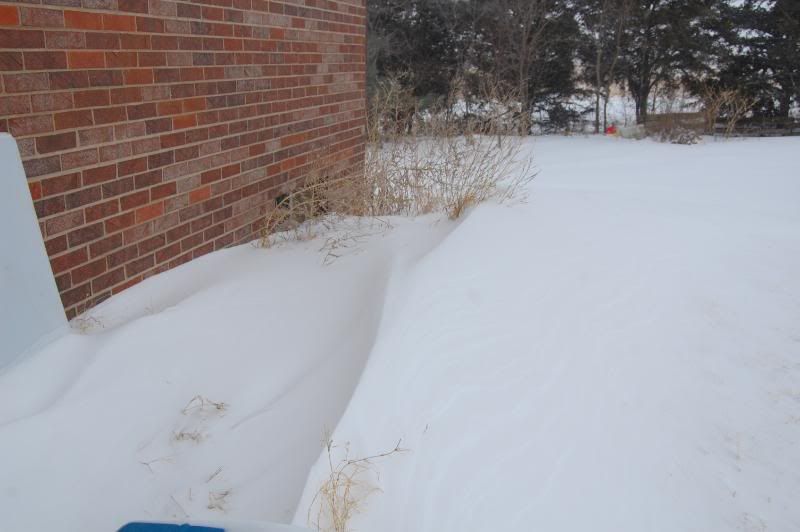 Just more drifts, it piles up in these peaks sometimes, and often you have a long row and running parallel are more rows.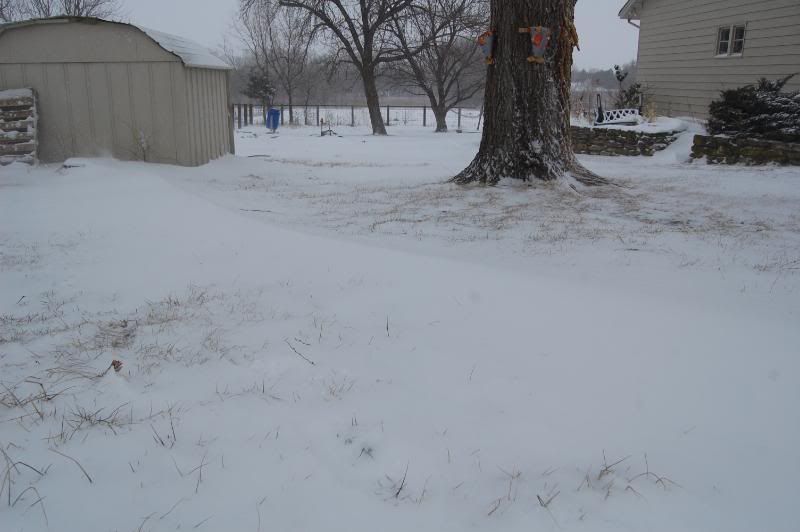 You cant see this one well, the ground had little snow here for the most part. I could see the grass and it wasnt very drifty to walk in, but running from the back of the garden shed all the way to driveway was this long low drift with a perfect peaked top.
My poor tractor... I know he would like to be under cover. Next year we will put a carport up for him. The truck, he doesnt mind. He is tough.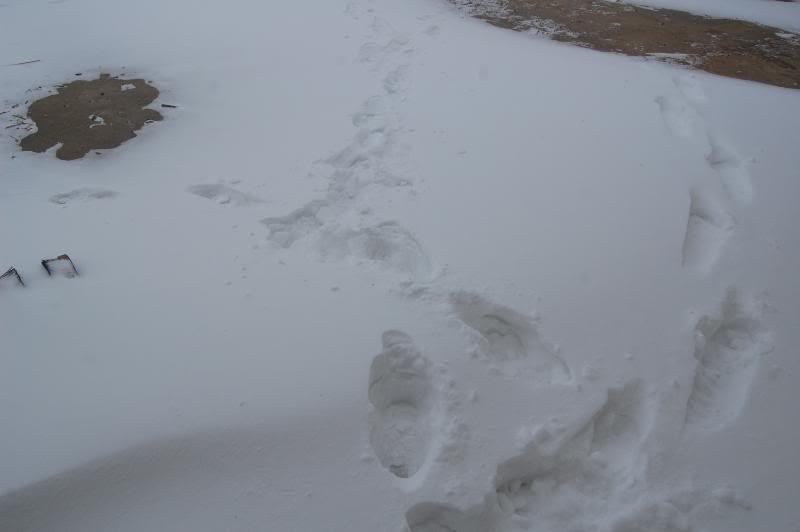 Foot prints coming in, there are some foot prints of mine in the goat yard now that are deep enough to lose a toddler in. Its so flat out here, we get much larger drifts than weather.com says we should have (4.6" snow since it began last night) but also we get areas where its completely scoured away to the ground from the wicked winds.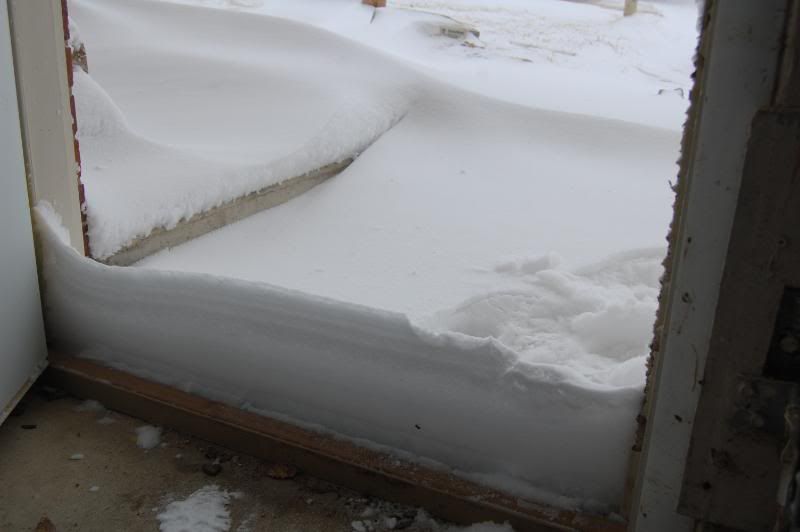 This tiny little drift wanted to snow me in, but he lost. I didnt want any bad feelings so took a picture anyway. Poor thing I just stepped right over.
It is a lovely, beautiful day but if I were to choose one thing about it to give up, I would give up the swirly wind. Its one thing to have it blowing hard from the north, but when it seems to come from all directions then its much harder to walk and work in.
Yesterday we got everything done that was needed, including going to UPS to ship some things. I am glad I did and now dont have to get out. Bean soup is cooking, we will have fresh cornbread and I have wheat bread rising for lunch. The house is warm, fire is nice, we have all of our work done and can enjoy the day on school projects, sewing and baking. Oh and staying warm!