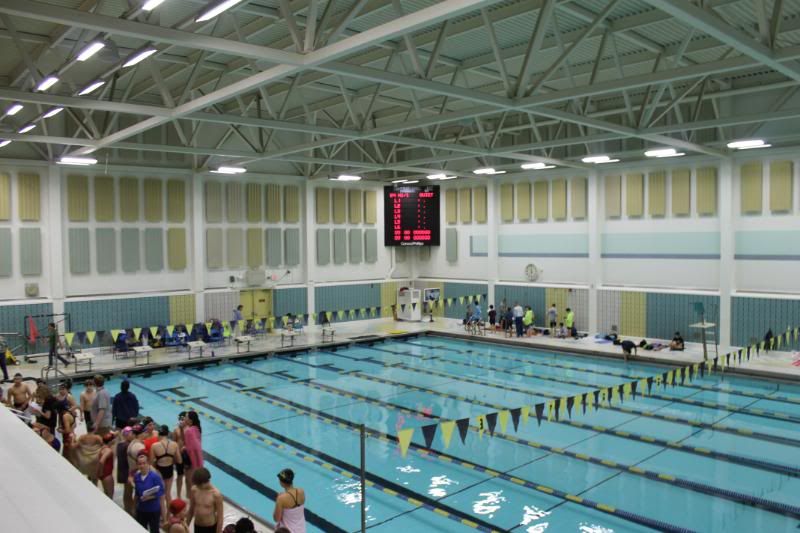 This was our 2nd swim meet, the first was much more informal though according to the more seasoned parents, many of the officials/judges were quite picky. About some pretty crazy things! Kids were disqualified left and right, same as last meet though largely by the same judges... Poor kids were hoping to NOT get lane 1 on the girls side and Nathalie got it, on her breaststroke. It was a great breaststroke, she did so well and was disqualified for something the coach said was not even a rule! She is not upset though, its all about learning. This pool was larger than the others we have been in, they had 2 sides so both boys and girls ran races at the same time vs taking turns.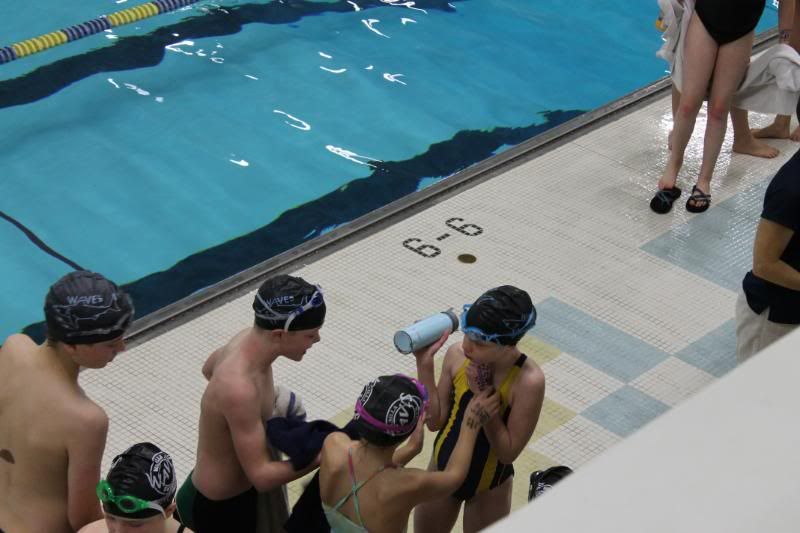 "Let me see your hand, what events are you in? Do we have the same heats?" Nathalie and one of her friend. They are comparing hands.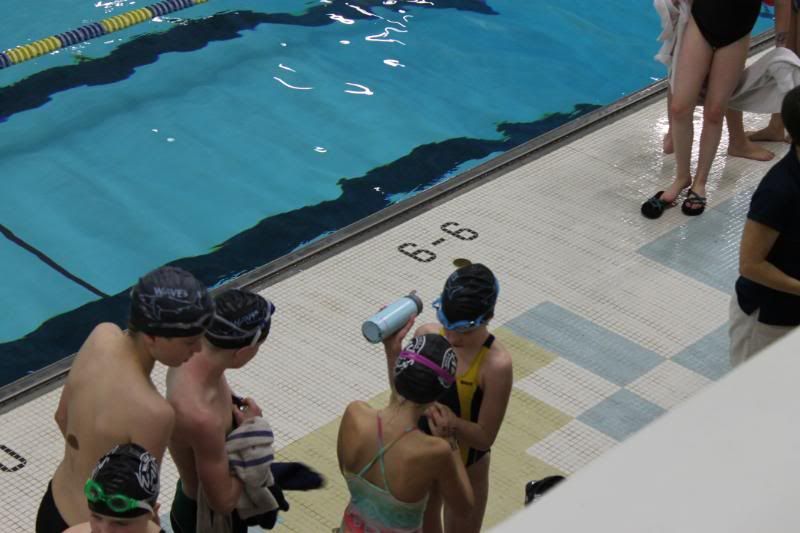 Coach writes their events, heats and lanes on their hands. There were 45 races on the girls side, 48 on the boys. Frank did timing again, they are always short on timers it seems and he finds it less boring than just sitting in the stands.
"Look, mama be taking pictures of us." The bleachers for the parents were up top. It was not as hot at this pool as the last meet thank goodness, it causes a migraine! The kids can come up to the parents in between their events for a snack, a drink, a hug, or to talk about their race.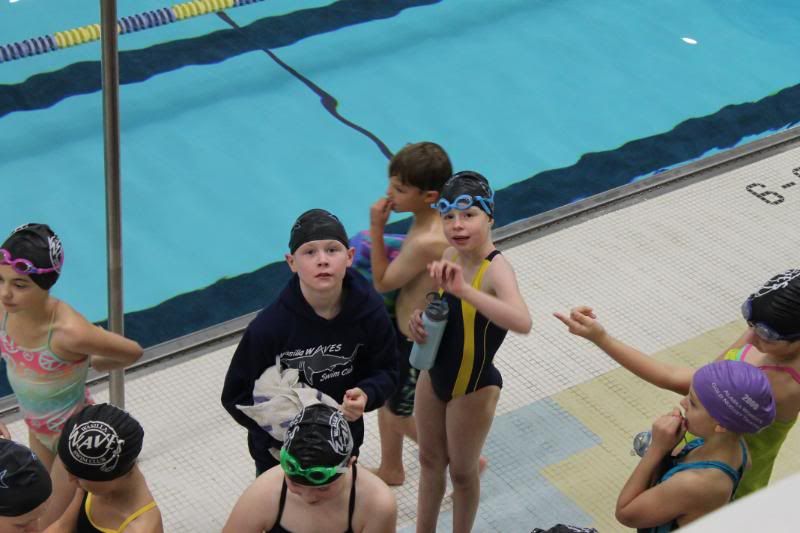 It was pretty cold for the kids, the water was colder which makes for better races but the kids get cold between racing. They have a warm up/cool down pool in the center of the racing areas and many children put on sweatshirts between their water times.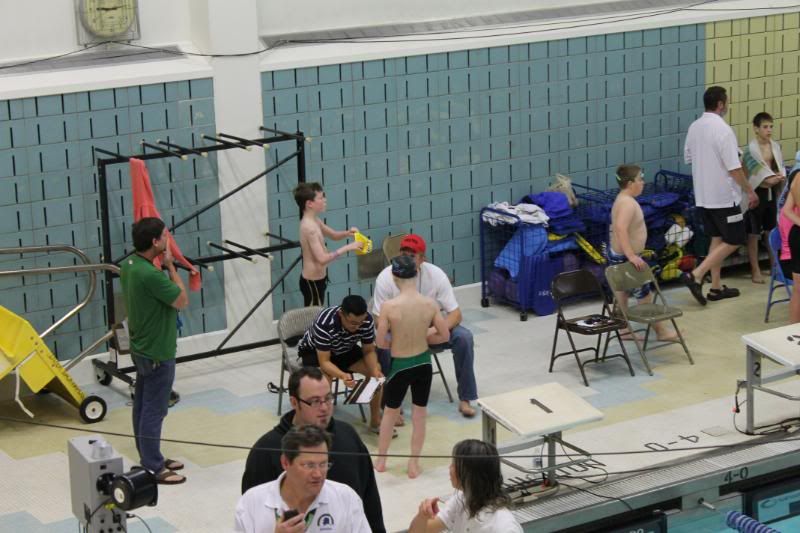 Tad is speaking with his timers, I do not know what they talk about but my kids always check with their timers, maybe being sure they are at the right lane/correct heat.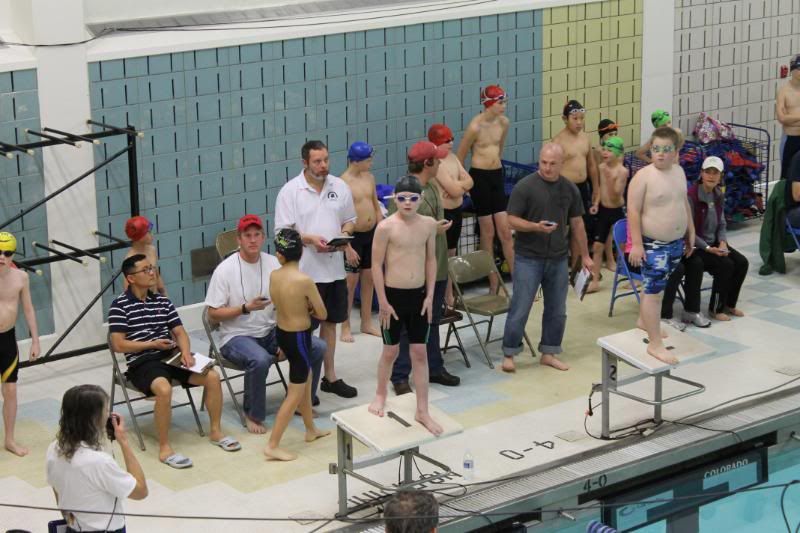 On the block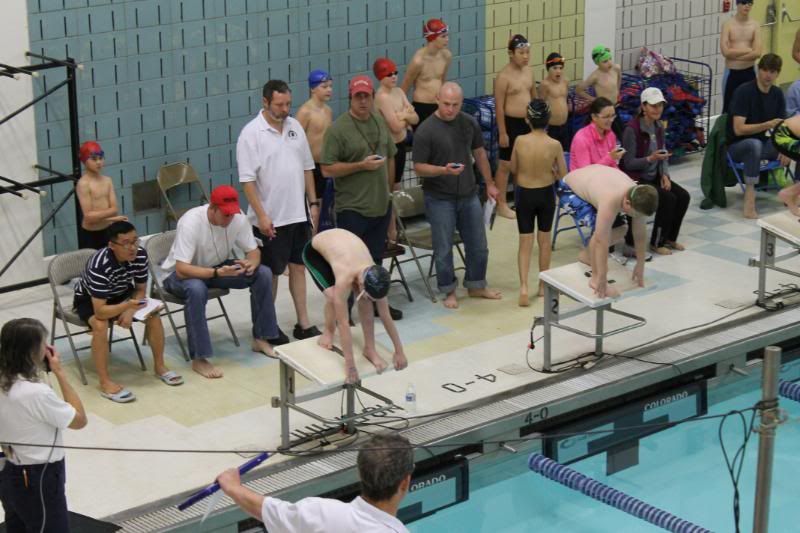 Take your marks!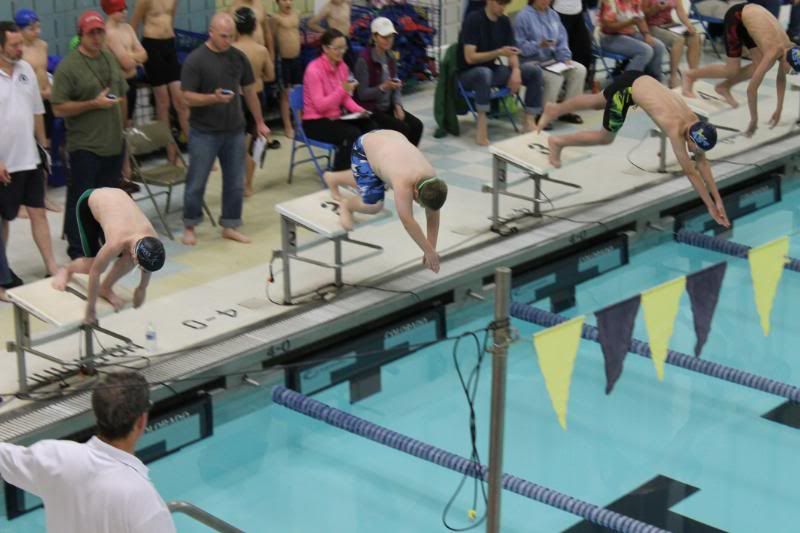 Go! I do not have a picture of his dive/entry though I do from last meet. He goes in so neatly!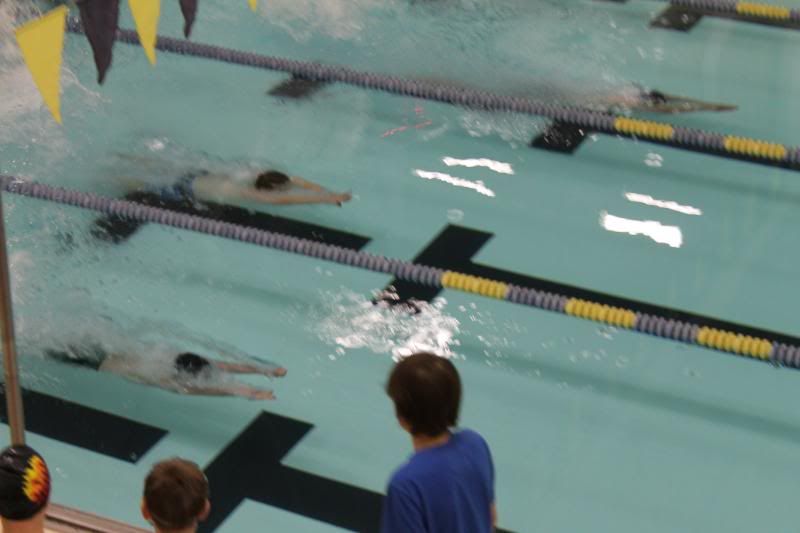 His glide. As the kids come out of their glide, they begin their stroke. This race is an IM, equal meters of butterfly, backstroke, butterfly and freestyle.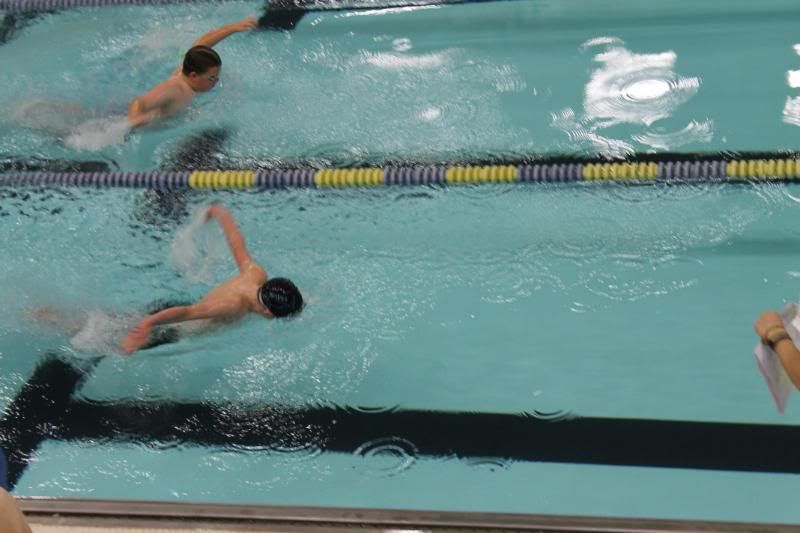 Why walk when you can fly?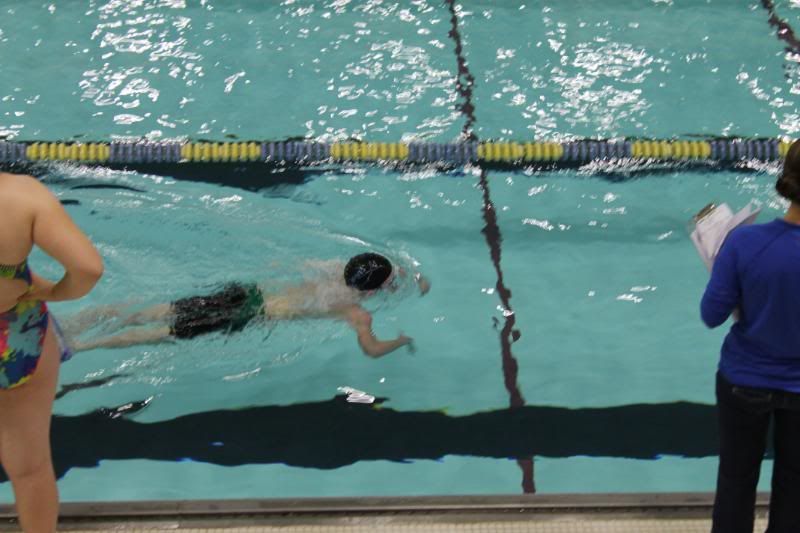 In between breast stroke kick.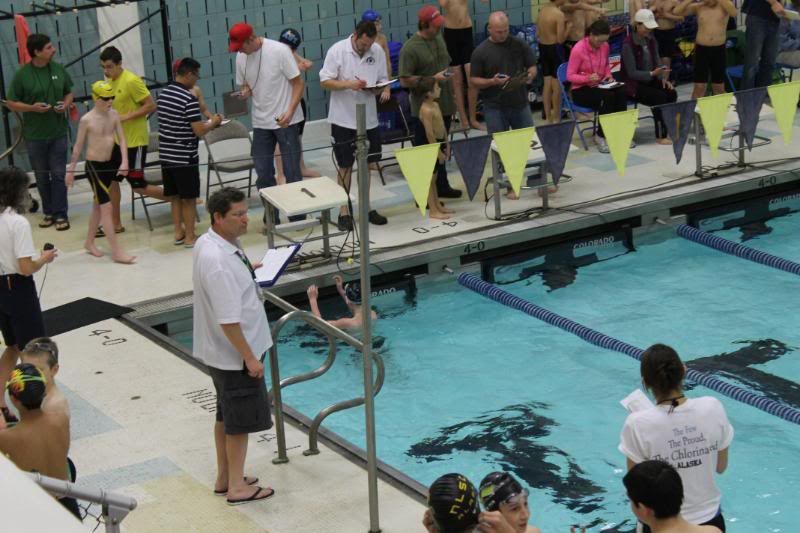 And he is finished! He ran 3 more races after this, they only allowed 4. Tad is still struggling with his breathing, his lung capacity is low yet and he has to take cough medicine in order to swim, which means he is tired. It slows him and causes him aggravation. We see an allergist this month and hope to fix the problem with his asthma.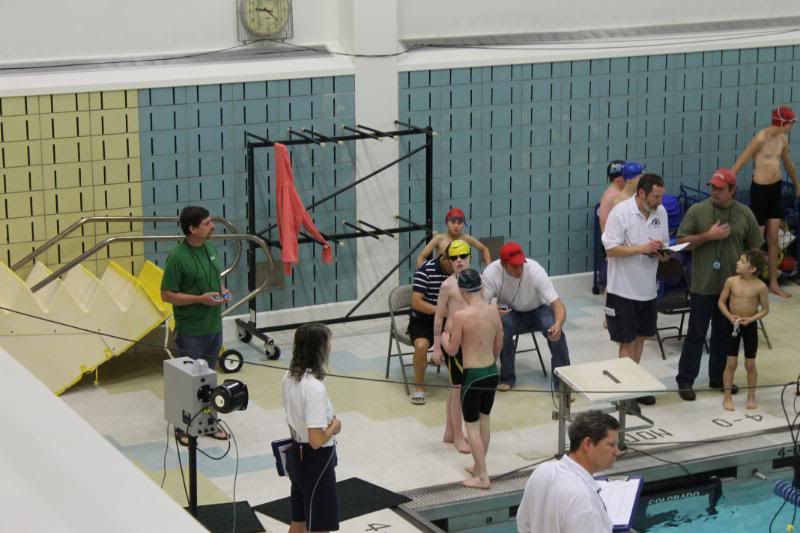 Out, next to the next competitor. Sadly, many of the other teams have either been taught to be unkind, or they are simply unkind. My kids are confused by that. Many of the children say MEAN things instead of saying good job or just nothing at all!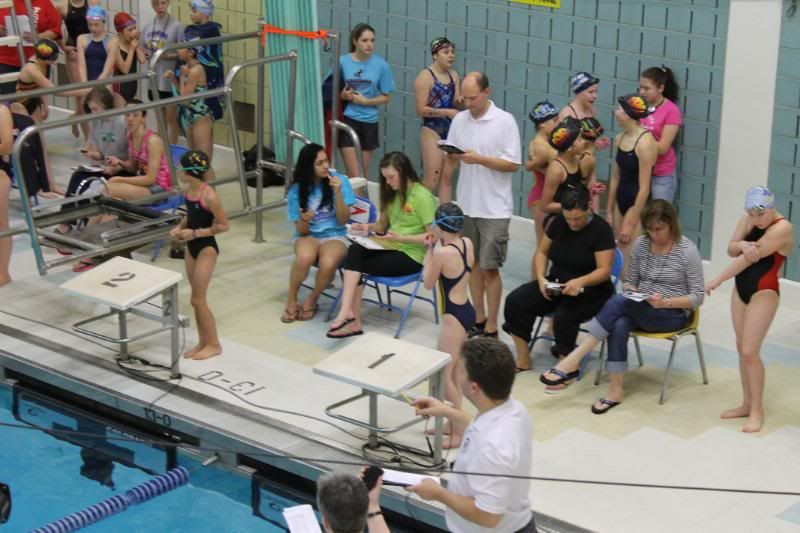 Nathalie's first race, adjusting her goggles. She is always nervous for the first race, but seems to love the meets.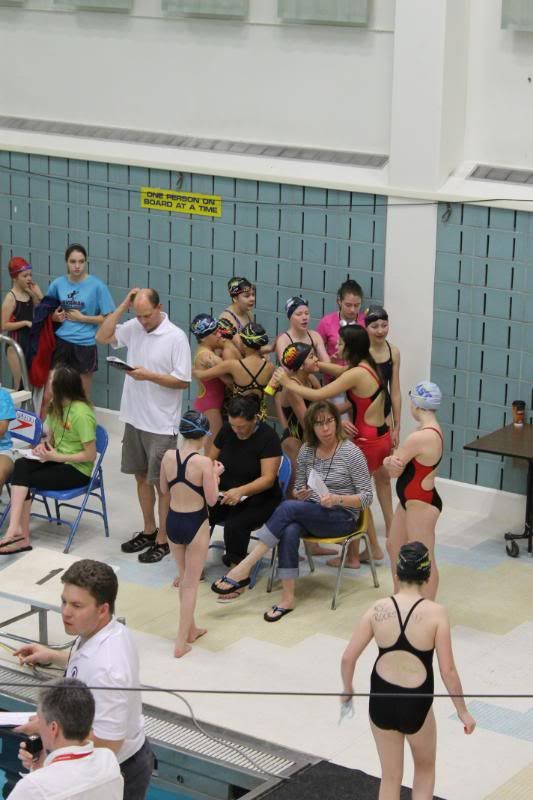 Talking to her timers. Each lane has 2 timers, and this is the job Frank enjoys.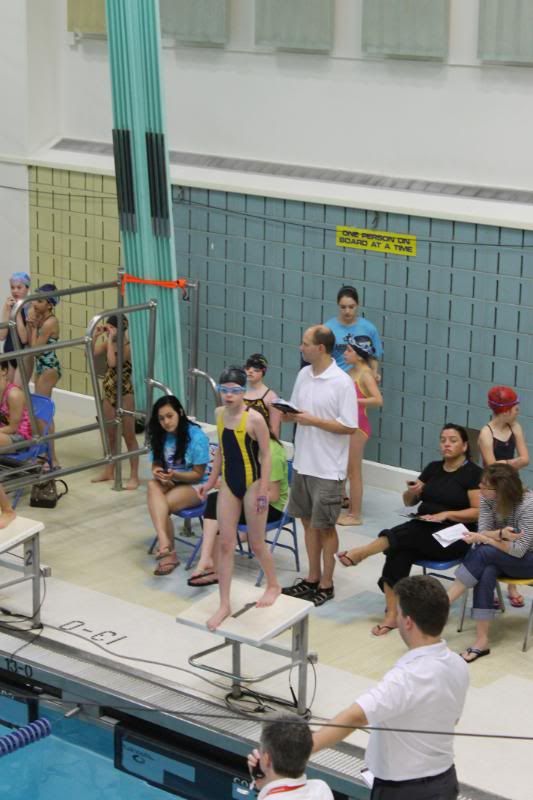 On her block...
Take your marks!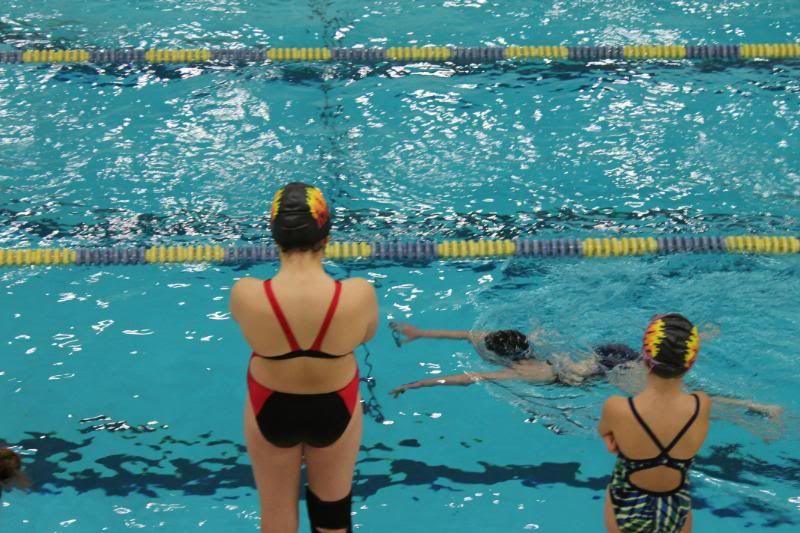 In between breast stroke, it was difficult to get pictures of her for all the little girls standing at the side cheering their friends.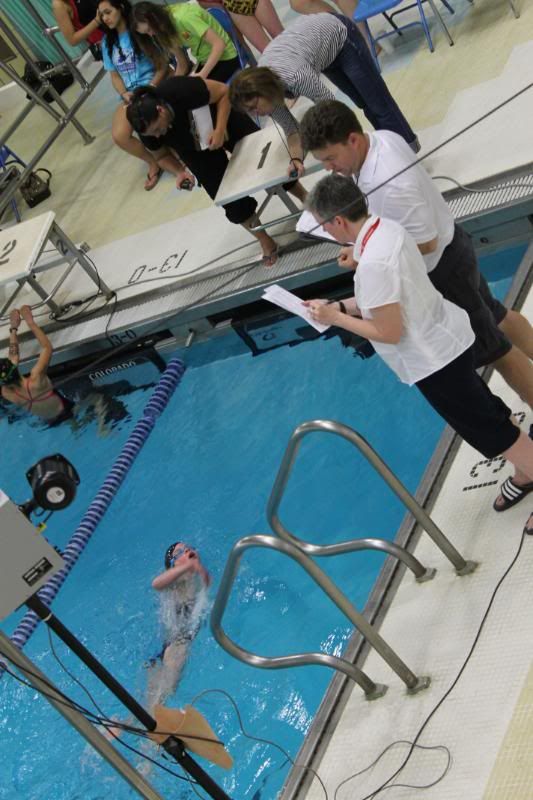 Freestyle-coming in at the end of her IM race.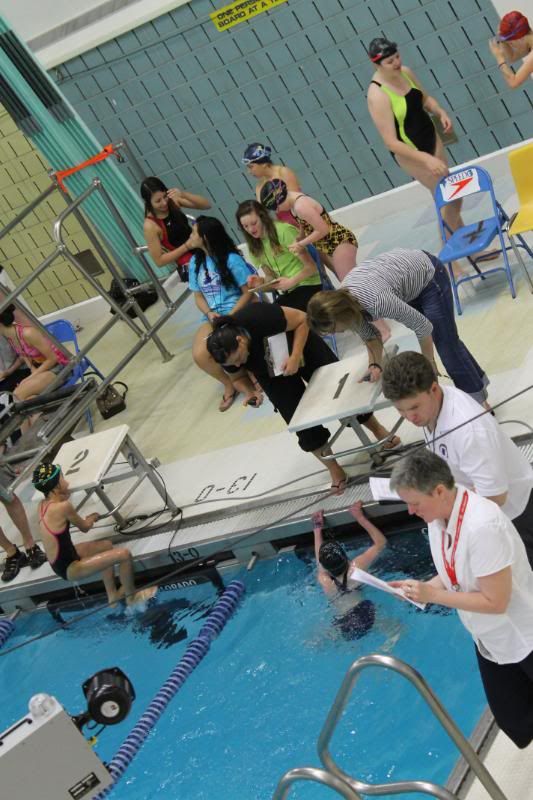 Waiting to see her time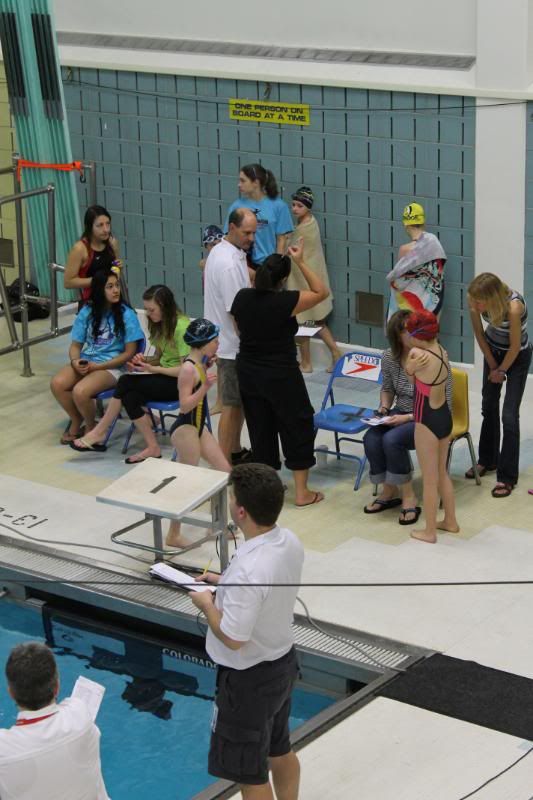 And she is out! Now she goes to see coach, they have to see coach before mama/daddy. It is the rule. They ran more races, but I didnt take a lot of photos. I usually would, but as I had several photos of their starts and in the water, I instead just watched them not through a camera lens. They have been on the team for just over 2 months now, they love it very much. They enjoy practice, but the meets are still a little overwhelming. It is like running up a stairway with someone chasing you, they are nowhere near as fast at meets as they are in practice. It will get easier!