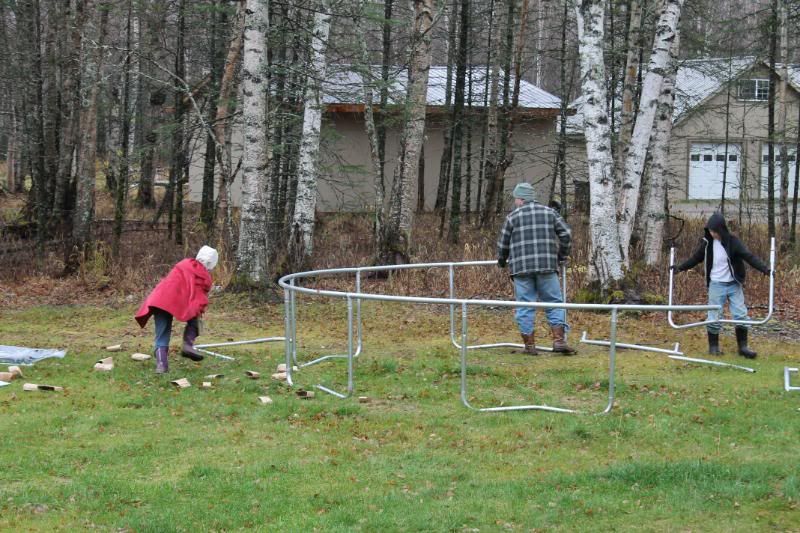 I sent Frank out to buy his birthday present, and he came back with this! Which the children are so excited about.
I have been unsuccessful today with blogging photos in order, I just cant get it to work so you have it all messy. This was Nathalie's cape making. She spent about 2 hrs, on an off all day making this. It is a piece of red velour that Frank bought for her at Joann's once, in Ks. she never found a use until this Halloween. She found a gold uniform button and sewed it at the neck, I did have to help her with the button hole but everything else was done alone.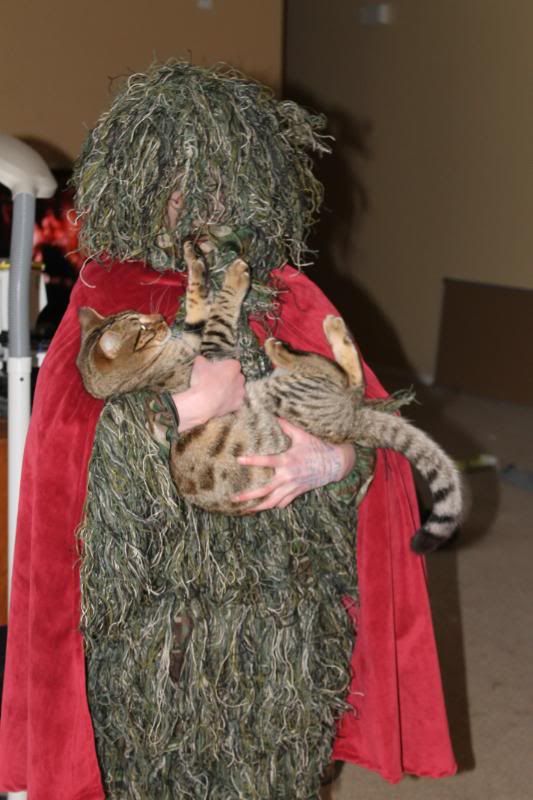 Kitten was unsure of the gilly suit, he did not mind the red cape. This is Tad's gilly suit that mama bought a couple yrs ago for him. He is going to wear it for Halloween, she was just seeing how it looked with her cape.
Kitten says he is all done being here...
Putting together the trampoline. Nathalie loves disguises and dress ups, I am not sure this will change. She will be an adult with children, and will be wearing capes, tutus, funny hats, fake mustaches and noses...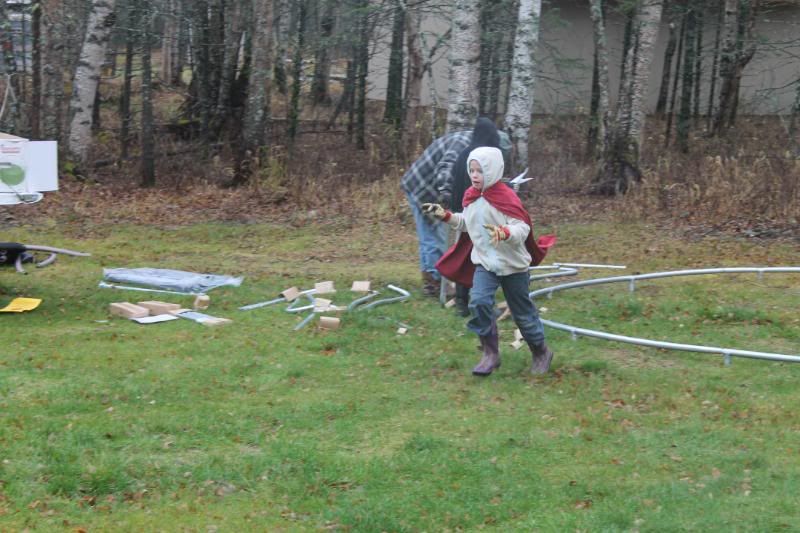 "Hey baby girl, go get the rubber mallet from the shop."
"Mama, take my picture! I be flying in my cape!"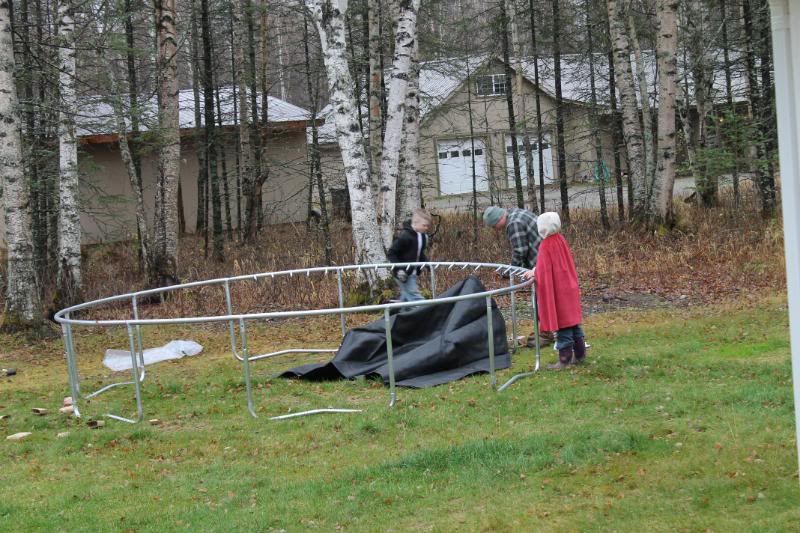 She has been sewing for years of course, but often needs a little help. She laid this out, cut it from her written measurements leaving a wide neck that could be gathered, she hemmed her sides and bottoms, pinning them up alone, found her thread that matched and threaded the machine, and ran her elastic casing and elastic in the neck. Then she sewed on her button and said HELP with the button hole... My mom had to do my buttonholes until I was probably 12, she was asleep one night and I wanted button holes. I say this because, we do them by hand. My machines can do them, and messes them up often enough (hard to rip without destroying the fabric) so we just do hand ones. They are not easy to make perfect.
Finished product!
The kids are both in tumbling, which is 1 of 4 aspects of gymnastics. We could have put them in to learn all apparatus, but they are considerably older than when they were in gymnastics in Sc. So we chose just tumbling to increase diving skills. The coach said that Nathalie is struggling some because she does not remember, Tad can do round-offs, cartwheels, hand stands, walking hand stands and with help can do his back walkovers and back hand springs. She can do her cartwheels if she really focuses, that is all her body remembers. Her upper body strength is not up to par. The coach put them in 2nd level, it is tough for her. She has now learned to do assisted back hand springs, but we need to do more work with her at home. Frank is strong enough to spot her on all of her practice, and we are looking for a used mat on the living room floor. I am NOT strong enough to spot her so it is safe only with daddy home. He also stretches with them many nights. Tad is still struggling with asthma, we are hoping to have that worked out soon with an allergist so that he has more lung capacity and endurance in his sports. That is it for now, lots of things going on, we butcher rabbits tonight so are going to finish school and house cleaning now before we leave for swim practice. We have another meet coming up on the 19th!