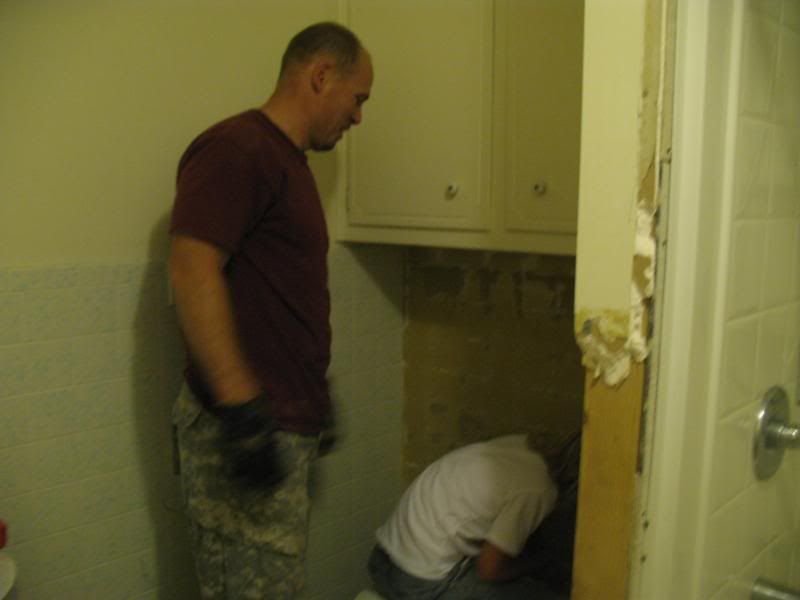 I am not on here a lot! Early on in this deployment I did well keeping up with posts, for my poor distant husband. He loves to see what the kids are doing. Change in computer systems and a broken camera, coupled with a larger workload has really hammered my blogging abilities. I have no recent pictures, this bathroom that the guys are working on is now nearly done! Eric came over and spent the day hanging drywall and an assortment of other tasks. He lets the kids help and along the way he teaches them which they love.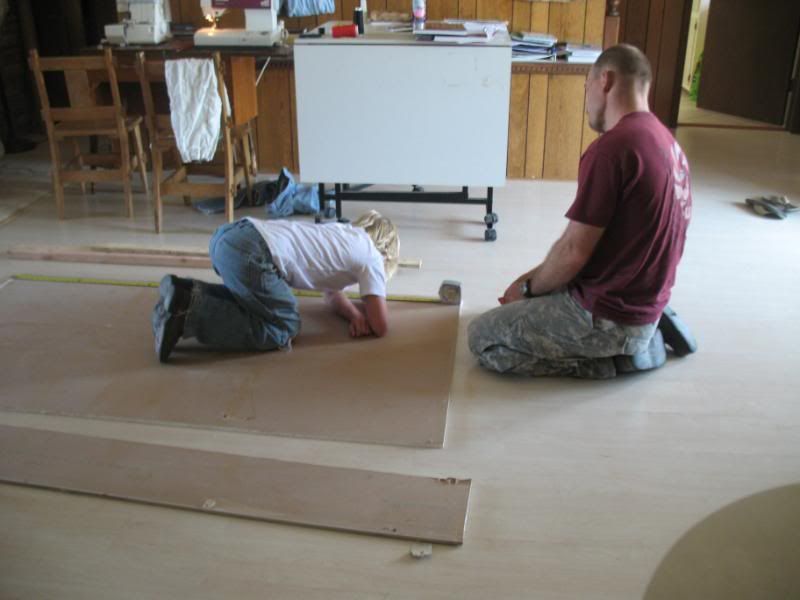 The bathroom pictured is one of 4, and only 1 of the 4 wasnt in some state of "torn up." This one is the kids bathroom. Tad and Nathalie both learned to measure, mark and cut drywall. Tad learned how NOT to cut drywall in case the razor knife slipped. He learned what his femoral artery is, and what % of chance he had of living if he cut it. The % was only above 0 because Eric and I are both educated in emergency medicine.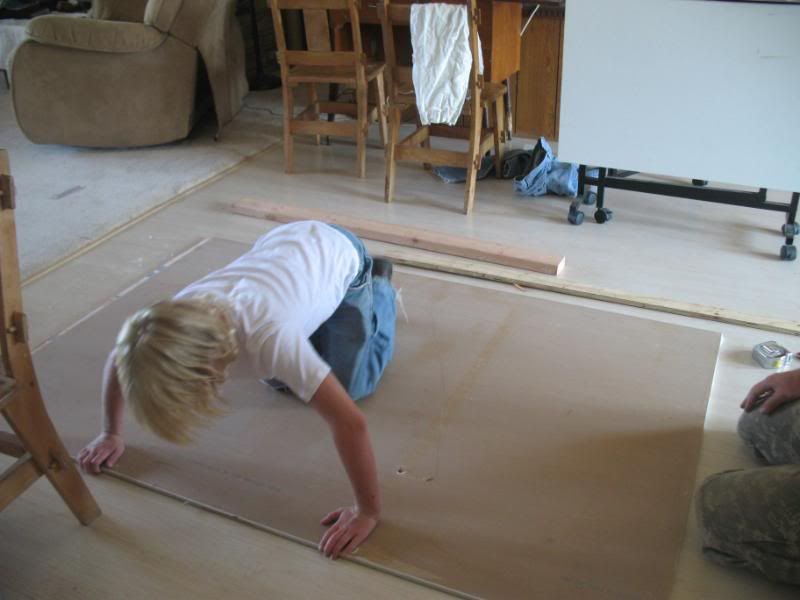 Eric did help with their scoring, but they both have the concept now and appreciate how careful the cuts need to be once they saw the mudding process. Tad has cut his piece with Eric's help here.
Now once it is folded back, he can carefully cut the paper at the other side and has his pieces. I didnt get any good photos of Nathalie helping but she did, in between her art projects. I didnt do much more than cook lunch, the 4 of us dont fit comfortably in a bathroom!
I have some good pictures hidden on my camera (that wont work) of my friends Amanda and Jeremiah (and offspring) here for a wkend. They came up to install a bathtub in one of the other 3 bathrooms. That leaves nothing but tile needing to be done in there which is wonderful! Tile I love to do, installing a bathtub-well I lack education there... Amanda had some great ideas and together they created something that will be easy for me to tile, and very attractive to us and the buyers of our home. I appreciate the help I have had from friends. Eric's drywall work allowed me to complete 1 bathroom altogether, and the next one nearly. I mudded, sanded and painted the one bathroom and laundry room-they are checked off the list.
I finished the drywall and mud, sanding and painting in the kids bathroom with some extra help from the kids and Jeffrey (Eric's son). I have spent the last wk mudding the cracks in paneling in my hall and foyer. They are dark areas-no windows, no high ceilings and thus the paneling is overwhelmingly dark. I dont like paneling ever but in the vaulted living room the bit of wall that is paneling is manageable. After 3+ layers of mud, I was able to prime the hall and foyer today. I was excited to be that close to done! My house goals were to finish all that I have listed plus the tile in kids bath. I have that and painting in hall left! Then I will move on to the tile in our bathroom and possibly the paint in the living room.
As for the outside, Tad and I have mowed and brushogged all 6 acres, cleaned out all but 1 barn. On the barns Nathalie helped but on the brushogging-the girl cannot drive! During those times she cleaned house, did laundry and cooked dinner. My 4000 $ (that we did for 200$) landscaping jobs are lovely and I am so glad they are done, they were my biggest worries because I hadnt landscaped before. I have good pictures of the other beds completed but once again... camera troubles. Tad will fix it tomorrow or I will buy a new one before I go farther in remodeling. I dont want Frank to miss one step in the work we are doing. He is sad about not being here and misses this time very much.
We are excited about our upcoming move, and the changes in our lives. As always, we want to remember and count our blessings until we are so full from them that we can make it over life's hurdles with patience and happiness.